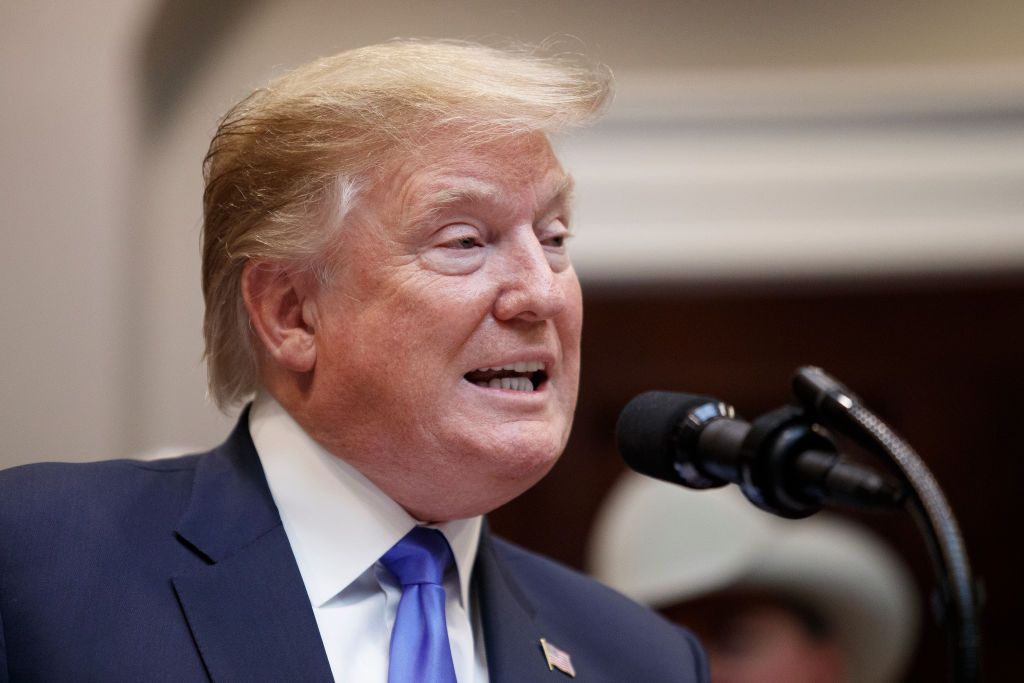 President Donald Trump took to Twitter to deny a series of media reports regarding statements he allegedly made about the U.S.-Mexico border and pardoning the head of a federal agency if he went to jail.
On Saturday, Trump posted the tweets, using a favored phrase to discount the reports.
"I never offered Pardons to Homeland Security Officials, never ordered anyone to close our Southern Border (although I have the absolute right to do so, and may if Mexico does not apprehend the illegals coming to our Border), and am not 'frustrated.' It is all Fake & Corrupt News!," Trump wrote.
The tweet is partially in reference to a report from CNN, published Friday, that the president offered to pardon Customs and Border Protection Commissioner Kevin McAleenan if he were arrested for enforcing Trump administration policies at the U.S.-Mexico border.
"Trump reportedly made the comment during a visit to the border at Calexico, California, a week ago. It was not clear if the comment was a joke," CNN's Jake Tapper wrote. "Two officials briefed on the exchange say the president told McAleenan, since named the acting secretary of the Department of Homeland Security, that he 'would pardon him if he ever went to jail for denying US entry to migrants,' as one of the officials paraphrased."
Trump denied a similar report from NBC News in a separate tweet on Friday, saying, "Another Fake Story on @NBCNews that I offered Pardons to Homeland Securiy personnel in case they broke the law regarding illegal immigration and sanctuary cities. Of course this is not true. Mainstream Media is corrupt and getting worse, if that is possible, every day!"
During Trump's visit to California, the president spoke publicly and cited a lack of room in the United States as a reason that immigration laws should be changed. "We're full, our system's full, our country's full — can't come in! Our country is full, what can you do? We can't handle any more, our country is full. Can't come in, I'm sorry. It's very simple," he said.
According to CNN, Trump later told border patrol agents that they shouldn't let immigrants into the country. "Tell them we don't have the capacity, he said. If judges give you trouble, say, 'Sorry, judge, I can't do it. We don't have the room,'" CNN said, citing two unnamed sources.
Following the resignation of Kristjen Nielsen as the Secretary of Homeland Security, several media outlets reported that Trump had grown annoyed with how Nielsen had handled the crisis at the U.S.-Mexico border. In his tweet Saturday, the president also denied those reports.
Earlier in the evening, Trump also discounted a report from The New York Times on sanctuary cities, though it was unclear which story the president was referring to. On Friday, the newspaper published a story about Trump's threat to send illegal immigrants living in border cities to sanctuary cities across the country.
"The New York Times Sanctuary Cities/Immigration story today was knowingly wrong on almost every fact. They never call to check for truth. Their sources often don't even exist, a fraud. They will lie & cheat anyway possible to make me look bad. In 6 years they will be gone," he wrote, going on to state in an additional tweet that the Times had to "beg" their subscribers for forgivness over the coverage the newspaper gave him during the 2016 presidential election.
Later in the evening, the president tweeted that Democrats must work to change immigration laws.
"Democrats must change the Immigration Laws FAST. If not, Sanctuary Cities must immediately ACT to take care of the Illegal Immigrants - and this includes Gang Members, Drug Dealers, Human Traffickers, and Criminals of all shapes, sizes and kinds. CHANGE THE LAWS NOW," Trump wrote.