Former President Donald Trump may have destroyed his own defense against criminal charges related to his alleged efforts to overturn his loss in the 2020 election, legal experts have suggested.
Trump, the current frontrunner for the 2024 Republican presidential nomination, was indicted on felony charges in early August for allegedly working to subvert the election results in the run-up to the January 6, 2021, riot by his supporters at the U.S. Capitol.
Special Counsel Jack Smith said in the indictment that Trump knew his claims of having won the election were false but he "repeated and widely disseminated them anyway—to make his knowingly false claims appear legitimate, to create an intense national atmosphere of mistrust and anger, and to erode public faith in the administration of the election." Trump also faces dozens of criminal charges across three other indictments, one of them involving his alleged attempts to overturn his 2020 loss in Georgia. He has denied wrongdoing in all of the cases.
Legal experts have said prosecutors could have difficulty suing Trump if they cannot prove criminal intent.
In an interview with NBC's Meet the Press, Trump said it was his decision that the election was "rigged" against him, adding that he relied on his own "instincts" to reach that conclusion.
Those comments could undermine a possible defense that he relied on the advice of his lawyers in continuing to challenge his defeat. Newsweek has contacted a spokesperson for Trump via email for comment.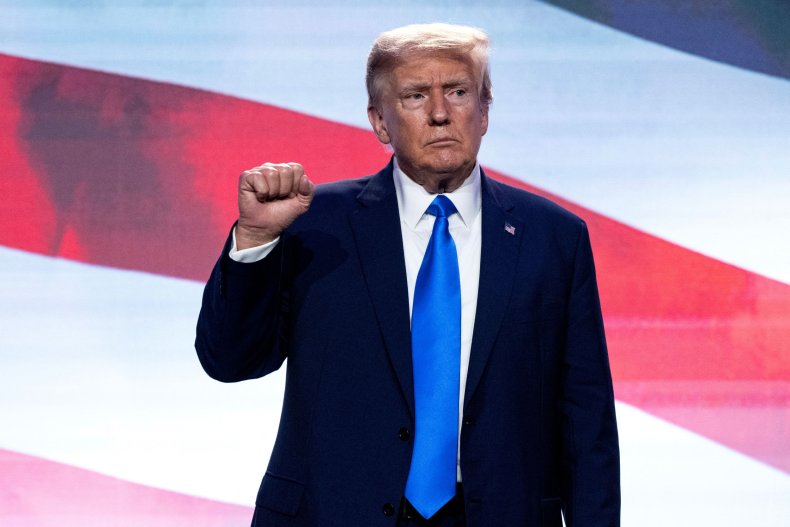 Trump relied on a group of outside allies who undertook what federal prosecutors called a "criminal scheme" to fraudulently subvert the 2020 election results, despite White House attorneys urging him to accept his loss to Joe Biden after courts threw out dozens of legal challenges from Trump's campaign and allies following the election.
Asked by moderator Kristen Welker why he didn't listen to his attorneys, Trump said: "I didn't respect them...In many cases, I didn't respect them. But I did respect others. I respected many others that said the election was rigged."
Trump said that he was listening to his own instincts and "different people" to guide his actions.
"I listened to different people," he said. "And when I added it all up, the election was rigged."
Asked if he was ultimately calling the shots, Trump told Welker: "It was my decision, but I listened to some people."
Trump's remarks that "it was his decision to try to overturn the 2020 presidential election acknowledges the obvious," Michael McAuliffe, a former federal prosecutor and elected state attorney in Florida, told Newsweek.
"That he directed his lawyers and others to spread misinformation and lies about the election process isn't the challenge in the case. That's a highly provable set of facts."
The real challenge, McAuliffe said, is "proving that Trump knew—that he appreciated the falsity—during the effort."
He said: "Somehow Trump convinces people to buy into the false statements. He turns what should be a weakness like 'I directed all this' into an advantage, certainly a political one in a primary election.
"This time may be different because his statements will be used in the confines of a courtroom before a jury. That jury will be instructed on how to evaluate Trump's statements within the law and the case, not in general and politically."
Peter Zeidenberg, a partner at the law firm ArentFox Schiff, told Newsweek: "This is why defense attorneys hate to have the clients make public statements. No question that this is harmful to Trump's case, and something that can be easily introduced by the government at trial to show that Trump was the one driving this effort."
Footage from the interview could end up being played in the courtroom, former federal prosecutor Andrew Weissmann told Jen Psaki on MSNBC on Sunday.
Neal Katyal, the former acting solicitor general of the United States, noted in the same segment that Welker had made "huge news" with her interview.
"Because Trump's defense to January 6 has been one basic thing, which is, 'I relied on the advice of my lawyers. I didn't have bad criminal intent. It's my lawyers who were telling me to do this,'" Katyal said.
"And she got him through masterful interviewing and playing to his ego [to say] 'oh no, I did it all myself."
Katyal said: "If you're Jack Smith this morning you're going, 'thank you, that's what I always thought. And yes, you hired these kinds of cockamamie crazy lawyers but at the end of the day, this was you through and through.' This demonstrates his culpability right there and then and I think makes this case that Judge Chutkan has going to trial on March 4 a lot easier."
Judge Tanya Chutkan has scheduled the trial on federal charges that Trump tried to overturn the 2020 presidential election to begin on March 4, 2024.
Weissmann said that "the other thing that Kristen Welker got the president to say was essentially a part of this scheme, a part of the obstruction, a part of the 241 Civil Rights scheme, which is the stop of the electoral count.
"If you will remember, everyone thought there would be a red mirage, that the night of the election, Trump would be ahead because the mail-in votes had not been counted. And sure enough Trump had said, 'Stop counting.'
"Well, that's a crime. He was saying at the time and he just said it on air to NBC, stop counting the votes. That's not allowed. That is part of the scheme here so there's sort of a twofer here. One, as Neal said, not relying on counsel and two, saying that he wanted to stop the votes of American citizens."