Donald Trump 'Did Not Make America Great Again,' Says Russian Press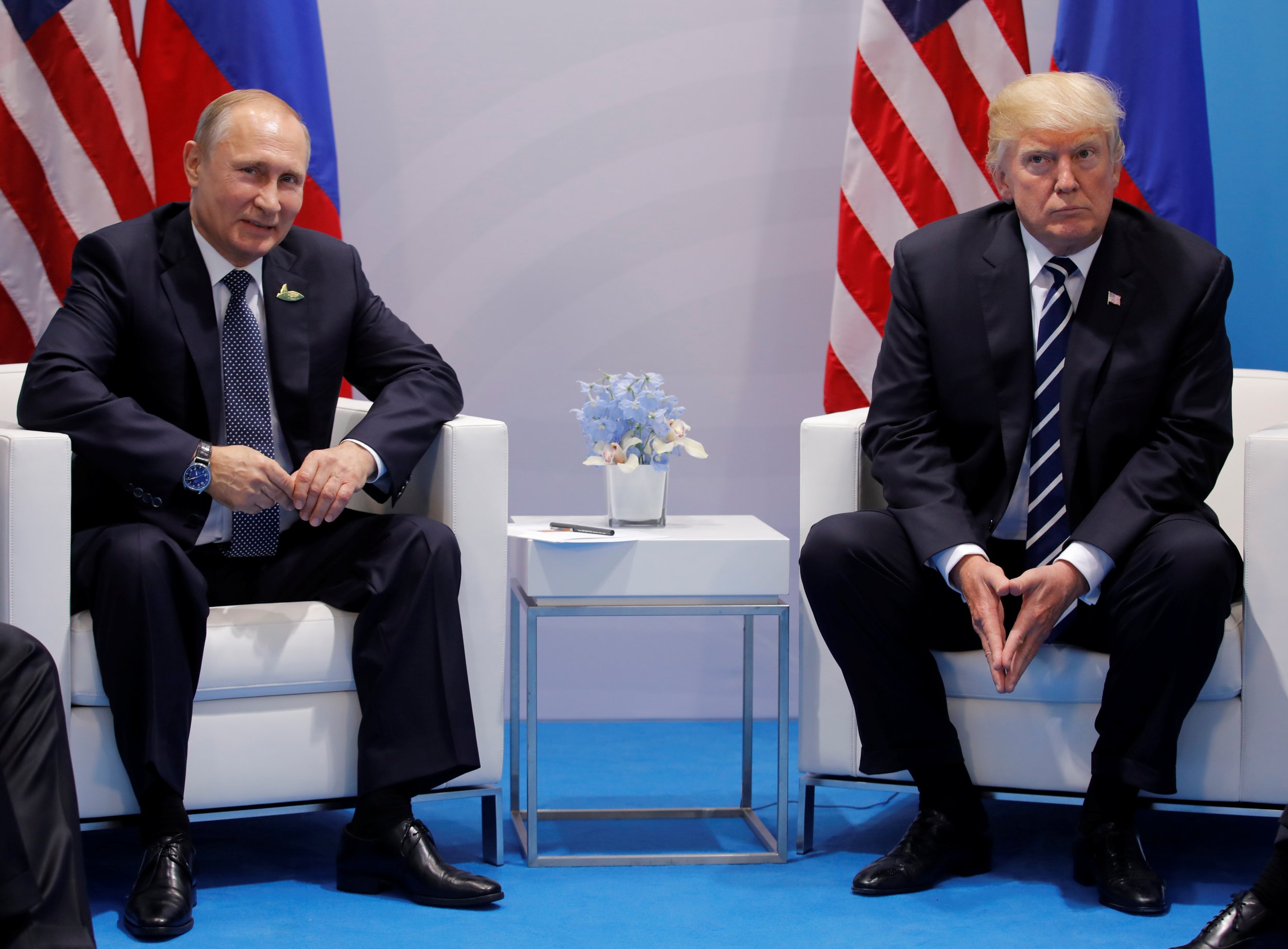 The mood in Russia has changed in the year since politicians in Moscow toasted with champagne President Donald Trump's election victory. Now, the Russian press is accusing Trump of letting down his party, his country and even Russia.
It has been "the year of a restless Trump," the Moscow tabloid Moskovskiy Komsomolets wrote, arguing that "the president has disappointed both Russia and the U.S." The pro-Kremlin daily newspaper Izvestia agreed: "Anyone who relied on Trump's promised improvement in ties with Russia is deeply disappointed by the lack of activity on this issue. You can, of course, blame Congress for everything but even the administration of the White House has not tried to take any steps to cooperate with Moscow."
Trump's apparent fondness for Russian President Vladimir Putin made him the most popular U.S. presidential candidate among Russians. Trump repeatedly said how good it would be to "get along" with Russia, but since he came into office Congress has tightened sanctions on Russian officials and the State Department has said trust in the Kremlin is at its lowest point.
It could be that Trump's hands are "tied" with regards to Russia, the state news agency RIA Novosti wrote, allowing the president some chance of redemption in the eyes of its readers. The Trump campaign team is the subject of several probes into allegedly improper contact with the Russian government prior to the election. However, as Trump's own appointees have increased punitive measures on Russia and voiced criticism of Putin, RIA wrote that the hope now is not to "improve" ties but merely to "normalize" relations to the level they were before his presidency.
"The expectations have not been fulfilled," declared a presidential anniversary article in Russia's influential daily newspaper Kommersant. Citing experts and politicians, the paper poured cold water on the already dwindling hopes of a major pivot in Russia's favor anytime soon. In another piece on the subject, the paper even warned that Trump's "break" with his own party could worsen the re-election chances of both sides. "Deprived of the Washington elites' support, Trump now has to act like an independent politician," the paper argued.
Trump has had a "bad year," Russia's business news channel RBC concluded, calling him "the most unpopular president of the U.S." Domestically, Trump polls at 38.8 percent approval and his flagship policy ideas have suffered setbacks.
"On the whole, he has achieved very little," the popular news site BFM wrote, turning its attention to Trump's domestic policy. "[President Barack] Obama's medical reforms have not been scrapped. Republicans have not offered anything instead of it. Construction of the wall with Mexico to halt illegals has not received funding from Congress."
In a far cry from the media spin that once championed Trump as a man of the people and Hillary Clinton as "a witch" with the "mark of Satan." Even state-backed outlets did not pull many punches. "Why Trump Could Not Make America Great Again," said an anniversary segment by Russian broadcaster NTV, which is controlled by state gas giant Gazprom. The fiercely pro-Kremlin outlet lambasted Trump, claiming that popularizing the term "fake news" could "turn out to be his only accomplishment in the last year."
Many expected foreign policy changes under Trump, the Russian Ministry of Defense's Zvezda TV channel reminded. Calling Trump's last 12 months a "total collapse," the cannel was damning of the president's efforts abroad: "The American president has contributed nothing new here."
From Russia's perspective, virtually every move Trump has made in the foreign policy arena has clashed with Russia's agenda. He has opened fire on Moscow-allied Syria, after the Arab republic's regime allegedly used chemical weapons on its citizens. He has issued the most searing threats against Russian trade partner North Korea for its nuclear program—an action Moscow has strongly blamed for the North's desire to acquire arms in the first place. Most notably, Trump has walked back on comments calling the NATO alliance "obsolete," and his cabinet has pledged broad support to Ukraine in its ongoing clash with Russia.
"The successful businessman has not become a most successful politician," Zvezda's analysis concluded.