Donald Trump Did Not Speak to Dr. Oz for Years After He Said to Lose Weight
Former President Donald Trump told a Pennsylvania audience he did not speak to Dr. Oz for years after he told him to lose weight.
Trump made the comment in Wilkes-Barre on Saturday night while he sought to bolster support for Republican candidates Dr. Mehmet Oz and Doug Mastriano.
Referring to the heat in the arena, Trump asked Oz: "This air conditioning is not working too well. It's about 100 degrees up here. I'm sweating like a dog. I'll call Dr. Oz, Dr. Oz. Am I OK Dr? he says yes."
The politician then looked and pointed at Oz before he shared the anecdote with the audience.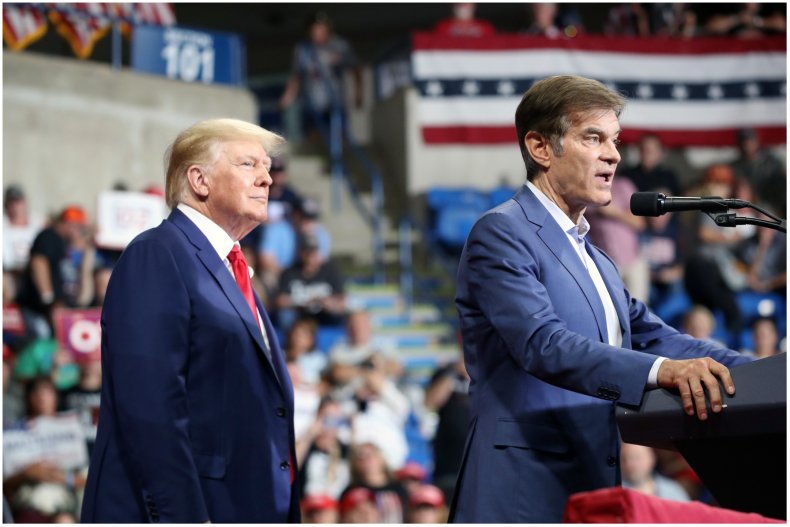 Trump added: "He (Oz) did an examination and said 'he's extremely healthy, really a very fine fit man but he should lose 20 or 25 pounds.' I was so angry I didn't speak to him for years."
Trump then looked over to Oz and added: "He said 'he was great but he could lose a couple of pounds. He's great. He's going to be great."
The former president previously appeared on the Dr. Oz Show in September 2016 during the run-up to the year's election.
Ahead of his appearance, Trump had come under fire for seemingly refusing to share his medical examinations.
During the show, Trump handed over several pieces of paper that Oz later said were from recent medical tests.
Oz then quizzed Trump on his weight, noted he was 6'3 and 235 lbs and commented that his body mass index (BMI) was high and close to 30.
A BMI rate of 30 is an indicator that the person is obese and they are encouraged to lose weight in order to improve their health.
While discussing his weight on the show, Trump himself told Oz that he should lose some weight.
He said: "I think that if I had one thing I'd like to lose weight. It's tough because of the way I live but the one thing I would like to do is be able to drop 15 to 20 pounds, [that] would be good."
But Oz never performed an examination on Trump during the show and referred to the medical checkup documents the then-Republican nominee had given him.
Oz would later clarify his view on Trump's health during an appearance on Today in September 2016, where he said the documents were a "comprehensive summary of a battery of tests, which occurred last week."
The celebrity doctor added Trump's records said he had undergone colonoscopies and heart examinations.
He later said: "The records that I got, without question, indicate he is healthy enough to be president. If I, as a doctor, had a patient like him I would think he had good health for a man of his age and I send him on his way."
Newsweek has contacted Oz's campaign and a Trump spokesperson for comment.
While Oz has won the backing of the former president, polling has suggested he is behind his Democrat rival John Fetterman.
According to FiveThirtyEight, the two most recent polls by Susquehanna Polling and Research and Emerson College put Fetterman ahead by five points and four points, respectively.
The polls reflect a change in fortunes for the Republicans ahead of the Midterms with senior GOP leaders indicating they might not win the Senate as had been predicted earlier this year.
Last month, Senate Minority Leader Mitch McConnell told NBC News: "Senate races are just different. They're statewide, candidate quality has a lot to do with the outcome."