British Ambassador's Resignation Could Hurt National Security and Hinder Diplomats, Experts Say
The U.K. Ambassador to the United States, Kim Darroch, resigned on Wednesday after a leaked cable revealed that he had criticized President Donald Trump, calling him "insecure" and "incompetent." The resignation sent a chill through Washington's diplomatic core, and many experts warned that it could impact the way that diplomats do their jobs.
"Ambassadors and their staff will now have to be much more circumspect, and that will be costly for national security," Brett Bruen, former director of global engagement in the White House under former President Barack Obama, told Newsweek. "There won't be honest assessments included in those cables, which are the most widely consumed form of communication from overseas."
"You will still have video conferences and calls on secure lines, but those don't get the same distribution," Bruen added, noting that no ambassadors resigned or were kicked out of their jobs after Wikileaks leaked a cache of diplomatic cables in 2010.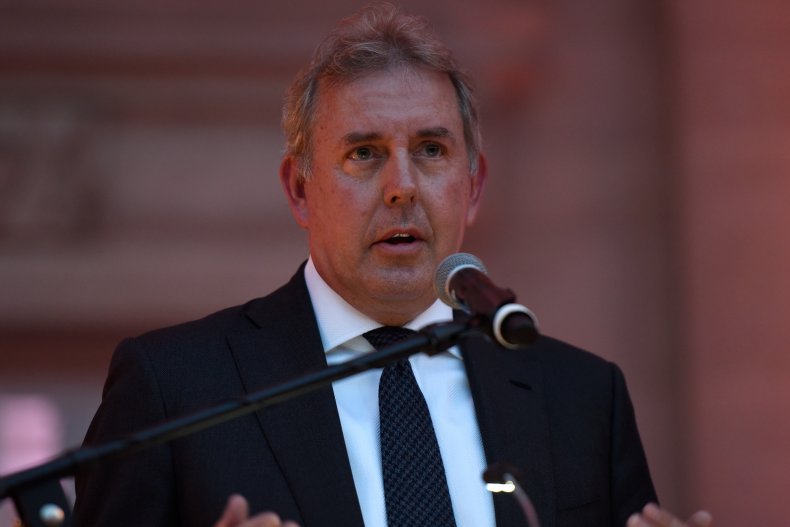 President Trump issued a slew of insults towards the ambassador after the cables leaked, calling Darroch "wacky" and a "pompous fool."
Congressman Adam Schiff, the chairman of the House Intelligence Committee, noted that President Trump's response to the diplomatic cables could also impact the work of U.S. diplomats overseas.
"Diplomats the world over, including ours, are expected to provide candid assessments and advice to their home governments," Schiff said in a statement. "If a foreign leader treated an American ambassador as President Trump treated the British ambassador, we would be up in arms, and justifiably so. Trump's continued attempts to bully our allies and their diplomats undermine the work of the men and women we send overseas to represent the United States."
The event also made waves in British politics as Boris Johnson, the frontrunner to be the next British Prime Minister and a political ally of President Trump, failed to throw his weight behind Darroch.
"It is shameful that Kim Darroch has effectively been forced out for doing the job that diplomats are appointed to do," Nicola Sturgeon, the First Minister of Scotland, said in a statement. "Boris Johnson's failure last night to stand up for him - and stand up to the behaviour of Donald Trump - spoke volumes."
Caroline Lucas, a British Green Party Minister, also said that the event created a "dangerous precedent" for the UK.
"Really ominous that Sir Kim Darroch has been forced to resign by a malicious leak, Trump's thin-skinned tantrum and Boris Johnson's self-interested failure to stand up for our own side," Lucas said in a statement.