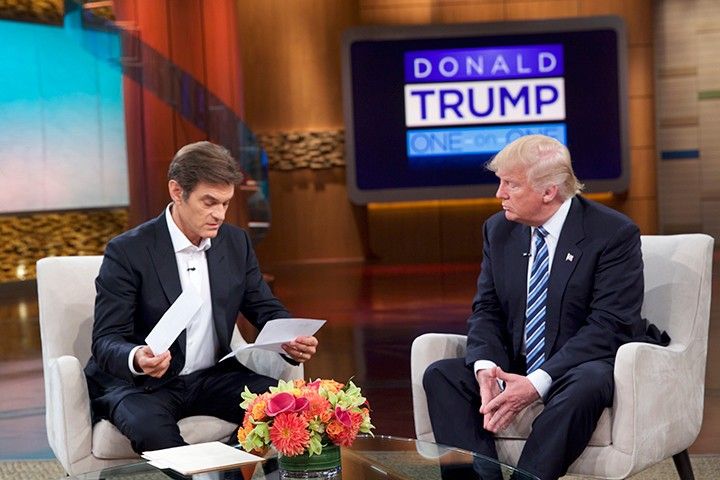 Donald Trump discussed the results of his recent physical exam during an hour-long taping of The Dr. Oz Show on Wednesday, according to the TV program, just hours after the Republican candidate's campaign said his medical records wouldn't be the focus of his guest appearance.
Trump shared with host Dr. Mehmet Oz some of the results of his exam, which was conducted last week by his longtime physician, Dr. Harold Bornstein. In December, Trump's campaign released a short, quickly written letter from that doctor saying the candidate didn't have any significant medical problems.
Dr. Oz also went through what was called a full review of Trump's nervous system, the state of his head and neck, his hormone levels, his cardiovascular health and related medications, his respiratory health, gastrointestinal health, bladder or prostate health, dermatological health and his history of cancer. He also discussed Trump's family medical history, including occurrences of Alzheimer's disease, heart disease and cancer.
Trump's answers have not yet been public; the episode is set to air on Thursday.
Later on the program, Trump's eldest daughter, Ivanka, made an appearance to discuss the Republican presidential campaign's child-care initiative, according to the show. The plan would guarantee six weeks of paid maternity leave.
Throughout the week, there have been conflicting reports about what would happen during Trump's appearance on The Dr. Oz Show. Earlier on Wednesday, Trump's campaign told reporters his medical records wouldn't be the focus of his appearance; rather, it said the results of his physical would be released "soon." On Tuesday, Fox News reported that Dr. Oz, who is a surgeon and professor at Columbia University, would analyze the physician's exam before discussing the results with Trump on his TV show.
On Monday, Dr. Oz said he invited both Trump and Democratic nominee Hillary Clinton to appear on his program. Trump agreed; Clinton, who nearly collapsed at a 9/11 memorial service in New York City on Sunday, declined. Her health has been an issue on the campaign trail in recent weeks, with some voters thinking she isn't being transparent with voters. She is expected to return to the campaign trail on Thursday.
If the 70-year-old Trump wins the election on November 8, he will be the oldest first-term president in U.S. history.