Donald Trump Forcefully Dismisses Allegations by Multiple Women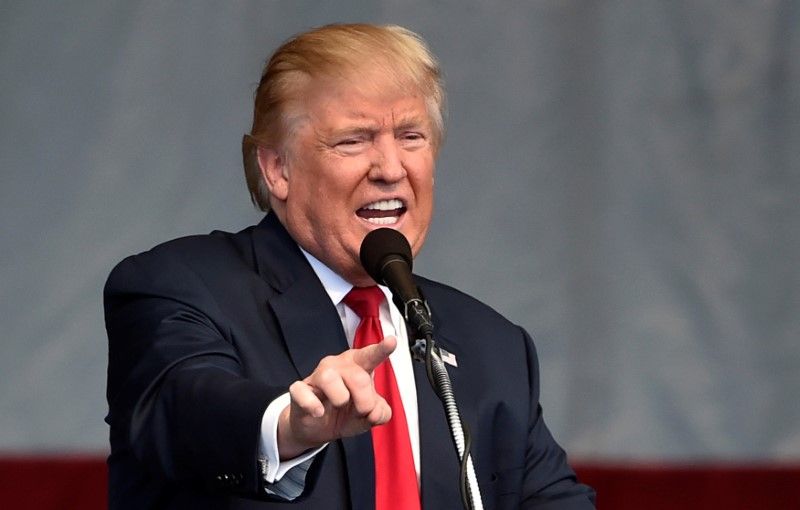 Donald Trump on Thursday angrily denied several accusations of groping in a growing controversy over inappropriate behavior with women that is damaging the Republican presidential candidate's chances of winning the November 8 U.S. election.
Democratic rival Hillary Clinton and The New York Times and other media are engaged in a concerted, "vicious" attempt to stop him, Trump told a rally in West Palm Beach, Florida.
"These claims are all fabricated. They're pure fiction and they're outright lies. These events never, ever happened," Trump said, adding he would make public at some point evidence to dispute the claims.
"These vicious claims about me of inappropriate conduct with women are totally and absolutely false. And the Clintons know it and they know well."
Trump spoke after The New York Times reported on Wednesday evening that two women had endured sexual aggression from Trump, and several other women made similar allegations in other media outlets, putting more pressure on Trump as he lags Clinton in national opinion polls.
Trump's campaign was already struggling to contain a crisis after a video surfaced last week showing him bragging in 2005 about groping women and making unwanted sexual advances.
One woman, Jessica Leeds, appeared on camera on The New York Times's website to recount how Trump grabbed her breasts and tried to put his hand up her skirt on a flight from the Midwest to New York in or around 1980.
The second woman, Rachel Crooks, described how Trump "kissed me directly on the mouth" in an unwanted advance in 2005 outside the elevator in Trump Tower in Manhattan, where she was a receptionist at a real estate firm.
On Wednesday night, Trump's campaign made public a letter to the newspaper from a lawyer representing Trump, demanding it retract the story, calling it libelous, and threatening legal action if it did not comply.
"This entire article is fiction, and for the New York Times to launch a completely false, coordinated character assassination against Mr. Trump on a topic like this is dangerous," the Trump campaign's senior communications adviser, Jason Miller, said in a statement.
Reuters could not independently verify the incidents. Leeds and Crooks did not respond to requests for comment from Reuters.
The New York Times said on Thursday it stood by its story and rejected claims the article was libelous.
"Nothing in our article has had the slightest effect on the reputation that Mr. Trump, through his own words and actions, has already created for himself," said David McCraw, vice president and assistant general counsel for the newspaper, in a letter to Trump's lawyer.
If Trump disagrees that the story was libelous, "we welcome the opportunity to have a court set him straight," McCraw said.
The Times report came just two days after a Reuters/Ipsos opinion poll showed one in five Republicans thought Trump's comments about groping women disqualified him from the presidency. The poll also showed him 8 points behind Clinton among likely voters.
Trump, a New York businessman and former reality TV star, has never previously run for political office. Controversy has stalked his White House campaign since the day in June 2015 when he announced he was running for president, describing Mexican immigrants as rapists and criminals in a speech.
Establishment Republicans have struggled to get behind Trump, alarmed by both his style and some of his policy proposals.
More Accounts Surface
Within hours of The New York Times report, several other media outlets published similar reports. People magazine published a detailed first-person account from one of its reporters, Natasha Stoynoff.
Stoynoff said Trump pinned her against a wall at his Florida estate in 2005 and kissed her as she struggled to get away.
"I turned around, and within seconds, he was pushing me against the wall, and forcing his tongue down my throat," Stoynoff said.
Trump, 70, denied the People story in a Twitter message and in his speech in Florida on Thursday, and mocked the writer.
"I ask her a simple question. Why wasn't it part of the story that appeared 12 years ago. Why didn't they make it part of the story...if she had added that it would have been the headline."
"Look at her and look at her words," he said. "You tell me what you think. I don't think so."
The Palm Beach Post reported a claim by Mindy McGillivray, 36, a woman in South Florida, that Trump had grabbed her bottom 13 years ago while she was working at his Mar-a-Lago estate as a photographer's assistant.
"There is no truth to this whatsoever," Trump's spokeswoman Hope Hicks told the Post. McGillivray could not be reached for comment.
Cloud Over Republican Hopes
In the 2005 video, Trump bragged about groping women, kissing them without permission, and trying to seduce a married woman. He said during a presidential debate on Sunday that he had not actually done the things he had boasted about, and apologized for his remarks, which he called private "locker room talk."
The video has thrown a cloud over Republican hopes of retaining control of the U.S. Congress and deeply split the party as a slew of elected officials have abandoned support for the candidate.
U.S. House of Representatives Speaker Paul Ryan said on Monday he was no longer going to campaign for or defend Trump. Trump has veered since between pronouncing himself free to campaign as he likes, and expressing fury at Ryan and other "disloyal" Republicans.
First lady Michelle Obama condemned Trump in scathing terms during a campaign speech for Clinton in New Hampshire.
"This is not normal. This is not politics as usual. This is disgraceful. It is intolerable. It doesn't matter what party you belong to—Democrat, Republican, independent. No woman deserves to be treated this way," she said.
A spokeswoman for Clinton, 68, said Wednesday's report in The New York Times was "disturbing."
"These reports suggest that he lied on the debate stage and that the disgusting behavior he bragged about in the tape is more than just words," said spokeswoman Jennifer Palmieri.
The Washington Post endorsed Clinton on Thursday. "In the gloom and ugliness of this political season, one encouraging truth is often overlooked: There is a well-qualified, well-prepared candidate on the ballot...we endorse her without hesitation," it said.
One of Trump's highest-profile Republican supporters, New Jersey Governor Chris Christie, received a blow on Thursday when a judge allowed a citizen's criminal complaint against him over the "Bridgegate" scandal to move forward. Christie allies were accused of deliberately causing a massive traffic jam in 2013 by closing access lanes to a bridge in order to punish a mayor.
Christie heads Trump's transition team, which would work on the handover from President Barack Obama if Trump won the election.