Donald Trump Dismisses Idea Of Renaming Military Bases Tied To Confederacy, 'Will Not Even Consider' It
President Donald Trump announced on Wednesday that he "will not consider" renaming key military bases across the country that have been criticized for being named after Confederate generals.
"It has been suggested that we should rename as many as 10 of our legendary military bases, such as Fort Bragg in North Carolina, Fort Hood in Texas, Fort Benning in Georgia, etc. These monumental and very powerful bases have become part of a great American heritage and a history of winning, victory, and freedom," Trump wrote on Twitter.
"The United States of America trained and deployed our heroes on these hallowed grounds, and won two world wars. Therefore, my administration will not even consider the renaming of these magnificent and fabled military installations," he added.
White House Secretary Kayleigh McEnany reiterated his statement at a press briefing shortly after the president tweeted. She added that it was a "disrespect" to current military and those who have died fighting for America.
"To suggest that these forts were somehow inherently racist in their names and need to be changed is a complete disrespect to the men and women with the last bit of American land they saw before they went overseas and lost their lives for these forts," McEnany said.
She also said the president would not sign a defense reauthorization bill that included renaming the bases in it.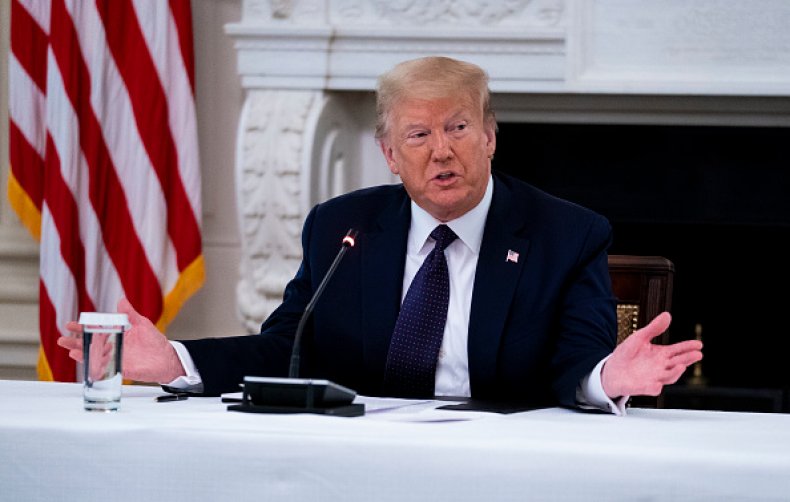 Trump's comments follow those of retired U.S. Army general and former CIA director David Petraeus, who published an op-ed in The Atlantic on Tuesday calling for the removal of Confederate-linked names from army bases. He said the fact that 10 bases are named after officers that served in the Confederate States Army weighs on him.
"The irony of training at bases named for those who took up arms against the United States, and for the right to enslave others, is inescapable to anyone paying attention," Petraeus wrote.
"Once the names of these bases are stripped of the obscuring power of tradition and folklore, renaming the installations becomes an easy, even obvious, decision," he added.
Petraeus said he had never thought about the men the installations were named after during his active duty, nor did he think what messages those names would send to African Americans serving on those bases.
"Their names had taken on new layers of meaning that allowed us to ignore the individuals for whom they were named," he said.
The 10 Army installations in question include Fort Bragg in North Carolina; Fort Benning and Fort Gordon in Georgia; Fort Pickett, Fort A.P. Hill and Fort Lee in Virginia; Fort Polk and Camp Beauregard in Louisiana; Fort Hood in Texas; and Fort Rucker in Alabama.
All located in Southern states, the bases were all put into service after 1916, half a century after the Civil War ended in 1865. More than half of the bases, including Fort A.P. Hill, Fort Pickett, Fort Gordon, Fort Rucker, Fort Hood and Fort Polk, were established in the 1940s.
Trump's stance against renaming the bases also comes the Navy and the U.S. Marines announced plans to ban Confederate flags from being displayed on any of their installations. Earlier in the week, an Army spokesperson confirmed to Politico that Defense Secretary Mark Esper and Army Secretary Ryan McCarthy were considering renaming the respective bases following "bi-partisan discussions," but it is unknown where the two officials stand following Trump's tweet.
The Marines said they will remove all displays of the flag in response to the weeks-long protests that have erupted across the country in the wake of George Floyd's death. Floyd died in police custody after Minneapolis police officer Derek Chauvin knelt on his neck. Chauvin and three other officers involved in Floyd's arrest have since been fired and charged with his death.
In a statement made on Wednesday, commandant of the Marine Corps General David Berger said, "Current events are a stark reminder that it is not enough for us to remove symbols that cause division – rather, we also must strive to eliminate division itself."
When Berger addressed the removal of the Confederate battle flag from Marine bases in a memo back in April, he wrote, "This symbol has shown it has the power to inflame feelings of division. I cannot have that division inside our Corps."
Neither the Marine Corps or the Air Force has any military installations named after figures tied to the Confederacy.
Protests demanding an end to police brutality and acknowledgment of systemic racism in the U.S. have also led to the removal of Confederate statues across the country.
Elizabeth Crisp contributed to this report.