Trump Dismisses Impeachment As 'Dead,' but White House Faces a Week of Damaging Hearings
President Donald Trump declared Thursday that the impeachment investigation inquiry against him is "DEAD," citing Ukraine's foreign minister who said there was no link between the frozen military aid and a proposed investigation into corruption allegations against Democratic 2020 candidate Joe Biden.
Vadym Prystaiko said Thursday "I have never seen a direct relationship between investigations and security assistance," according to Interfax-Ukraine. "Yes, the investigations were mentioned, you know, in the conversation of the presidents. But there was no clear connection between these events."
Trump seized on the comments, claiming they exonerated him of any wrongdoing. "Democrats must apologize to USA," he wrote on Twitter. "THE FAKE IMPEACHMENT INQUIRY IS NOW DEAD!"
The Ukraine scandal and subsequent impeachment investigation has long since spun out of the White House's control, with Trump trying all the while to smear and contain the probe to little effect.
Each new development has weakened the president's position, sending the White House and GOP establishment scrambling for new talking points. And with public hearing coming thick and fast over the next week, this might be only the beginning.
It all began with a whistleblower complaint raising concerns about Trump's conduct towards Ukrainian President Volodymyr Zelenskiy.
It was alleged that the president put on hold millions of dollars worth of military aid to Ukrainem, in order to leverage the new government in Kiev to open an investigation into Joe Biden and his son Hunter, related to debunked allegations of corruption during the former vice president's visit to Ukraine in 2016.
The White House released a memo—not a transcript—of the call soon after, seeking to dispel any suggestions of impropriety. But even this redacted document raised more questions than it answered, prompting House Speaker Nancy Pelosi to announce a formal impeachment investigation into the president.
Weeks of closed-door depositions by key witnesses provided much fodder for the president's critics, and illustrated a chaotic Ukraine policy being largely run outside of the State Department to bolster Trump's political fortunes rather than build a bilateral relationship.
This week, the first public hearings were held in the House. Former Ambassador to Ukraine William Taylor and Deputy Assistant Secretary of State Bill Taylor were first on the stand Wednesday.
Their testimony—broken up by testy exchanges with adversarial Republicans—revealed some new information, none of which was positive for Trump.
One of the most explosive revelations came from Taylor, who claimed some of his aides overheard Ambassador to the European Union Gordon Sondland—one of the "three amigos" accused of running Trump's parallel Ukraine strategy—speaking with Trump on the phone and discussing "the investigations," supposedly the desired probe in the Bidens.
Sondland allegedly told the president that the Ukrainians were ready to move forward with the investigation. After the call, aides asked Sondland what Trump thought of Ukraine.
Taylor told investigators, "Ambassador Sondland responded that President Trump cares more about the investigations of Biden, which [Rudy] Giuliani was pressing for."
Asked about this Thursday, Prystaiko told reporters, "Ambassador Sondland did not tell us, and certainly did not tell me, about a connection between the assistance and the investigations. You should ask him."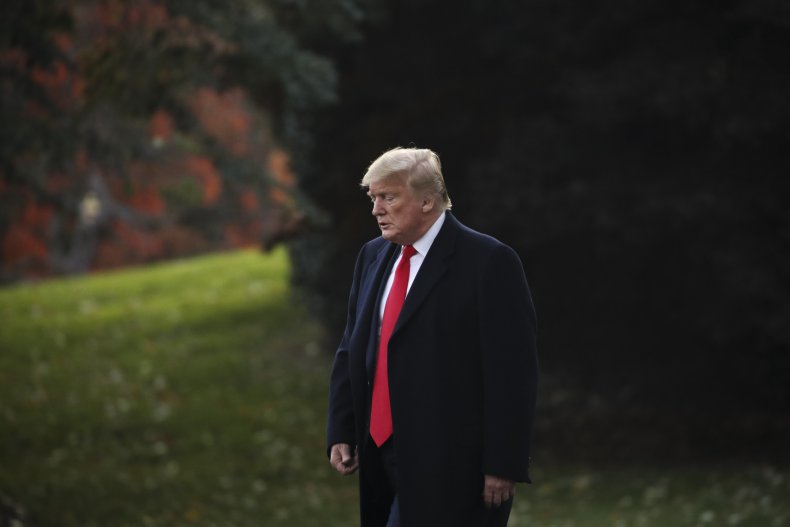 The public hearings will recommence Friday, with former Ambassador Marie Yovanovitch scheduled to appear. The session is likely to be another bruising one for the White House. Yovanovitch will expand on the Giuliani-directed "smear campaign" which led to her abrupt dismissal in May 2018.
In her written statement to House investigators, Yovanovitch has already described how Trump's conduct made her feel personally threatened, and expressed her shock that the White House could operate in such a manner.
The first public hearings next week will be held Tuesday. They will feature State Department official Jennifer Williams who advised the office of Vice President Mike Pence, National Security Council staffer Lieutenant Colonel Alexander Vindman, former special representative to Ukraine Kurt Volker—another of the "three amigos"—and NSC staffer Tim Morrison.
Vindman's testimony will be closely watched. The Iraq War veteran has become a key face in the investigation, having told investigators that key parts of Trump's conversation with Zelenskiy were omitted from the White House memo of the call despite his efforts to have them included.
Sondland will testify on Wednesday morning, followed by Defense Department official Laura Cooper and Under Secretary of State for Political Affairs David Hale. Former NSC staffer Fiona Hill is scheduled to testify on Thursday.
The graphic below, provided by Statista, illustrates a split in public opinion on the impeachment hearings.