A majority of Americans think President Donald Trump doesn't care very much about the victims of the deadly Hurricane Maria, which devastated Puerto Rico in 2017. That's according to a new poll from YouGov released on Wednesday.
The survey asked, "How much do you think Donald Trump cares about the needs and problems of people affected by Hurricane Maria?" Fifty-four percent responded either "not much" or "not at all"—21 percent "not much" and 33 percent "not at all." According to YouGov, 46 percent thought Trump either cared "a lot" or "some" about the hurricane victims' needs—21 percent "a lot" and 25 percent "some."
Forty-four percent of respondents, meanwhile, disapproved of Trump's response to the hurricane, while just 33 percent approved.
The survey from YouGov interviewed 1,500 U.S. adults from June 3 to June 5. It had a margin of error of plus or minus 3.2 percentage points.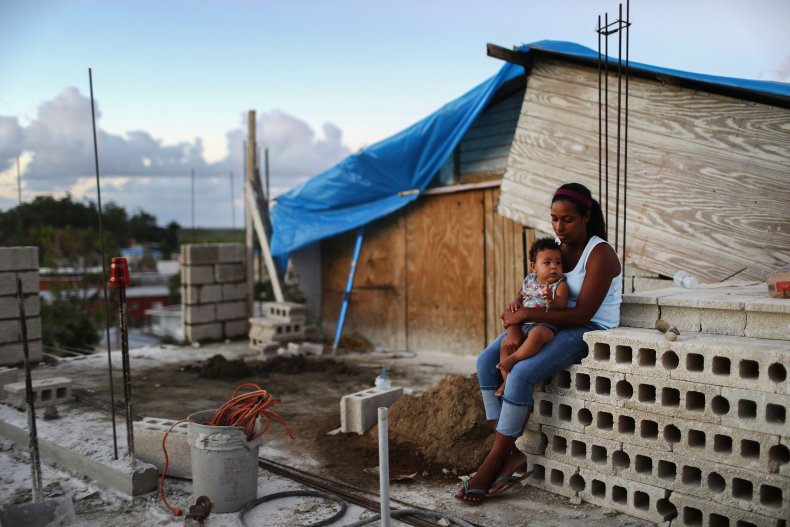 The government counted that just 64 people had died from the storm, while an analysis from independent researchers at the Harvard T.H. Chan School of Public Health found that some 4,600 people have died, many from delayed medical care, reported The New York Times at the end of last month.
Carmen Yulín Cruz, mayor of San Juan, Puerto Rico, slammed the Trump administration this week for its response to the storm.
"The Trump administration has completely looked away when this death toll is announced. What is for real, we may not ever know how many people died…hundreds or thousands died," Yulín Cruz said Sunday during an appearance on MSNBC. "The government of Puerto Rico remains silent and idle while the federal government under the Trump administration was looking and continues to look the other way."
The administration, meanwhile, has defended its response.
"We have been supportive of Governor [Ricardo] Rosselló's efforts to ensure full accounting and transparency, and those who have suffered from this tragedy deserve nothing less," White House spokeswoman Sarah Huckabee Sanders said after the Harvard report came out, via USA Today.