Donald Trump Doesn't Commit to Endorsing Mike Pence in 2024 If VP Runs for Top Job
President Trump declined to endorse a hypothetical future presidential bid from his Vice President Mike Pence during an interview Friday morning on Fox & Friends.
When asked whether Pence could earn his early approval for a presidential run in 2024, when the Trump administration is termed out, the president responded, "You can't put me in that position."
"I love Mike, we're running again [in 2020]," Trump said. "But you know, you're talking about a long time."
While Trump added that he would give a Pence candidacy "strong consideration," his generally noncommittal response has been seen by some as a snub of a vice president who has maintained a remarkably low profile in the administration, succeeding in avoiding the president's ire which has felled other top officials.
Newsweek subscription offers >
Pence has been the subject of much rumor and speculation about his potential eventual ascendance to the presidency during the earlier part of the administration, though this was for a notably different reason.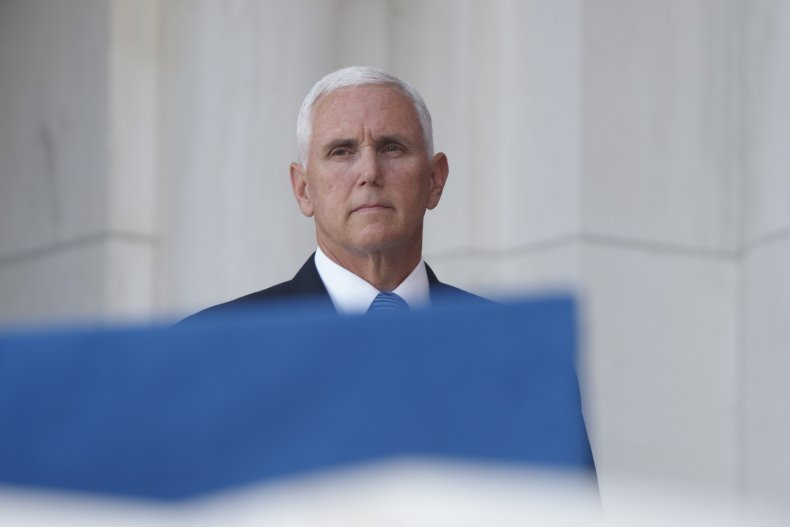 As the country was adjusting to Trump's unconventional style of governance, some prominent mental health experts, despite professional ethics rules, purported to diagnose from afar a condition of mental illness in the president. Regardless of a specific diagnosis, presidential critics have lambasted what they see as often erratic and unpredictable behavior from the commander-in-chief.
Dr. Bandy Lee, a Yale School of Medicine psychiatrist, even put out a bestselling book titled, The Dangerous Case of Donald Trump: Psychiatrists and Mental Health Experts Assess a President. The volume includes more than two-dozen essays from mental health experts who questioned the president's ability to do his job properly.
Newsweek subscription offers >
This sort of very public criticism, along with reports of dissent within the White House, had fueled speculation about a potentially historic invocation of the 25th Amendment, which allows the vice president and a majority of the Cabinet to declare the president unfit to serve, removing him from office.
Such a decision, as progressive critics have cautioned, would have thrust Pence into Oval Office, where they believe he would have been much more effective in carrying out the administration's conservative priorities.
Pence's under-the-radar approach to his position has also succeeded in disentangling him from the more salacious scandals which have become synonymous with the Trump presidency.
Porn-star payoffs, publicly praising autocratic foreign leaders, profane lashings-out at his critics: the president's personal style has often been the very opposite of Pence's consciously cultivated wholesome character.
The different moral values that each of the top two executives inhabits makes for a somewhat odd pairing, but political pundits have noted that Pence's corn-fed demeanor lends Trump a certain credibility he may not otherwise have with the critical Midwest electorate.
"He possesses the judgment to stay away from things that can create problems later," Ryan Streeter, who was Pence's former chief of staff during his time as governor of Indiana, explained to Politico in 2017.
Regardless of the speculation that accompanies the White House palace intrigue, Pence has displayed an absolutely effusive attitude towards the president in the rare instances when he has been put in a public position to express his gratitude.
"I'm deeply humbled as your vice president to be able to be here," he announced at the final cabinet meeting in 2017. "Because of your leadership and because of the strong support of the leadership of the Congress, you're delivering on that middle class miracle."
Donald Trump Doesn't Commit to Endorsing Mike Pence in 2024 If VP Runs for Top Job | Politics