Donald Trump Doesn't Deny Immigration Ad Is Racist: 'A Lot of Things Are Offensive, Your Questions Are Offensive'
President Donald Trump was asked by reporters on Monday to comment about several networks pulling his immigration advertisement because they deemed it racist. Trump did not admit his ad was racist—but didn't deny it either.
"I don't know about it, I mean, you tell me something I don't know about," Trump remarked before boarding Air Force One. "We have a lot of ads, and they certainly are effective, based on the numbers that we're seeing."
Another reporter followed up by phrasing the question more mildly, asking if Trump knew the ads were considered offensive.
"Well a lot of things are offensive," Trump replied, "Your questions are offensive a lot of times, so, you know…"
The ad in question, funded by Donald J. Trump for President, is meant to conjure fears of a migrant caravan that is passing through Mexico on its way to the United States.
"Dangerous illegal criminals like cop killer Luis Bracamontes don't care about our laws," the ad states, referring to an undocumented Mexican immigrant convicted of murdering two sheriff's deputies, but not known to be tied to the caravan.
CNN refused to air the ad, calling it "racist."
Even Trump's favorite network, Fox News, decided against the ad.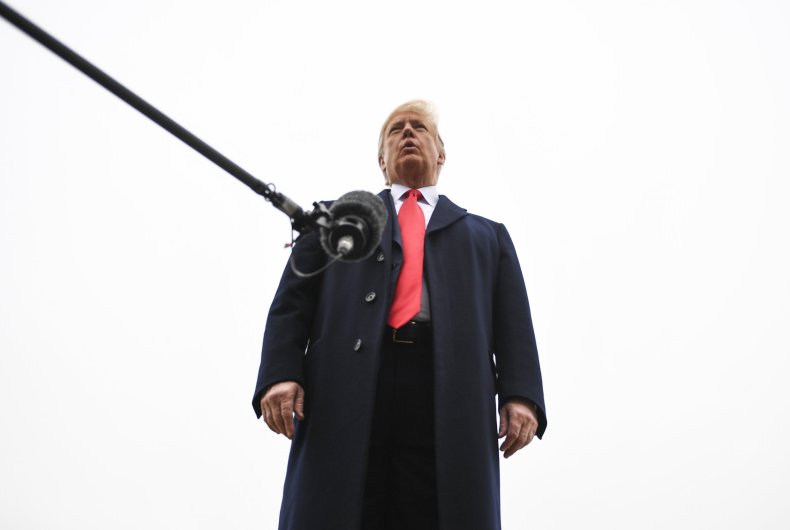 "Upon further review, Fox News pulled the ad yesterday and it will not appear on either Fox News Channel or Fox Business Network," Marianne Gambelli, the network's president of ad sales, told The New York Times in a statement Monday.
NBC ran the 30-second ad during primetime Sunday Night Football, but on Monday decided to pull it.
"After further review we recognize the insensitive nature of the ad and have decided to cease airing it across our properties as soon as possible," NBC Universal said in a statement.
In addition, Facebook on Monday announced it would remove the ad that was displayed for targeted user groups in some states, on the grounds that it violated its advertising policy "against sensational content." However, Facebook users can still share the video if they wish to.
Trump last week on Twitter shared a longer version of the ad that falsely claimed that Democrats let Bracamontes into the U.S. and "let him stay." Bracamontes entered the country when Bill Clinton was president and was deported. Years later, he reentered the U.S. during George W. Bush's presidency and was deported again. He then came back and killed the two California sheriff's deputies in 2014.
CNN slammed that ad with clips of anchors labeling it "racist."
The president has spread false information about the caravan and called it an "invasion" of the U.S. in an effort to rouse his supporters to vote in Tuesday's midterm elections.