Watch: Donald Trump Doesn't Understand Japanese Reporter: 'Say Hello to Shinzo, I'm Sure He's Happy About Tariffs on His Cars'
During a press conference on the midterm elections results, President Donald Trump Wednesday afternoon told a Japanese reporter to say hello to Japanese Prime Minister Shinzo Abe and remind him that their trade deal is unfair to the U.S.
The reporter with a Japanese accent asked, "Mr. President, how you focus on the economic..."
"Where are you from, please?" Trump cut in.
The reporter answered, "Japan."
"Say hello to Shinzo," Trump said, drawing some giggles from other media in the room.
The reporter, appearing startled, said, "Yes."
"I'm sure he's happy about tariffs on his cars," Trump added. "Go ahead."
The reporter continued with his question and Trump said, "I really don't understand you," before finally understanding the question was about trade with Japan.
"Trade with Japan? Well, we're dealing with Japan right now in trade," the president said, and elaborated that cars from Japan get a low tax coming into the U.S., while Japan rarely takes American cars.
"Japan is a great country, you have great prime minister who just had a very successful election. He's a very good friend of mine," Trump said of Abe. "He's one of the people I'm closest with, but I tell him all the time that Japan does not treat the United States fairly on trade."
Trump said that Japan sends millions of cars at a "very low tax" and if they take American cars, they subject them to a "massive tax."
"Japan—and I'm not blaming Japan—I'm blaming the people that were in charge of the United States for allowing that to happen. But as you know we have close to a $100 billion trade deficit with Japan," the president said. "And Japan has treated us very unfairly but don't feel lonely, because you weren't the only one."
Trump has had a relatively good relationship with Prime Minister Abe. The two have golfed together in Japan and at one of Trump's golf courses. But Trump has put pressure on Japan, which long resisted a free trade agreement with the U.S., by proposing a 25 percent tariff on imports of Japanese cars and parts. Abe agreed to enter into negotiations in the U.S. in late September.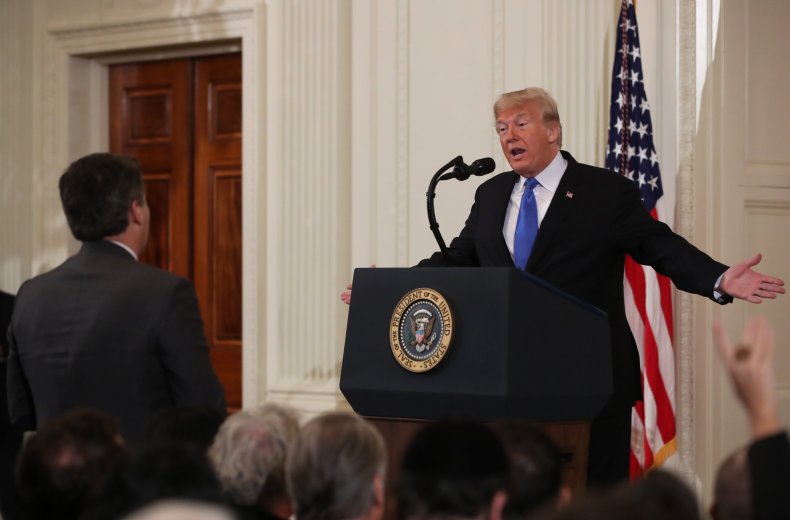 Earlier in the press conference, Trump also said, "I don't understand what you're saying," to a female reporter with an accent who asked if the election of two Muslim women was a rebuke of his message.
A reporter next to her with the microphone next then said, "Mr. President, I'm from Brooklyn, so you'll understand me."
"Yeah, I understand you very well," Trump said.