Donald Trump has always hated these kind of decisions: the kind that makes previous decisions that he's made "look maybe not as good as he thought they were at the time," as a former White House aide puts it.
That, squarely, is where the president now stands when it comes to Saudi Arabia and its de facto leader, 33-year-old Crown Prince Mohammed bin Salman, aka MBS. If Washington concludes that what the Turkish government is telling all the world is true—that a Saudi hit squad murdered and then chopped up the body of journalist Jamal Khashoggi in the Kingdom's consulate in Istanbul—then one of the administration's toughest decision to date looms. Now what?
Even before Trump acknowledged that Khashoggi was likely dead, and conceded that if the Saudi government was behind it the consequences would have to be "very severe," his national security council had pulled together a range of options for how to respond. The White House may throw its backing behind a push in Congress to invoke sanctions on any individual found to be involved in carrying out or planning the murder, under the so-called Global Magnitsky act (named for a Moscow accountant allegedly killed at the hands of Vladimir Putin's government in 2009). Such a move would freeze any U.S. assets of those found to be involved and prevent their travel to the U.S.
More damaging to the Saudis would be a variety of economic sanctions that could prevent planned expansions in the U.S., including, for example, pledged investments in refineries and petrochemical plants by Saudi Aramco, the national oil and gas company. White House officials have also put on the table an array of planned expenditures in Saudi Arabia by U.S. arms makers, from Lockheed Martin's intention to make Blackhawk helicopters in the Kingdom to a General Dynamics pledge to aid in the production of armed combat vehicles there. The expansion of the Kingdom's defense industry is a key plank in MBS's "Vision 2030" to diversify Saudi Arabia's economy away from oil. Analysts believe a sudden U.S. reluctance to aid in that effort would get Riyadh's attention "in a hurry," as one aide put it.
Finally, the administration may discuss whether it makes sense to publicly distance itself from the crown prince. That would pressure the House of Saud to find someone else to succeed King Salman bin Abdulaziz-Al Saud, MBS's ailing father, if a direct link to Khashoggi's killing is found.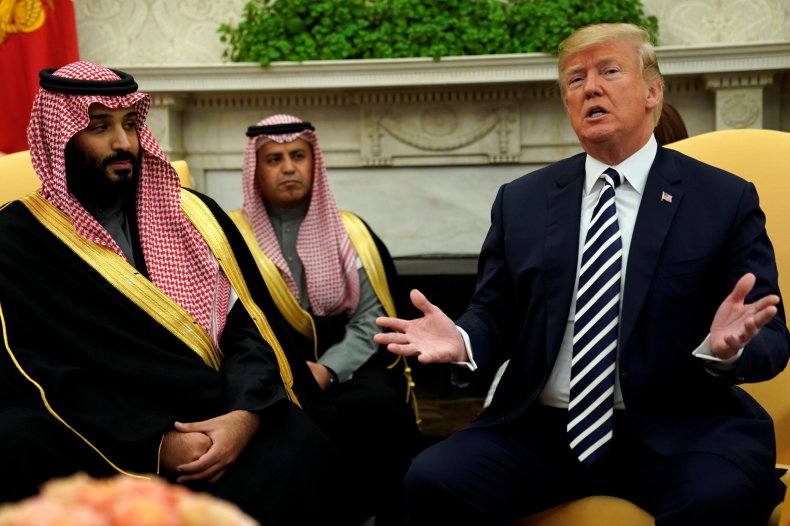 For economic reasons alone, none of these options—except for the minimum, invoking the Magnitsky Act—is at all appealing for the White House. Saudi investment in the U.S. is something that Trump himself boasted about last year, when he made his first overseas visit as president to Riyadh. As Trump said during the visit, the pledged investments meant "jobs, jobs, jobs" for American workers. Trump, back then and again this week, also touted the economic benefits for the U.S. of Saudi weapons purchases. In order to punish the Saudis, the U.S. will have to absorb some pain as well, though the current strength of the U.S. economy may make that somewhat more bearable.
Looming over all these possible options, of course, is the oil weapon. Saudi Arabia is the second largest oil producer in the world, trailing only the U.S., and is the self-described "central bank" of the world's crude market, as energy minister Khalid al-Falih said this week, helping to keep supply and demand in balance and prices relatively stable. The Saudis have already publicly threatened retaliation if sanctions from Washington are forthcoming: oil prices could spike from the current level of around $80 to $200 or more, warned Turki Aldakhil, a well-known Saudi broadcaster thought to be delivering a message straight from MBS. Given that Trump in recent weeks had been warning the Saudis not to let oil prices rise too high, even before the Khashoggi affair erupted, it was a pointed message.
But while the economics of punishing the Saudis are complicated, two other factors make the decision now facing Trump even more difficult. One is the broader strategic issue of possibly weakening the U.S.-Saudi alliance, which one foreign policy adviser in the White House calls "the anchor" of Washington's Mideast policy. Second is the deep personal investment the Trump administration has in MBS.
Trump has reversed President Barack Obama's policy of trying to lure Iran out of its isolation and hostility toward the U.S.—famously calling for the Islamic Republic and its Saudi rivals to "share" their neighborhood. Now, U.S. policy again backs Saudi Arabia as a bulwark against what it sees as Tehran's expansionism. The Saudis were thrilled when Trump backed out of the Iran nuclear deal last year, and, before Khashoggi's murder, had pledged to help keep the oil market stable when U.S. sanctions on Iranian crude exports go back into place next month. The administration's Mideast policy could go "straight down the tubes," as one White House aide mentioned, unless it can figure out a way to finesse the Khashoggi mess.
Republicans on Capitol Hill, as well as some members of Team Trump, worry that personal feelings weigh more heavily than policy when it comes to the House of Saud. Trump's son-in-law Jared Kushner has developed a tight bond with MBS, and was instrumental in making sure Trump's first visit abroad as president was to Saudi Arabia. He and then-National Security Adviser H.R. McMaster famously high-fived each other on the tarmac in Riyadh at the visit's end. "This whole mess is a huge loss of face for Jared," said a foreign policy adviser. According to some reports, Kushner has argued to stand behind the crown prince, no matter what. Having his daughter's husband with such a vested interest in the issue illuminates the risks of having close family members conduct policy at the highest levels of government.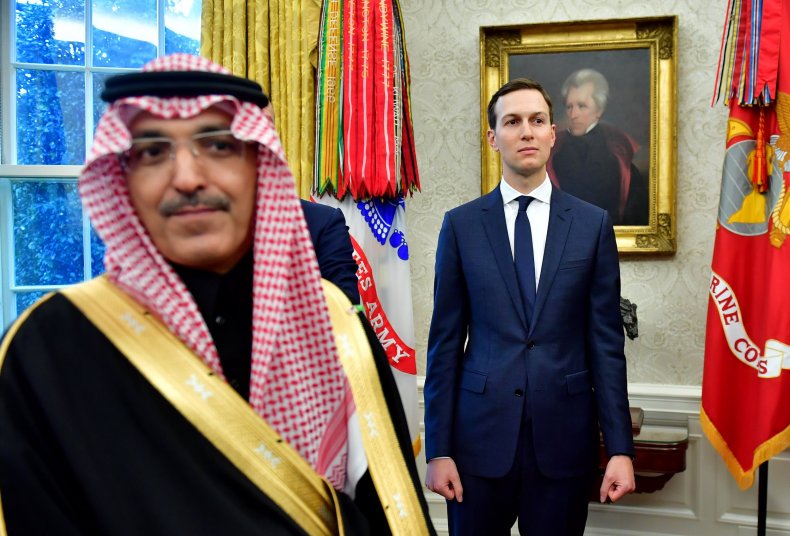 Kushner, to be sure, wasn't the only one betting big on MBS and the Saudis. Defense Secretary Jim Mattis and McMaster's successor at the National Security Council, John Bolton, are fully onboard with the administration's pro-Saudi, anti-Iran tilt. But Trump has been the cheerleader in chief, welcoming MBS to the White House at the start of a two-week visit to the U.S. earlier this year, and boasting endlessly about Saudi investment and arms purchases. An embarrassing climb-down from all that is practically unthinkable.
The administration now awaits the results of Saudi Arabia's own "investigation"—Secretary of State Mike Pompeo, upon returning from Riyadh midweek said it would take a "few days"—before deciding anything. Privately, the White House fears that the Saudis will finger a patsy—a senior intelligence official, ordered by MBS to interrogate Khashoggi and taking it too far, for example—as the person responsible for the murder. Late Friday evening, Saudi state TV was said to be reporting that 18 Saudi nationals had been involved in Khashoggi's death. The president and his men would have to demonstrate a reason to believe that scenario—no easy trick, but maybe less uncomfortable than the alternatives.