Donald Trump Says Having Dog Would Feel 'Phony' While Touting Drug-Sniffing Border Canines
Donald Trump, the first president in more than a century not to have an official White House pet, took a shot at dog owners at a Monday rally, saying it'd feel "phony" for him to have a canine.
While speaking at the El Paso, Texas rally in favor of his proposed border wall, Trump's stream of consciousness commentary with the rowdy crowd led him to discuss how drug dogs are more effective and less expensive than high-tech narcotic detection devices. Trump said he questioned U.S. Border Patrol and Secret Service members about how well dogs can seek out drugs crossing the border. But just after touting an anecdote about a German Shepherd's ability to find drugs, the president was questioned by the crowd about his personal opinions on owning a pet.
"Guy looks at me, and he goes, sir, honestly, it's not as good' [as the dogs], can you believe it?" Trump told exuberant rally-goers in Texas Monday. "A German Shepherd, certain types of dogs. Pretty good. You do love your dogs, don't you?"
"I wouldn't mind having one honestly but I don't have any time.," Trump continued. "How would I look walking a dog on the White House lawn, would that be --" Trump said as the crowd cheered over him. "It's sort of not, I don't feel it. It feels a little phony to me."
Trump said people are always telling him he should get a dog because it looks good politically. But Trump said "that's not the relationship I have with my people." A supporter in the crowd shouted out the word, "Obama," before Trump responded, "Obama had a dog, you're right."
Trump went on to urge his supporters and members of both parties in Congress to "come together" and support increased border security. But enraged dog owners took to Twitter with their own pro-pet plea: "Never trust a man who doesn't like dogs," reads one top comment.
Writing in The New York Times in September 2016, Gail Collins noted, "If Trump has ever in his life had a pet, his campaign doesn't know about it. There's some question, in fact, about whether he's even had an animal friend."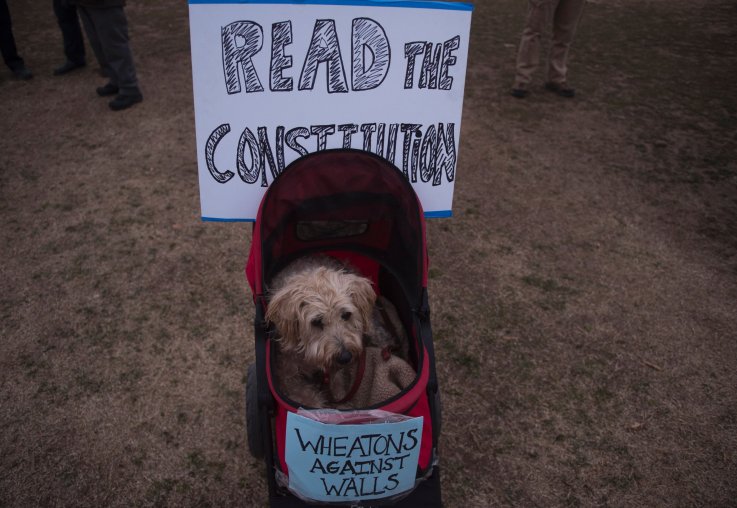 Donald Trump Says Having Dog Would Feel 'Phony' While Touting Drug-Sniffing Border Canines | U.S.