Donald Trump's Potential Dominican Republic Real Estate Deal May Violate the Constitution, Report Reveals
President's Donald Trump's new real estate deal in the Dominican Republic could, if completed, violate the U.S. constitution's Emoluments Clause, according to a new undercover investigation by the organization Global Witness.
The Trump Organization abandoned its ambitious plans to build dozens of luxury buildings in the Dominican Republic around a decade ago when the global economy crashed. The project ended with an acrimonious lawsuit in which the Trump Organization accused the Dominican developers, Ricardo and Fernando Hazoury, of fraud.
Despite his promise not to pursue new foreign business deals while in office, evidence has emerged that the Trump Organization, which is now run on a day-to-day basis by the president's two adult sons, is again pursuing a similar deal with the same Dominican developers the organization cut ties with many years ago. Many lawmakers and experts note that this project could constitute a conflict of interest, and the Global Witness report released Monday argues that the project could violate the Constitution.
"The Trump Organization's business in the Dominican Republic has also spurred questions about the relationship between the U.S. president and Dominican officials," the report reads. "In particular, questions have arisen over whether Dominican officials changed rules so that buildings could be constructed higher to benefit a Trump company project, which could be a potential violation of the U.S. Constitution's Emoluments Clause."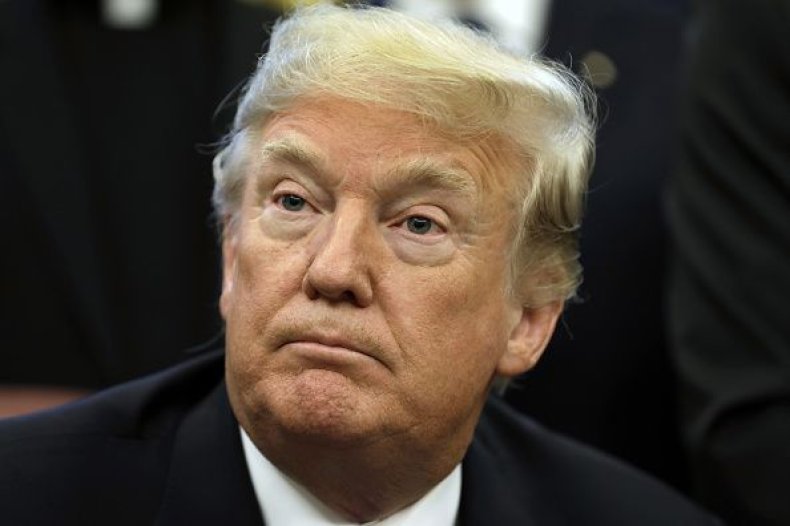 Shortly after Trump's inauguration, his son Eric Trump visited the Dominican Republic, reportedly to discuss the real estate project. Eight months after his visit, the Caribbean country's government changed regulations that restricted building heights. The change only applied to the eastern tourist region of the country, where the Trump real estate projects would reportedly be built.
The Trump Organization denies that it is involved in any project in the Dominican Republic. Salespeople speaking with undercover investigators from Global Witness, however, told a different story.
The Emoluments Clause of the U.S. Constitution prohibits the president from accepting emoluments, which include a salary, fee or any other type of profit from his or her employment or office, from a foreign official. The clause was written by the Founding Fathers to avoid the type of transnational deals that often influenced the foreign policy decisions of Europe's monarchs.
"What you have here is not a payment in cash, but allegedly a benefit of tremendous business value, from a foreign state. Benefits come in many forms and the founders understood that benefits come in many forms," Jed Shugerman, a professor at Fordham Law, told Newsweek. "The Founding Fathers weren't building high-rises, but they did understand the role of foreign states providing benefits to foreign leaders as a corrupt way of doing business, and the foreign emoluments clause was meant to be not just cash payments or bribes."
On December 3, a federal judge gave the green light for attorneys general in Maryland and D.C. to issue subpoenas in ongoing lawsuits that alleged that President Trump had violated the Emoluments Clause. Shugerman said the evidence from the Global Witness report could be added to these lawsuits.
It is not illegal for Trump to run a private business while in office, but most senior government officials are required to divest completely from private financial interests that could influence their work. In Trump's case, his children are running his business through a trust, but the president could retake control of the business at any time. Investigators note that the president will still profit from Trump Organization deals. This fact could give incentives to foreign governments and officials to make deals that are good for the Trump Organization in order to curry favor with the president, experts have said.
Senator Ben Cardin recently said that lawmakers in Washington expect the president to avoid the type of conflict of interest represented in the case of the Dominican Republic. In February, anti-corruption campaigners told Newsweek that the Dominican Republic projects could be grounds for impeachment. Meanwhile, some experts argued that, even if there was no evidence of corruption, the appearance of a conflict of interest could hurt the presidency.
"Donald Trump's decision not to divest from his business interests once he took office is an albatross on his presidency. It is obviously unacceptable for the president to benefit personally by getting business favors from foreign governments that seek to curry favor with the American government. But it is damaging to the presidency even when there is not an actual corrupt effort underway," Andrew Wright, former associate White House counsel, told Newsweek.
"When President Trump makes decisions in good faith on behalf of the American people that incidentally benefit a country in which he has business interests, we are left to wonder what his true motives were. It breeds mistrust in government and undermines public confidence in his decisions," Wright added.
President Trump, meanwhile, still refuses to release his tax returns to the public.
Last year, the president's daughter Ivanka Trump and her husband, fellow White House senior adviser Jared Kushner, spent a weekend visiting a luxury hotel in the Dominican Republic. It is unclear whether their visit was related to the real estate project, but it is estimated to have cost U.S. taxpayers almost $60,000 in security costs.