President Donald Trump "should be worried" about White House general counsel Don McGahn's expected departure in the fall, in light of his cooperation with the special counsel's investigation, according to one of the president's staunchest defenders and famed attorney Alan Dershowitz.
Dershowitz said he believed McGahn's exit was related to his reported 30 hours of testimony before special counsel Robert Mueller's investigators, which was reported by The New York Times story earlier this month.
"I think [McGahn leaving] has everything to do with the fact that he met with Mueller," Dershowitz told NPR during an interview released Thursday morning.
Dershowitz, who has previously said he's against any appointment of special prosecutors, said McGahn might not have flipped against Trump but had likely "filled some gaps" for Mueller's investigators. He added how valuable McGahn could be for Mueller's team.
"Even if McGahn didn't deliberately incriminate the president, he's probably filled some gaps, he's probably provided them with some information, a meeting here or there that they didn't know about that now they know about," Dershowitz said. "And the idea of getting advice from a lawyer who may be sitting opposite you in a courtroom seems to be that the writing was on the wall as soon it was disclosed that he had such an extensive meeting with Mueller."
Dershowitz added: "Well he should be worried. I don't know whether he is worried.… When your White House counsel sits down for 30 hours, you ought to be worried."
He went on to say that he thought it was important for Trump to next hire someone capable of being independent, but that the president could be "tempted" to pick a "loyalist."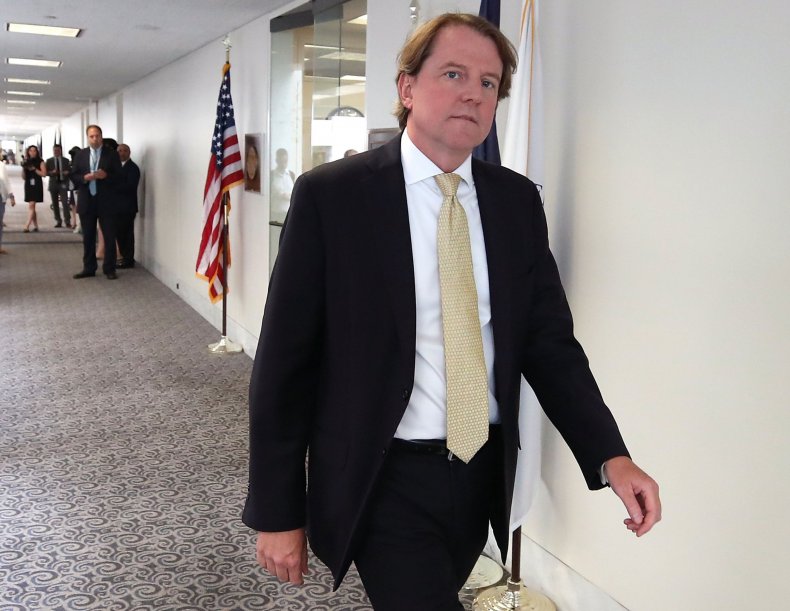 McGahn is expected to leave his post following the confirmation of Supreme Court justice nominee Brett Kavanaugh. McGahn and Trump have reportedly had a tense relationship with the former, viewed as one of the few people in the administration who challenged or pushed back against the president.
However, Trump tweeted Thursday that McGahn did not hold him back from some potentially damaging decisions like firing Mueller or Attorney General Jeff Sessions, as some reports have indicated.
"I am very excited about the person who will be taking the place of Don McGahn as White House Counsel! I liked Don, but he was NOT responsible for me not firing Bob Mueller or Jeff Sessions. So much Fake Reporting and Fake News!" the president said.
Attorney Emmet Flood, hired by Trump in May, has been linked to possibly replacing McGahn, given his experience with impeachment for former President Bill Clinton.