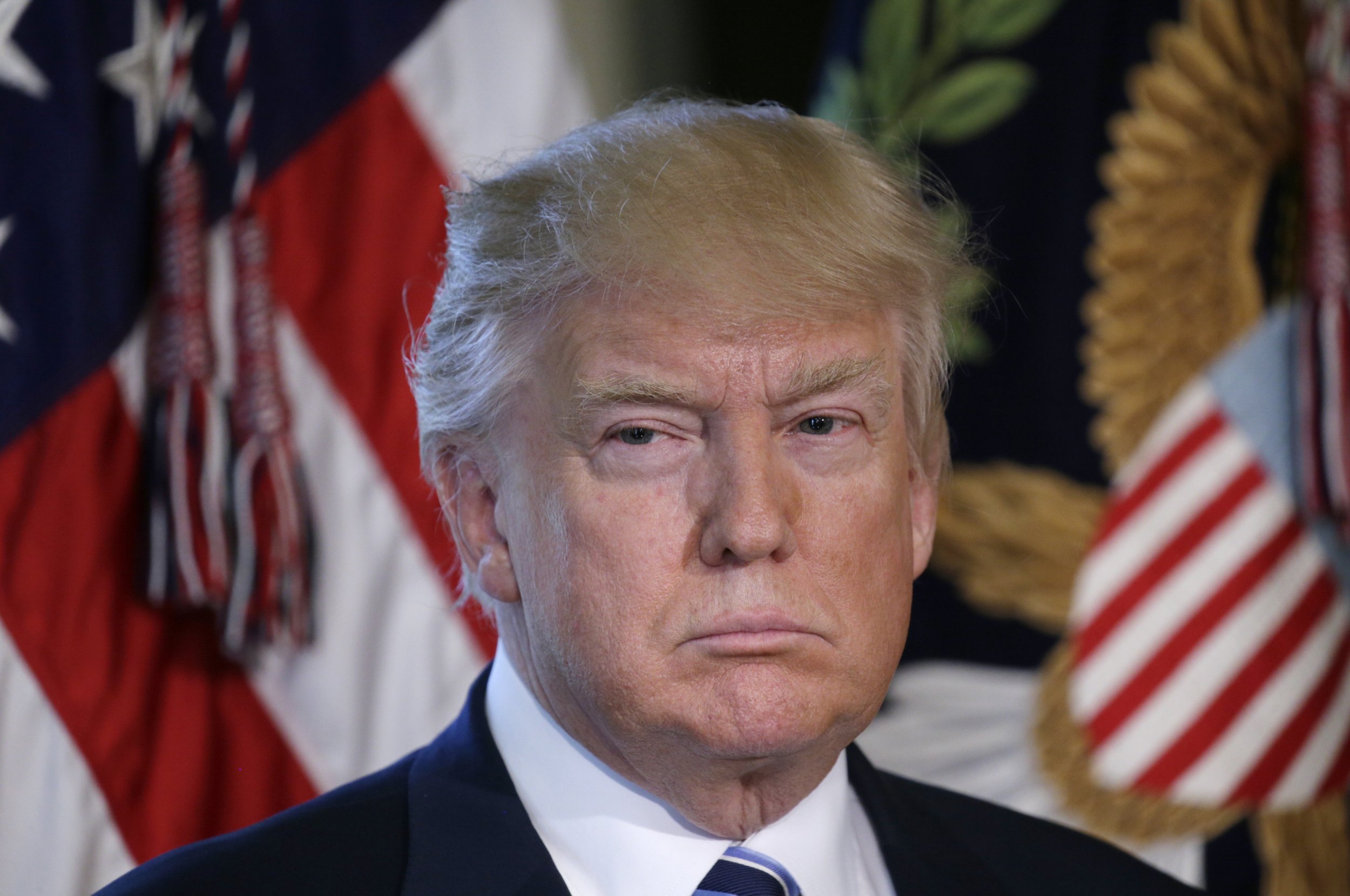 Three millennials living in Trump's America may have discovered a way to remove the president from office using his own greatest vice: Twitter.
DonaldDonates.com is a newly launched organization connecting users to activist groups defending everything from human rights to the environment against climate change. Every time President Donald Trump tweets to his 28 million followers, those who sign up can send donations to progressive causes—or, a fund for the future 2020 Democratic candidate.
Co-founders Adam Gibbs, David Hyatt and Justin Munn tell Newsweek the goal of their latest project is to pressure Trump into being booted from office before the next general election—whether it be through impeachment or resignation—while donating to a bevy of causes impacted by the new administration's hardline policies on issues like immigration and global warming. If the president does make it through his first term, the group hopes to raise a large enough pool of money for his inevitable opponent's campaign.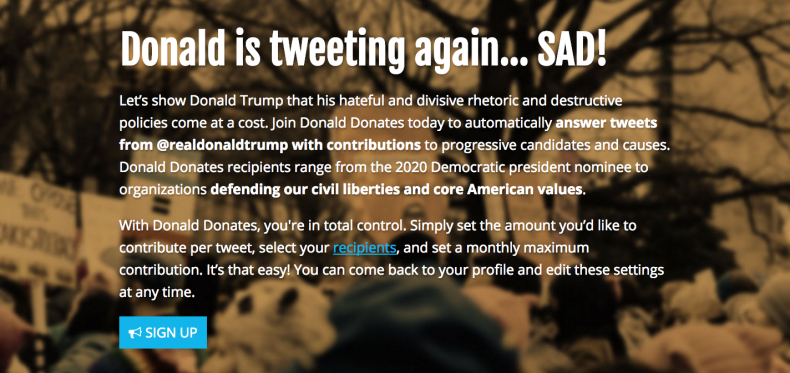 Battling Twitter fingers with online activism
The idea for DonaldDonates came about after Hyatt, a software developer, joined Twitter following Trump's shocking electoral upset victory, where he says he found himself even further shocked by the new president's Twitter fingers. He created an auto-response app set to reply to every single one of Trump's messages, which Gibbs—who worked on both former President Barack Obama's and former Secretary of State Hillary Clinton's presidential campaigns—then collaborated with him on to transform into a fundraising platform.
"To go from only knowing a president in my adult life who was incredibly thoughtful, and took the time to consider not only his actions but his words, to having someone who spouts off lies that he hears on Fox News that can totally change the course of the economy or flirt with war with other countries using Twitter, that's absolutely frightening," Gibbs said. "The way we look at this is: best case scenario, we raise a lot of money for organizations doing amazing work and for a candidate who is going to run against Donald Trump in 2020, or he stops tweeting, which is also a huge win!
"Either way, we think this has the potential to make a huge impact," Gibbs continued.
Finding the silver lining in Trump's America
Users can set up recurring donations to multiple causes each time Trump tweets, or select specific organizations to receive funding based on whatever message the president is "shooting off the hip" in 140 characters, the co-founders explain. Fully aware of the president's Twitter habits, however, the group created a cap so people can designate specific maximum monthly donation totals.
Munn says the three co-founders came together to collaborate on a way to use Trump's Twitter as a catalyst for online activism in the midst of the president's now-halted executive orders restricting travel from several Muslim-majority nations.
"For me, Trump's election was what got me engaged with issues I otherwise wouldn't have been involved in and help create this site," he said. "I've also been attending protests like the march for science here in Anchorage. It's definitely urged me to get more involved."
The great American catalyst
Trump's presidency—even with all of the tweets, scandals and executive orders in its first 100 days—may not be entirely negative for the future of the United States, the founders of DonaldDonates say. In fact, whether the group can successfully "tweet Trump out" of office or not, the president's victory last year and the following controversies may have served as a catalyst to inspire future generations to take action like never before.
And the money has been pouring in for progressive organizations ever since.
The American Civil Liberties Union raised $24 million in online donations in the weekend following Trump's first executive order that sought to temporarily restrict travel from certain Muslim-majority nations. That's six times its yearly average. Donations for the National Immigration Law Center also increased "across the board" since the November elections, according to executive director Marielena Hincapie. While garnering donations for the organization used to be "slow and tedious work," Trump has seemed to inspire countless individuals to put their money where there mouth is.
Now, sending that money as a show of force against Trump's presidency and Twitter habits is easier than ever before. Thanks, Donald.