What Is Donald Trump's 'Donor Wall?' President Promises To Engrave 2020 Campaign Supporters Names In New Wall
President Donald Trump is building a wall—and this time it is for his 2020 campaign donors.
In a campaign email sent out to supporters on Saturday, Trump called on voters to donate to his campaign, promising to engrave their names in a wall "for a select group of donors who choose to step up at this critical time."
"Space is limited on the Official 2019 Trump Donor Wall, so be sure to act fast!" the email says.
The "donor wall" email caused some confusion, with Richard Painter, a former chief White House ethics lawyer, questioning whether the U.S. leader planned to etch supporters' names into the wall his administration is currently working to build across the U.S.-Mexico border.
"Is this THE wall?" Painter asked. "Are you asking Mexico to donate too?"
Trump's "donor wall" for 2019 supporters, however, is not the one being built at the U.S.-Mexico border.
In fact, the U.S. leader already has a "donor wall" in his Trump Tower honoring supporters who contributed to his 2016 presidential campaign.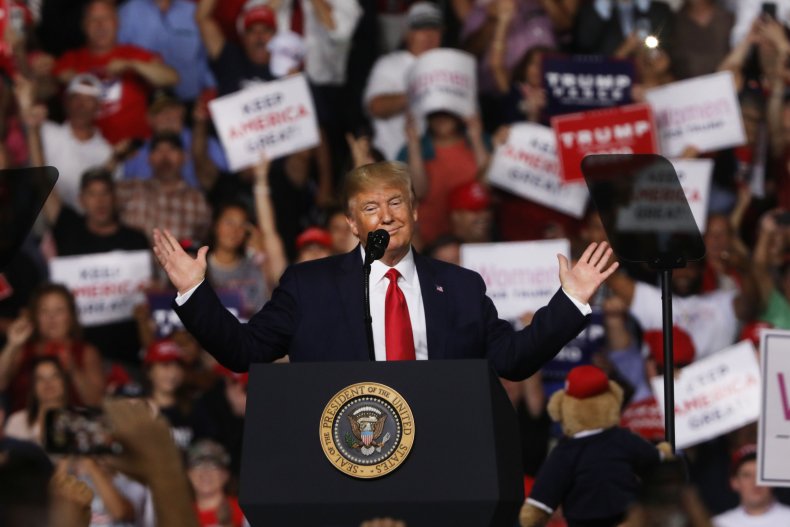 It is likely that the 2020 donor wall would also go up in Trump Tower, though it is still unclear where the wall will go.
"The names that will go on our Official 2019 Trump Donor Wall will belong to the men and women who will have chipped in whatever they can to save our country. They know what WINNING is all about," Trump writes in the 2020 campaign email.
"Most campaigns (especially the 2020 Democrats) only ever recognize their MEGA-DONORS," he says. "But our incredible movement is about so much more than money. We are fueled by tough, hard working Americans who are willing to do whatever it takes to Keep America Great."
By contributing to his campaign, the U.S. leader says donors might win the chance to "cement your name in political history."
The graph below, provided by Statista, shows existing and proposed structures on the U.S.-Mexico border, some that are part of a U.S. Congressional budget proposal in Februrary of 2019.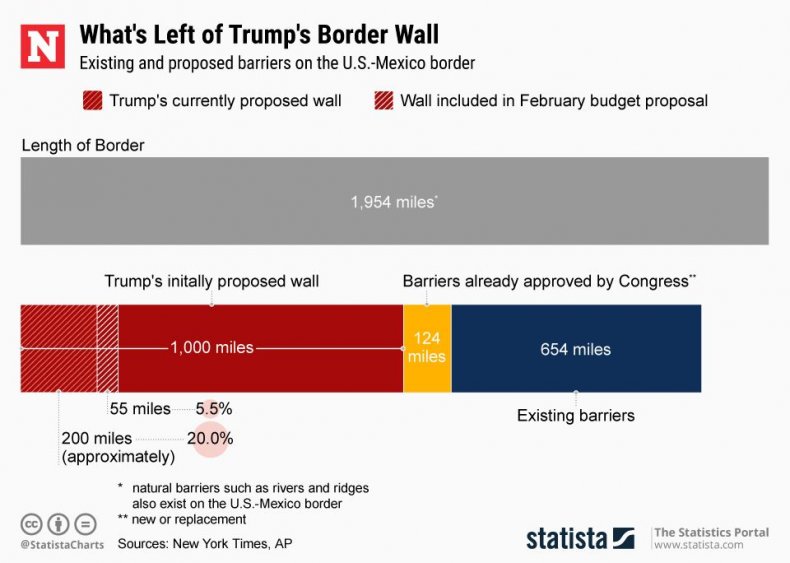 In his campaign email, Trump says his administration has been "WINNING," before listing a series of accomplishments, including seeing unemployment rates fall to "the lowest they've been in decades," creating "MILLIONS of new jobs," appointing "two fantastic conservative Supreme Court Justices, including the controversial appointment of Justice Brett Kavanaugh, and seeing construction of "beautiful WALL" underway.
The Trump administration has vowed to see at least 450 miles of the long-promised border wall built before the end of 2020.
However, it seems unclear whether they will be able to reach that goal.
As of late last month, the Trump administration had only seen roughly 60 miles built, with nearly 400 left to go before it reaches its 2020 goal.