Donald Trump Jokes He's Never Drunk Beer, but if He Did, 'Can You Imagine What a Mess I'd Be?'
President Donald Trump answered a reporter's question Monday about alcohol and his Supreme Court nominee Brett Kavanaugh with an aside about how he himself has never drunk a beer before joking that he would be "the world's worst" if he did.
Trump made his remark when CNN reporter Kaitlan Collins asked during a press conference in the White House Rose Garden whether he thought Kavanaugh lied about his drinking.
"I don't think he did," Trump answered, adding about himself: "Look, I'm just saying, I'm not a drinker; I can honestly say I've never had a beer in my life, OK?"
The president continued, jokingly: "It's one of my only good traits, I don't drink," drawing laughs.
"I've never had a glass of alcohol, I've never had alcohol. I just, for whatever reason. Can you imagine, if I had, what a mess I'd be?" Trump added, drawing more laughs. "I'd be the world's worst."
It is not the first time the president has spoken proudly about his abstinence. He made almost identical remarks during a speech on the opioid epidemic in October 2017, going into detail about why he has chosen to remain sober.
"I had a brother Fred, great guy, best-looking guy, best personality, much better than mine, but he had a problem, he had a problem with alcohol, and he would tell me 'don't drink, don't drink,'" Trump said at the time. "And to this day, I've never had a drink. And I've had no longing for it. And I have no interest in it."
Trump added that not drinking or smoking "are only two of my good things."
"I don't want to tell you about the bad things, there's plenty of bad things too. But he really helped me. I had somebody that guided me, and he had a very, very tough life because of alcohol, believe me," Trump said.
Trump's older brother died in 1981 at the age of 43.
After his brief tangent Monday, the president went on to defend Kavanaugh, who has been accused of drinking heavily during high school and college.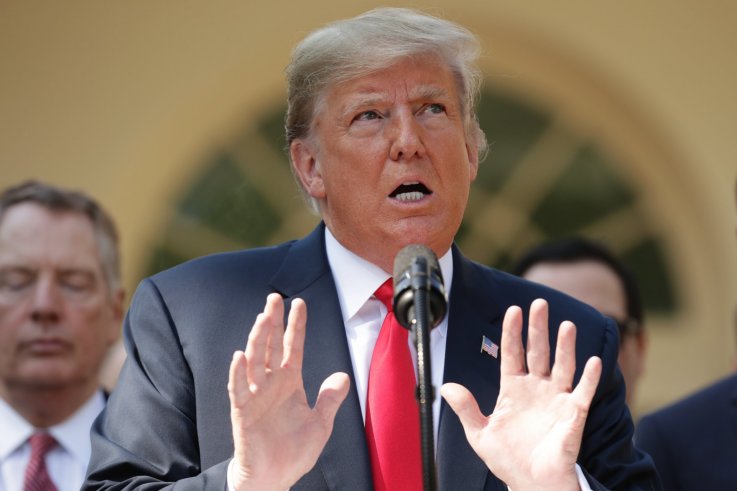 "I never drank, I never drank, OK? But I can tell you, I watched that hearing," Trump said, referring to Kavanaugh's testimony before the Senate Judiciary Committee on Friday that he did not drink excessively more than his peers.
"I watched a man saying that he did have difficulty as a young man with drink," Trump said, seemingly contradicting Kavanaugh's testimony. "The one question I didn't ask is how about the last 20 years, have you had difficulty the last 20 years? Because nobody said anything bad about him in many, many years."