Trump Blames Earpiece for Failure to Disavow David Duke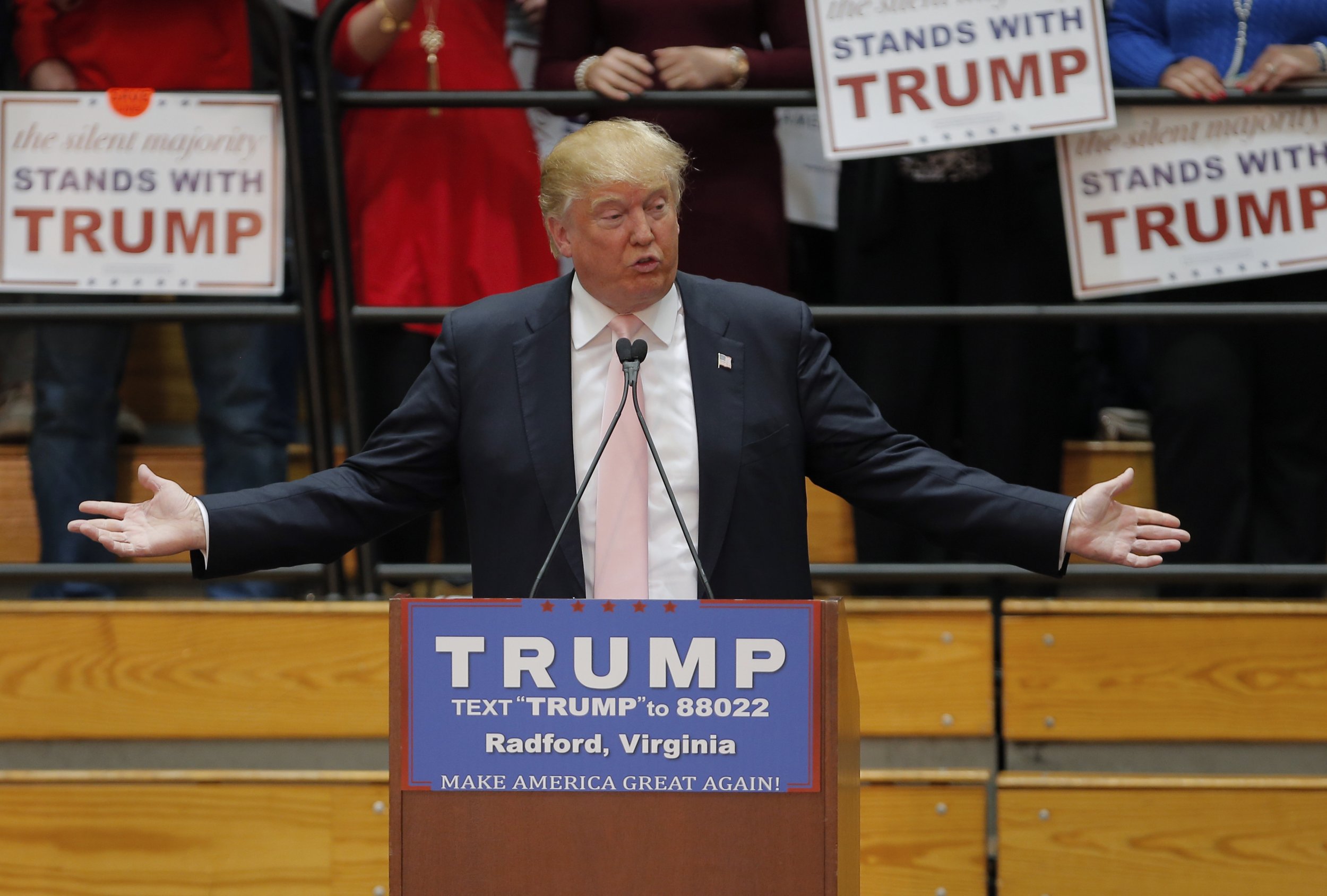 WASHINGTON/SAN ANTONIO (Reuters) - Donald Trump blamed a faulty television earpiece on Monday for his failure to disavow support from a white supremacist, swatting aside the latest controversy to shadow his unorthodox march toward the Republican presidential nomination.
On the eve of the biggest voting day in the race to pick the 2016 U.S. presidential candidates, the Republican front-runner tried to explain why he did not condemn backing from former Ku Klux Klan leader David Duke during a Sunday television interview.
"I'm sitting in a house in Florida with a very bad earpiece that they gave me, and you could hardly hear what he was saying, but what I heard was various groups," Trump said on NBC's Today show.
"I disavowed David Duke all weekend long, on Facebook, on Twitter, and obviously, it is never enough," the real estate billionaire added.
It was unclear whether Trump would be damaged by the support of a white supremacist. He has risen in opinion polls and won three of four early nominating contests while proposing a temporary ban on Muslims entering the country, calling Mexican immigrants criminals and insulting women.
The former reality TV star, whose candidacy began as a long shot, looks set to amass more victories when 11 states, many in the South, hold nominating contests on Super Tuesday.
Trump leads opinion polls in many of those states, as well as in most national polls where he has a double-digit advantage over closest Republican challengers Marco Rubio and Ted Cruz.
His progress in the race to become the Republican nominee for the November 8 presidential election, boosted by a surprise endorsement from New Jersey Governor Chris Christie on Friday, has alarmed many in the party establishment.
'A CIRCUS'
Trump's rivals slammed him for equivocating on white supremacist support on Sunday, when he was asked repeatedly on CNN if he would condemn the Klan and disavow support from white supremacists including Duke, a former Klan grand wizard from Alabama, one of the states voting on Tuesday.
Rubio, a first-term U.S. senator from Florida who is seen by some Republican leaders as the best hope to defeat Trump, said on Monday, "I don't care how bad the earpiece is—Ku Klux Klan comes through pretty clearly and he refuses to criticize it."
Rubio has embraced some of Trump's bar brawl tactics with apparent relish since a debate last week, smiling broadly when his shift to offense was greeted with claps, laughter and cheers. He has since insulted Trump's appearance and suggested he urinated in his pants during the debate.
The descent into incivility has drawn rebukes from Republicans including John Kasich, the Ohio governor who hopes to keep his own White House hopes alive beyond Super Tuesday by doing well in states rich in the delegates that candidates need to win the nomination.
Kasich, who has prided himself on running a positive campaign, criticized his rivals for their name-calling in a campaign he described as "almost beyond fiction."
"It's just one controversy over another," Kasich said on CNN. "This is like every day. It's a circus."
For Democrats, the backbiting in the Republican field has been a gift. Hillary Clinton came off a landslide victory in South Carolina's primary on Saturday with improved chances of capturing her party's nomination and her attention shifted from Democratic rival Bernie Sanders to the candidate she may end up facing in November.
The former secretary of state added a twist to Trump's slogan "Make America Great Again," saying "I don't think America ever stopped being great," and promising she would try to make the country whole.
"What we can't let happen is the scapegoating, the blaming, the finger pointing that is going on on the Republican side," Clinton said in Massachusetts on Monday.