Donald Trump Echoed North Korean Propaganda about U.S. 'War Games,' CIA Analyst Says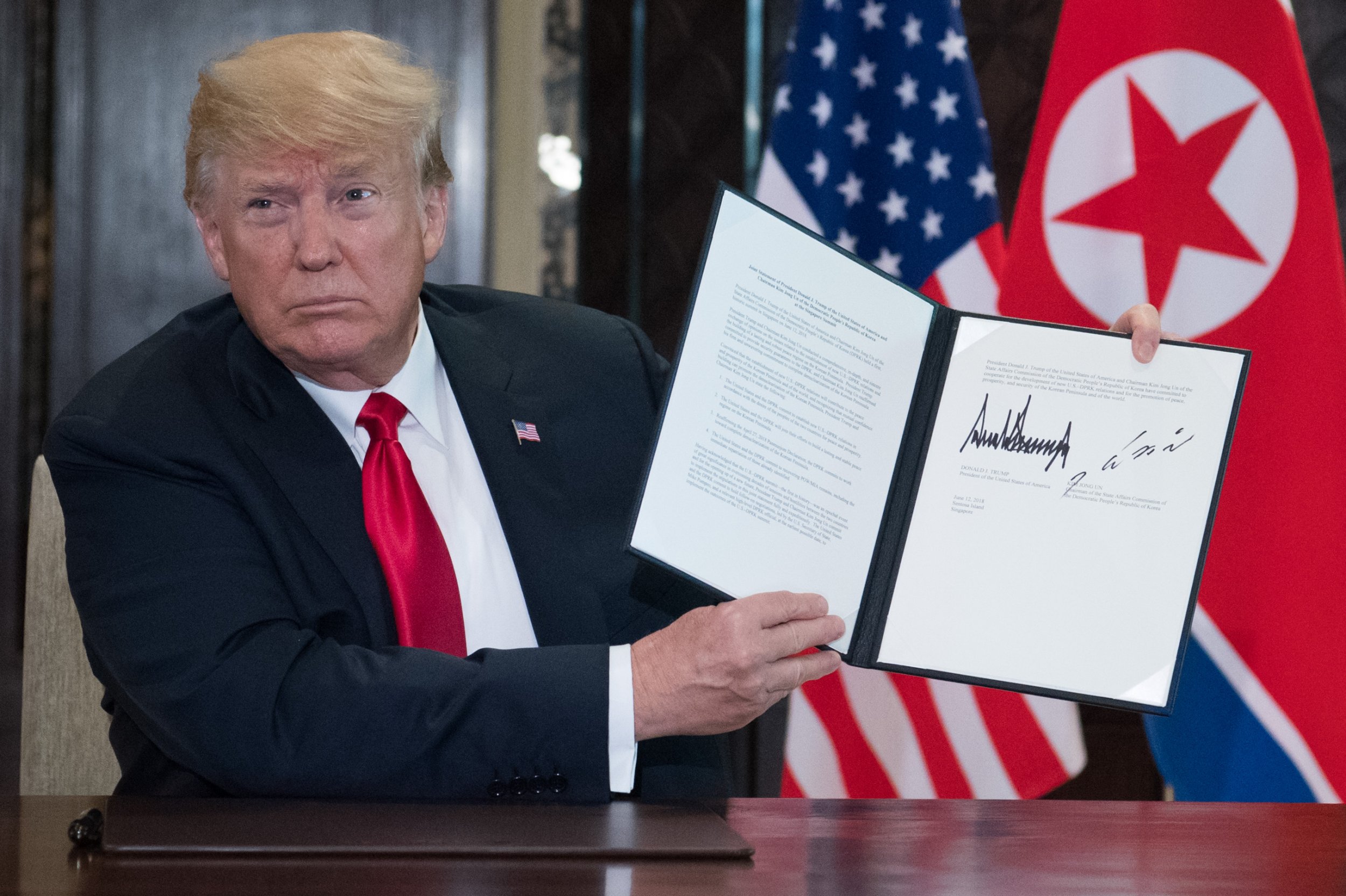 Give Donald Trump his due: the meeting was historic—the leaders of the U.S. and North Korea had never met before. And by the standards of 2017, when the two leaders were insulting each other and an unthinkable war started to become thinkable (if not plausible), the new atmospherics were useful. As Victor Cha, a former national security council staffer who was briefly Trump's choice to be U.S. ambassador to Seoul says, "If the bar is war or peace, then we are in a better place than we were six months ago, when there was a lot of talk about war."
But that's a low bar, and in the meeting's aftermath, there was far more concern among U.S. allies than they were letting on publicly. Trump not only sandbagged the Moon Jae-in government in Seoul, he sandbagged his own Pentagon by announcing that he had agreed to Kim's request to cancel U.S. military exercises with South Korea. Just as startling was the language he used to describe those exercises: He called them "war games" that were "provocative." That terminology, as former CIA analyst Sue Mi Terry of the Center for Strategic and International Studies points out, is straight out of North Korean propaganda. "[Defense Secretary James] Mattis was reaching for the smelling salts at that point," says one former U.S. National Security Council staffer.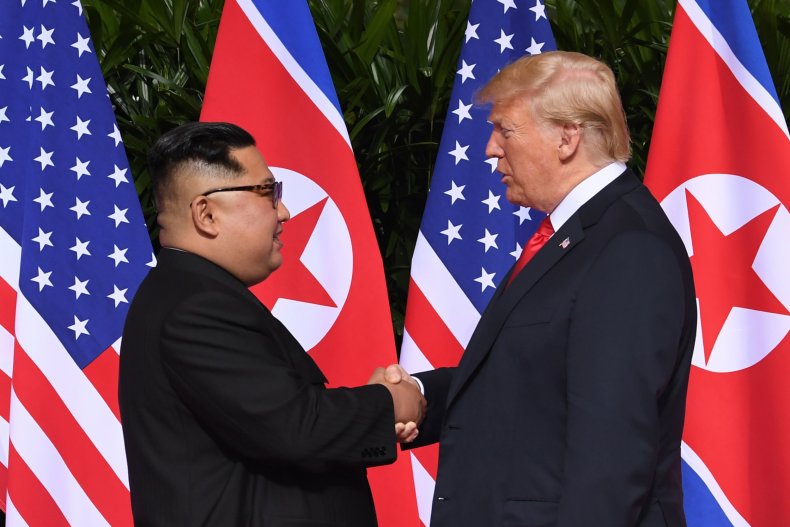 Trump the isolationist—and at his core, that's what he is—was just getting started. He said that he wants to bring home the roughly 29,000 U.S. troops currently stationed in South Korea "at some point" because keeping them there is "very expensive."
That was exactly what Chinese President Xi Jinping, whom Trump now calls his "dear friend," wanted to hear. In late April Kim told South Korean President Moon that the U.S. troops in the country were no longer an important concern, a change in longstanding North Korean policy. Xi promptly summoned Kim back to China for an unusual second meeting between the two in early May—they had met in March in Beijing—and U.S. policymakers assume he put the troops back on the agenda.
Even if Trump was simply musing about the possibility, doing so in public has consequences. Secretary of State Mike Pompeo is now tasked with fleshing out, with an as yet unnamed North Korean counterpart, the most critical component of the Singapore summit—the "de-nuking," as Trump puts it. Though he allowed that a troop withdrawal is not now "part of the equation," having the president stating that he'd like to pull U.S. troops out of the South after meeting Kim takes away critical negotiating leverage from Pompeo, says Michael Green, who was responsible for East Asia on George W. Bush's national security council.
Secretary Pompeo would have his work cut out for him in any case. On the nuclear issue in particular, the official statement released after the summit was bare-bones: It read simply that the "DPRK [North Korea] commits to work toward complete denuclearization of the Korean Peninsula." Former U.S. negotiators who have twice tried to achieve denuclearization with the North were quick to point out that that was a far weaker statement than either the 1994 "Agreed Framework" with the Clinton administration or the 2005 "Six-Party Talks" deal with George W. Bush. Both times the North "committed" to standing down its nukes. Both deals failed.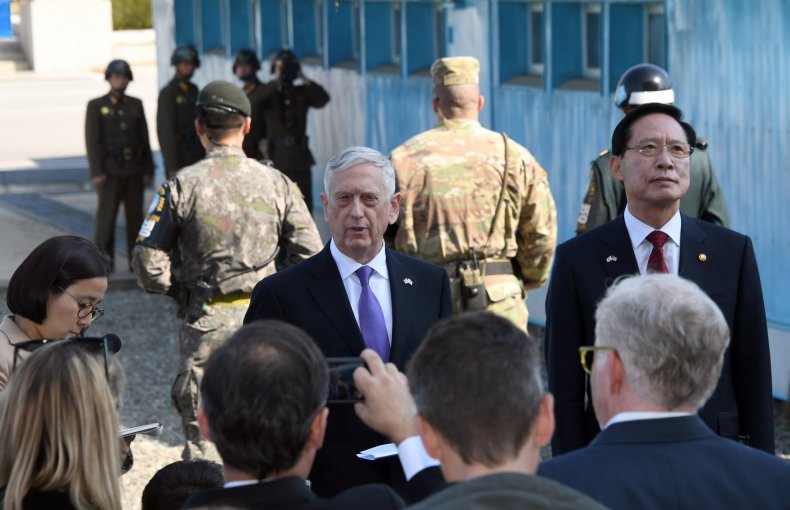 "Working toward" complete denuclearization is long way from "complete, verifiable and irreversible" denuclearization. That was Pompeo's formulation before the meeting started, and it remained the administration's stated goal afterwards. Trump in his press conference said there would be a "combination" of U.S. and international inspectors to verify the North's progress on standing down its program, but there was no time line as to how quickly that would happen. There had been pre-summit whispers in Washington that the administration wanted a 2020 deadline but the president seemed to give Pyongyang significant latitude when he asserted that "scientifically it takes a long time to pull off denuclearization."
Trump did say, to the relief of skeptics who, unlike the president, do not believe Kim is serious, that economic sanctions will remain in place until the U.S. confirms that the North has given up the nukes. That at least will give Pompeo some leverage in the negotiations that will follow. But even there, Trump acknowledged that the Chinese had already begun backing off the strictures it had placed on the North, and in the afterglow of the summit it will be extremely difficult now to change that. Singapore may have been a one-day spectacle worthy of a reality TV star, but the real reality is likely this: "I think chances are we're basically back to the same old rodeo with North Korea," says former NSC staffer Green. And that is not where Trump wanted to be.