Donald Trump's Economic Approval Rating Falls Below 50 Percent for First Time in Over Two Years
President Donald Trump's economic approval rating has dropped below 50 percent for the first time in more than two years, according to new polling data.
The latest presidential approval poll, published by Gallup on Wednesday, found that 47 percent of U.S. adults approved of the president's record on the economy.
When the same poll was conducted in January, Trump's economy approval rating was 16 points higher—standing at 63 percent.
The last time the president had an economic approval rating below 50 percent was in November 2017, when Gallup found only 45 percent of U.S. adults backed his record on the issue.
In the pollster's latest survey, 51 percent of respondents said they disapproved of the president's handling of the economy—a level also unseen since Gallup's November 2017 poll.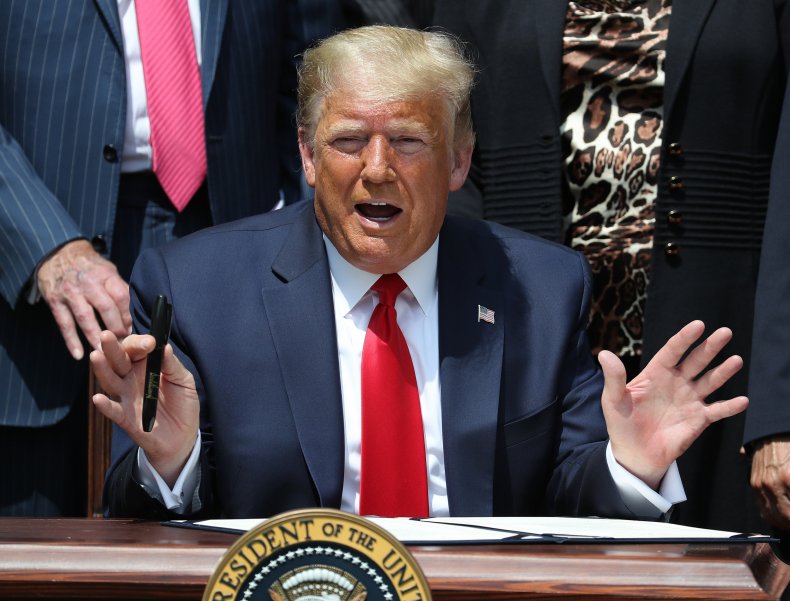 Releasing its new data, Gallup said Trump's economic approval rating had been 10 points above his overall favorability ranking on average, but has now slumped to being 8 percentage points higher.
Asked for their overall opinion of Trump's performance in the Oval Office thus far, less than four in ten (39 percent) said they approved. Fifty-seven percent of surveyed Americans said they disapproved of the president's record in office.
Gallup surveyed 1,034 U.S. adults between May 28 and June 4 for its latest poll. The survey's margin of error stands at 4 percentage points.
The recent fall in Trump's economic approval rating comes as more than 16 percent of the U.S. workforce find themselves unemployed as a result of the economic shock caused by the coronavirus pandemic and related business shutdowns.
At the end of last month, it was revealed more than 40 million initial jobless claims had been filed by Americans since the pandemic began its rapid spread across the U.S.
The current unemployment rate exceeds anything seen since the Great Depression, when roughly a quarter of the working population was out of a job.
During the Great Recession from 2007 to 2009, U.S. joblessness never exceeded 10 percent. The U.S. unemployment level reached 10.8 percent in December 1982.
The May jobs report released last Friday showed that unemployment declined on the month before to 13.3 percent. However, the Washington Post reported that data collection errors led to a correction noting that unemployment would have actually been 16.3 percent.
The Bureau of Labor Statistics has said it is working to solve the errors with the Census Bureau.