Donald Trump's Economic Approval Rating Unaffected By Coronavirus Market Turmoil: Poll
President Donald Trump's economic approval rating has not been hit by the COVID-19 outbreak, despite markets sliding over fears about the pandemic's potential impact.
A new poll published by Morning Consult on Monday found that half of voters approved of Trump's performance on the economy, the same rating he received in January and only three points down on his February ranking.
His ranking on the economy is also seven points higher than his general approval rating of 43 percent, according to the FiveThirtyEight tracker on Trump's popularity.
Republican voters surveyed by Morning Consult for its latest survey particularly approved of Trump's record on the economy, with 87 percent saying they approved of his handling of the issue.
A little under half (47 percent) of Independents took the same view, while just 19 percent of Democrats approved of Trump's record on the economy.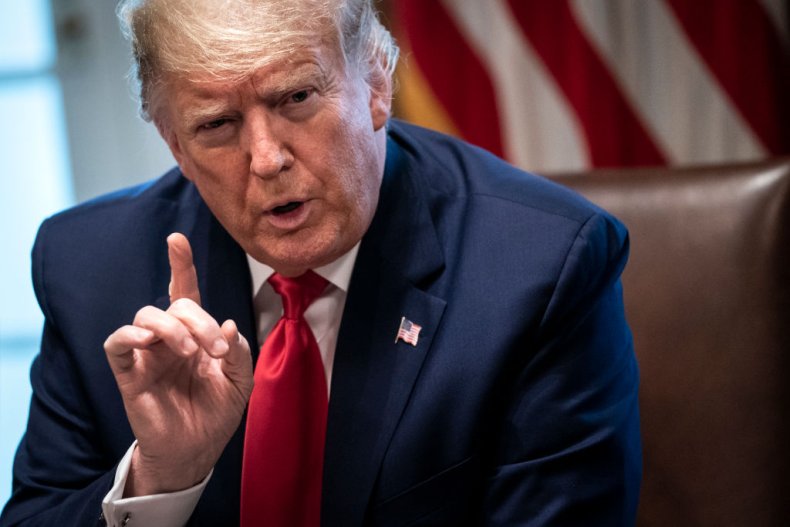 Four in ten voters overall said they either "somewhat" or "strongly" disapproved of the president's economic performance, and a further 10 percent said they either didn't know or had no opinion on the issue.
Morning Consult pollsters also found that President Trump was more trusted to handle the economy than Democratic primary frontrunner Joe Biden.
Thirty-eight percent of voters said they trusted former Vice President Biden more on the economy, while 44 percent said they favored Trump on the issue.
Speaking to Newsweek by email, Morning Consult's senior editor Cameron Easley said: "Polling shows many voters—even some Republicans—have concerns about the president's character and moral leadership, and news coverage of his administration and White House often conveys a sense of chaos in government, but positive economic news has been a staple of the Trump presidency.
"That appears to be reflected by the gap in voters' views on his economic performance and overall job performance."
The pollster surveyed 1,986 registered voters between March 13 and March 16 for the new poll, which has a 2 percentage point margin of error.
President Trump's steady approval rating on the economy comes amid plunges in global markets, including key U.S. stocks, that threaten to wipe away all the gains made during his presidency.
American's three most followed indices—the S&P 500, Dow Jones and Nasdaq—have all taken heavy hits, and have so far fallen by more than five points since markets opened on Wednesday.
In an attempt to soothe investor unease, the Federal Reserve cut its target interest rate to zero percent on Sunday, a move that some fear may have left the body without further ammo.
The Trump administration has also sought to tackle market uncertainty around the impact the new coronavirus could have on U.S. businesses.
Treasury Secretary Steven Mnuchin told GOP lawmakers in a closed door meeting on Tuesday that the administration was looking at injecting a $1 trillion stimulus package into the economy that would directly hand checks to Americans as well as loans for small businesses.
"It is a big number. This is a very unique situation in this economy," Mnuchin told reporters. "The government has requested that parts of this economy shut down."