Former Democratic presidential nominee Pete Buttigieg weighed in on Donald Trump's "economic disaster" and "mismanagement of the pandemic" in a heated interview with Fox News anchor Martha MacCallum on Monday, which has been widely shared on social media.
The former mayor of South Bend, Indiana noted: "All you have to do is google the numbers on the Obama-Biden economy versus the Trump economy. The Trump economic disaster is a matter of simple fact," in a post Tuesday sharing a video of the interview, which has had more than 66,000 likes and 10,000 retweets since.
Buttigieg was asked by MacCallum to respond to comments made by Tim Murtaugh, the director of communications for the president, who defended Trump's economic track record just moments before Buttigieg's interview.
Buttigieg said: "I guess he [Murtaugh] thinks we're all stupid...these are matters of simple fact of GDP growth under Obama faster than under Trump. Look at the first three years.
"And if he's trying to sell us on third quarter GDP growth this year, if he's trying to use the 2020 economy as an example of an economic triumph, he's living on a different planet than us."
Last week, the U.S. Bureau of Economic Analysis revealed the real gross domestic product (GDP) had increased at an annual rate of 33.1 percent in the third quarter of 2020, according to an "advance" estimate. The real GDP decreased 31.4 percent in the second quarter, the bureau noted.
"The increase in third quarter GDP reflected continued efforts to reopen businesses and resume activities that were postponed or restricted due to COVID-19. The full economic effects of the COVID-19 pandemic cannot be quantified in the GDP estimate for the third quarter of 2020 because the impacts are generally embedded in source data and cannot be separately identified," the bureau noted.
Buttigieg noted: "The only reason why the numbers are what they are is because it's a partial comeback from the bloodbath that was the second quarter.
"We're still down in 2020. We were down post-pandemic and he [Trump] did worse pre-pandemic," he said, noting "there's an economic disaster touched off by the mismanagement of the pandemic."
MacCallum noted: "Some would say that it's come back two thirds from how far it was down. By any estimation from what happened, that's a strong number...anybody who was president was gonna have to go through that economic dive and come back out of it.
"We have the most diverse country in the entire world and with a set of complex problems in our population, it's a completely different environment.
Buttigieg quickly responded: "So we should settle for less? We should settle for worse numbers?
"The American people have obviously done some amazing things in order to try to come back from this pandemic," Buttigieg noted, but slammed the president for attempting to "take credit for it, given that they underperformed the Obama-Biden economy, whether you're looking at GDP growth or stock market growth."
He added: "Here's another fun one: remember when Donald Trump promised that his economic policy would get us four, five, six percent growth? None of that happened pre-pandemic and post-pandemic we know what we're up against."
MacCallum also highlighted a recent note published by the editorial board of the Pittsburgh Post-Gazette in Pennsylvania, a key battleground state, which said: "Under Donald Trump, the economy, pre-COVID, boomed like no time since the 1950s. Look at your 401(k) over the past three years. Unemployment for Black Americans is lower than it has ever been, under any president of either party...and the Appalachian and hourly worker has some hope."
According to the latest Reuters/Ipsos opinion polls released Monday, Trump was reported to have a lead over Democratic presidential candidate Joe Biden on the issue of the economy in six key swing states.
Around 48 to 53 percent of likely voters in Pennsylvania, Florida, Arizona, Wisconsin, Michigan and North Carolina said Trump would be better at managing the economy, while 42 to 46 percent Biden would do better.
The polls were each conducted among around 1,000 adults, including about 600 to 700 likely voters. Each of the polls, which were done from October 27 to November 1, has a credibility interval of four percentage points.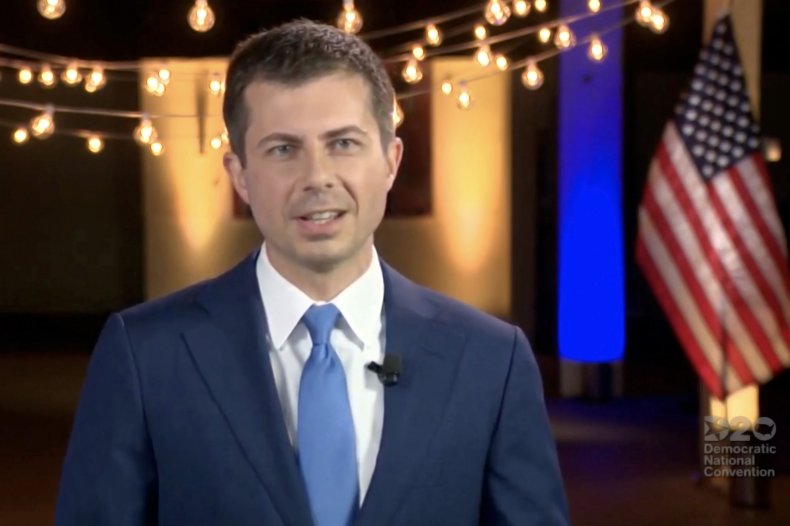 The graphic below, produced by Statista, illustrates American fears ahead of the election.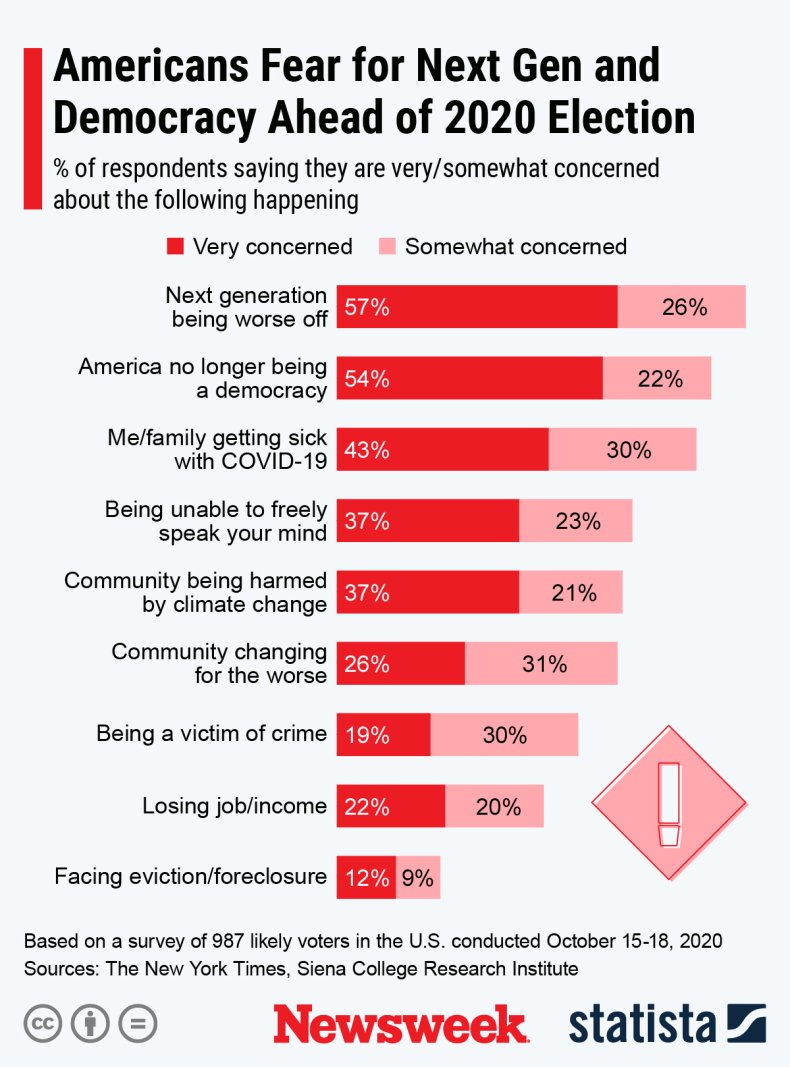 The graphic below, also provided by Statista, illustrates winning margins of U.S. presidential elections since 1980.