Donald Trump's Top Economic Adviser Just Made a False Claim About One of the Most Basic Facts on the Economy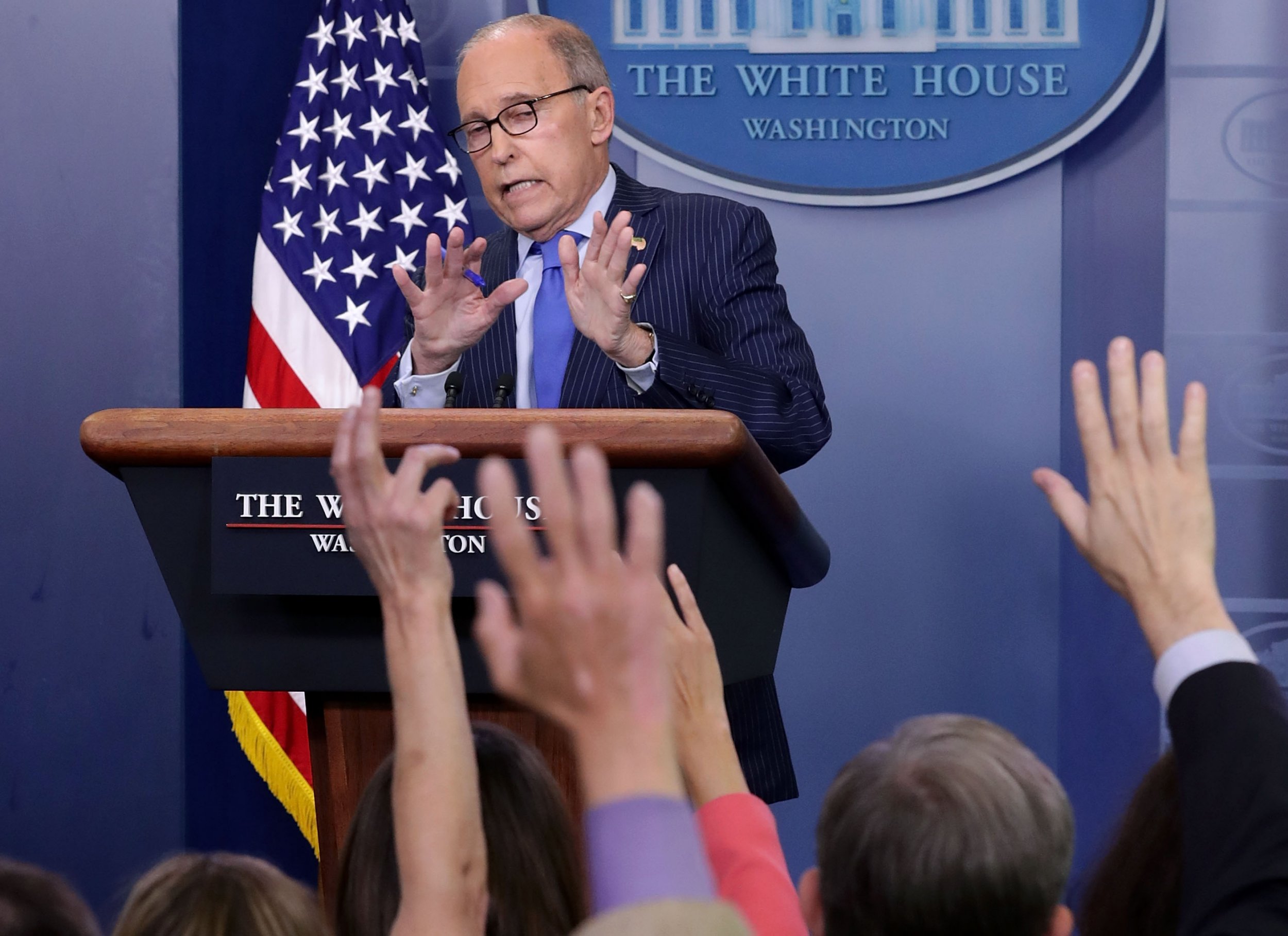 President Donald Trump's top economic adviser, Larry Kudlow, said this morning that the federal deficit is "coming down rapidly," when in reality the deficit has grown significantly over the last year.
Kudlow's claim, made during a Fox Business interview, went unchallenged by Mornings With Maria host Maria Bartiromo.
"As the economy gears up, more people are getting better jobs and careers, those revenues come rolling in and the deficit, which was one of those other criticisms, is coming down," he said. "And it's coming down rapidly. Growth solves a lot of problems."
Between October 2017 and May 2018, the deficit was 23 percent higher than the same period a year prior, according to the nonpartisan Congressional Budget Office.
CBO projections find that the total deficit for fiscal year 2018 will be $804 billion, that's $139 billion more than 2017's $665 billion deficit. By 2020, the U.S. is expected to run trillion-dollar deficits.
It is unclear what Kudlow could have been referring to when he said deficits were decreasing and calls to the White House for clarification went unreturned.
The CBO predicts that under current law, the debt will exceed the size of the economy by 2031 and double to 152 percent of the economy by 2048.
Interest payments on debt will also begin to crowd out Federal spending on the military, infrastructure, and education.
"By 2048, as interest rates rise from their currently low levels and as debt accumulates, the federal government's net interest costs are projected to more than double as a percentage of [the gross domestic product] and to reach record levels," wrote Keith Hall, director of the CBO. "Those costs would equal spending for Social Security, currently the largest federal program, by 2048."
In April 2016, President Trump told The Washington Post that he planned to eliminate $19 trillion in debt "over a period of eight years." But since taking office, President Trump has backed a $1.5 trillion tax cut and a $1.3 trillion omnibus spending bill. Limiting revenues and increasing stimulus spending during economic boom times typically increase debt.
In an interview, the president told The Washington Post's Bob Woodward that he would lower debts by renegotiating trade deals. Economists, however, fear that the president's new tariffs on China, Canada, Mexico and Europe will lead to trade wars, and eventually, a recession.
"Our calculations suggest that a major trade war would lead to a significant reduction in growth," wrote Bank of America Merrill Lynch economist Ethan Harris in a research note. "A decline in confidence and supply chain disruptions could amplify the trade shock, leading to an outright recession."