Trump, Leading on the Economy, Accuses Biden of Copying His Plan
President Donald Trump has once again accused Democratic presidential candidate Joe Biden of copying him in relation to Biden's "Buy American" proposals.
The president, who remains ahead in public opinion on handling the economy despite trailing elsewhere in polls, suggested at a rally in Nevada that this idea was lifted from him.
He told the crowd: "I do get a kick out of watching a guy saying, 'Oh I'm gonna do this." You know he copied my whole plan. Did you see he says, 'Buy America.'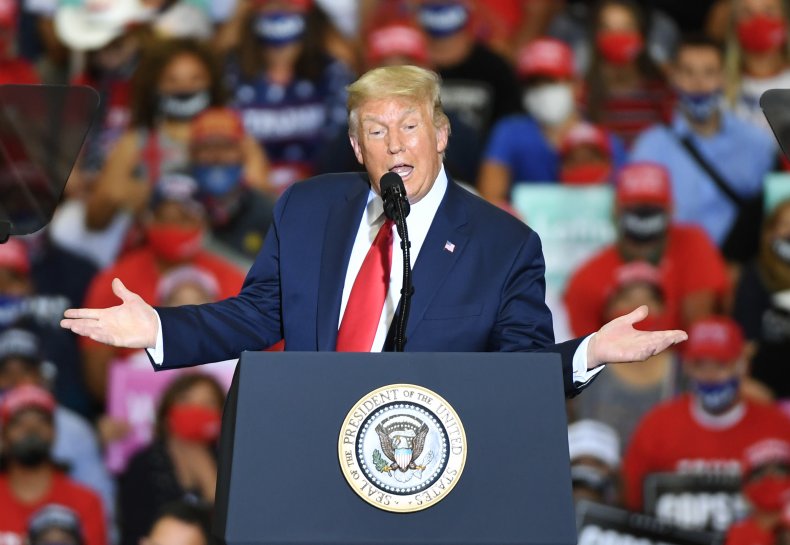 "I said, 'Where the hell have you been for the last half a century?'"
Trump had already suggested Biden lifted ideas from him. In July, after Biden outlined economic plans, Trump told reporters: "He plagiarized from me, but he could never pull it off."
Biden previously outlined a plan to "ensure the future is 'made in all of America' by all of America's workers."
These plans state: "Biden starts with a pretty basic idea – when we spend taxpayer money, we should buy American products and support American jobs."
On Trump's inauguration day in 2017, he tweeted: "We will follow two simple rules: BUY AMERICAN & HIRE AMERICAN!"
However, speaking in Warren, Michigan last week Biden suggested this promise has not been fulfilled in his tenure.
"What about Trump's commitment to buy American? Like the rest of President Trump's promise, it has nothing to do with reality. It's all a bunch of hot air," Biden said.
"So to recap, one, Trump hasn't stopped companies from closing plants and sending jobs overseas. Two, he's rewarded companies that have cut jobs and failed to invest here at home with billions of dollars in tax breaks. And three, he's awarding more and more federal contracts to foreign companies.
"President Trump has broken just about every promise he's ever made to the American worker. And he's failed. He's failed our economy and our country."
With the pair sparring over the economy, surveys suggest Trump still holds a lead in this area.
In a Fox News poll released September 13, conducted among 1,311 voters September 7 to 10, a majority of voters said they trusted Trump over Biden in handling the economy.
Among respondents, 51 percent said they trusted Trump more on this point compared to 46 percent for Biden. The poll had a margin of error of plus or minus 2.5 percent.
Trump also continues to receive a plus 4-point approval rating on his handling of the economy, according to Real Clear Politics' tracker of his average rating on this point.
However, polling has shown Biden, who has targeted Trump on the economy, has closed the gap between the two on the matter.
Some surveys have shown just one percentage point between the pair, with a CBS News/YouGov poll, conducted among 2,493 registered voters September 2 to 4, showing 45 percent of respondents favored Trump compared to 44 percent for Biden on the economy. The survey had a margin of error of plus or minus 2.4 percent.
Newsweek has contacted the Trump and Biden campaigns for comment.