Faced With Recession, Trump Turns to a Familiar Friend: Conspiracy
Last week, the news that the treasury yield curve had inverted (meaning short term bonds sold by the government now pay out more than long-term bonds, and is generally seen as a worrying economic sign) sent investors scrambling and preparing for imminent recession. The inversion of the yield curve has preceded every recession since 1955.
Over the last week, President Donald Trump, who has made the thriving economy a central part of his reelection campaign, has pointed fingers at a number of outside forces which he claims are conspiring to purposely hurt the economy: namely the Federal Reserve, Democrats and the media.
"Our Economy is very strong, despite the horrendous lack of vision by Jay Powell and the Fed," Trump tweeted Monday, referencing the Fed chief his team vetted and nominated. The president continued, saying that "the Democrats are trying to 'will' the Economy to be bad for purposes of the 2020 Election. Very Selfish!" He did not give any evidence about how or why "the Democrats" were "willing" a bad economy, but why bother.
The president then suggested that the Fed reduce rates "by at least 100 basis points" which contradicts his earlier rebuttal. Reducing rates is a measure typically reserved for fending off economic contraction. There is a fear that if the Fed uses these tools now, they won't have any tools to use once things do begin to decline.
It's also unclear why the president wants to take these actions if he believes fears of a recession are overblown. Further confusing matters, the president's chief economic adviser, Larry Kudlow, has scheduled a meeting about the economy with business leaders tomorrow, indicating that there are sincere fears of a downturn.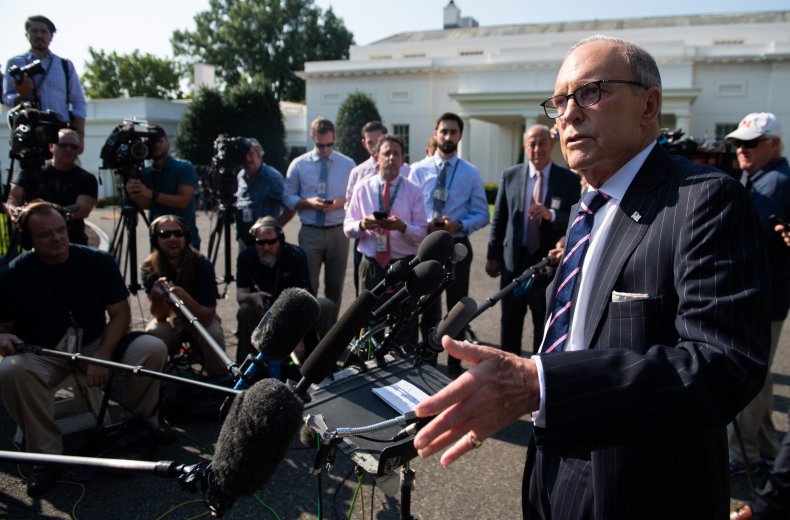 Earlier in the day, the White House also suggested that reporters were focusing too much on the possibility of recession.
"The fundamentals of the economy are very strong," White House counselor Kellyanne Conway told reporters, adding that "it's nice to see the media finally cover the Trump economy." She then claimed that journalists only "seem to cover it only when you can use the Sesame Street word of the day: Recession."
Even Vice President Mike Pence got in on the action Monday. "Despite the irresponsible rhetoric of many in the mainstream media, the American economy is strong and the U.S. economic outlook remains strong as well," he said at a Detroit Economic Club event.
The National Association for Business Economics poll found that about four in 10 economists expect a recession next year, though about 48 percent don't expect a downturn until 2021.