'Donald Trump Effect' Ruined Christmas in Bethlehem, Holy Land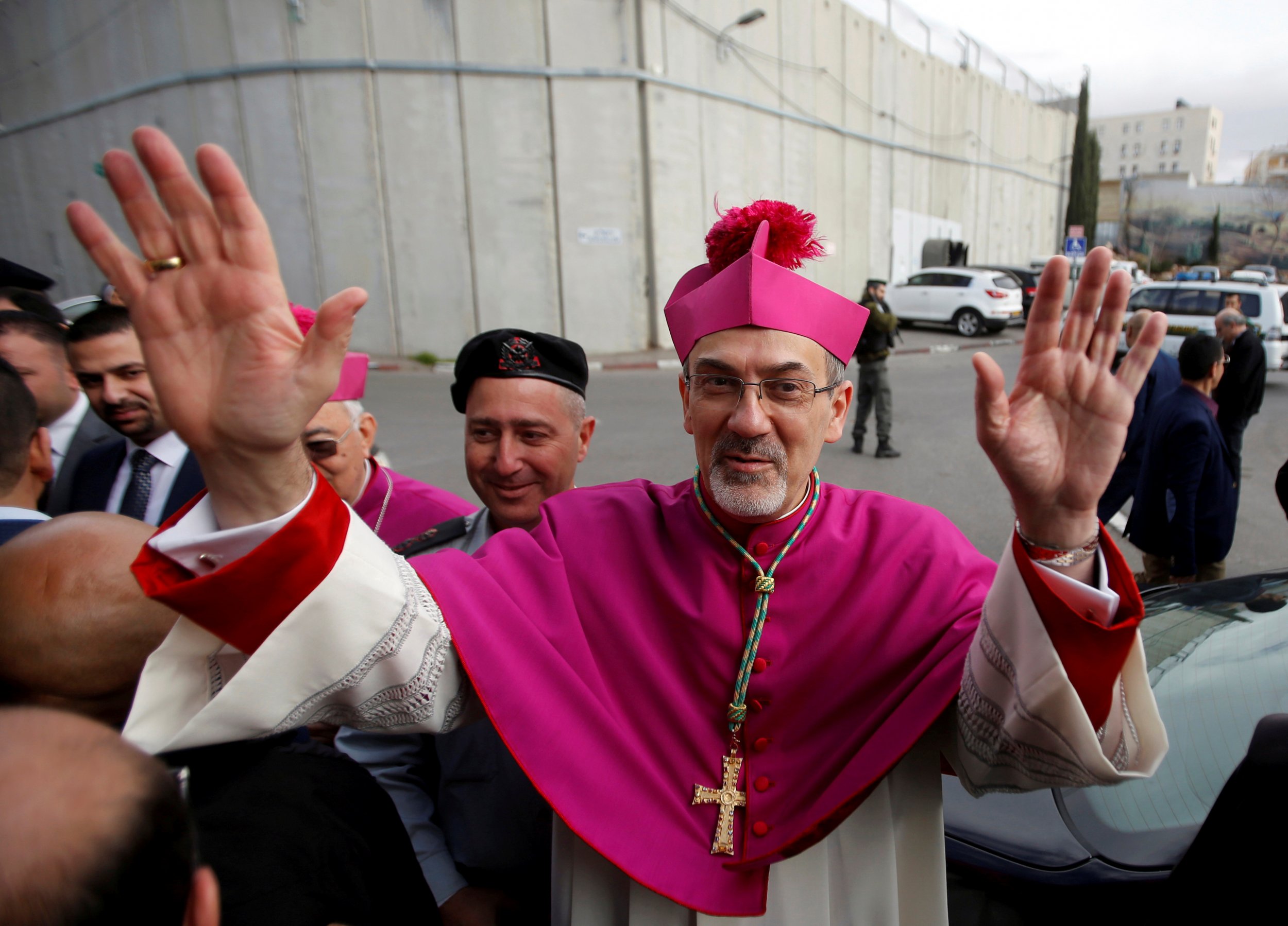 Locals are blaming President Donald Trump's controversial stance on Jerusalem for scuppering Christmas celebrations in the Holy Land.
The White House announcement that the U.S. embassy in Israel will move to Jerusalem—a privilege usually reserved for national capitals—has fired up the ongoing feud over the status of the city. It is claimed by both Israelis and Palestinians.
Related: Trump says he has lead the charge to say "Merry Christmas" but most Americans are not bothered
Unsurprisingly Palestinians have rallied against it, but more embarrassingly for Washington, major U.S. allies united at the United Nations General Assembly to condemn Trump's plan. This rift has translated to city streets in places such Bethlehem in the West Bank, putting a damper on Christmas celebrations.
"Trump is the first reason this is a sad Christmas," Khulud Ilayan, a social work student at Al-Quds Open University handing out flyers in Bethlehem, told the Israeli broadsheet newspaper The Jerusalem Post. "I see less people and people are sad. All of the people here don't like that man."
The paper claims that local estimates of tourist attendance on Sunday afternoon in Manger Square, one of the main sites of festivities in Bethlehem, numbered less than half of last year.
A Christian from the port city of Acre named Hanne Saada told the paper that she decided at the last minute that it was safe enough to attend. "Trump's shocking everyone detracts from the joy of Palestinians," she said.
"It is amazing to find yourself in such a sacred place. It is very moving. We hope for all the best in the world," she added. "Despite all the suffering in the world we feel joy in this place. Jesus was born and world peace was born. He came for peace. We expect the whole world to be at peace and to stop wars. God created a beautiful world and we must love it."
Saada's hotel in town felt as though it had a lower than normal number guests at this time of year, she said. "There are a few tourists from Italy," she said. "It seems that many people canceled."
Bethlehem's hoteliers have been among those aggrieved by the apparent caution tourists appear to be feeling. Bethlehem's 250-bed luxury inn Jacir Palace, closed ahead of Christmas eve because of clashes over Trump's decision at its gates, The New York Times reported.
Samir Hazboun, chairman of the Bethlehem chamber of commerce, said that the town's December visiting figures may not be as badly affected as January's may be.
"We can't say it's been hurt badly but it's been relatively affected," he said of the December numbers, noting that many visitors around Christmas are pilgrims and more willing to brave risks to undergo the trip. January could be a different story.
"For sure there are partial cancellations for January but if they will be big or medium we do not know," he said on Sunday. "Everything went normally today and maybe that will help change the image for good."