Texas, Ohio College Democrats Reject Trump's Visit After Shootings: 'We See Through His Lies and Fake Promises'
College Democrats in Texas and Ohio took a definitive stance on President Donald Trump's decision to visit after the two states experienced mass shootings: He's not welcome.
Over the weekend, more than 30 people were killed during shootings in El Paso, Texas, and Dayton, Ohio. In the wake of the tragedy, Trump expressed his condolences to the victims and their families and offered his help. For the Ohio and Texas College Democrats, that help would include not visiting, which the president did on Wednesday.
"We need a leader who cares about each and every part of this country, but wherever Trump goes he divides and stokes hate," Matthew Nowling, vice president of the College Democrats of Ohio, told Newsweek. "We are concerned that Trump's visit to Dayton will only make things worse."
Several legislators also criticized Trump's decision to visit. Representative Veronica Escobar said she declined Trump's invitation to meet with him and advised him not to venture to El Paso while the city was in mourning.
Dayton Mayor Nan Whaley criticized Trump's previous comments about the shooting, but both she and El Paso Mayor Dee Margo said they would welcome Trump in their official capacity as mayors given that he's the president of the United States.
During his remarks on Monday, Trump incorrectly identified the Ohio city where the shooting occurred as Toledo, a point that both Whaley and Nowling took issue with.
"Dayton is in mourning right now and Trump will cause more pain," Nowling said. "Dayton needs someone who can help with the healing process, Donald Trump couldn't even get Dayton's name right."
While speaking at an event on Sunday night, former Vice President Joe Biden also mislabeled the locations of the shootings, referring to their locations as Houston and Michigan. He reportedly later corrected himself.
Catherine Wicker, executive president of the Texas College Democrats, characterized Trump's comments as "concerning" and said he had "no business" visiting Texas.
"We don't want to see him in Texas. What he says to people of color is triggering and we are a state of love and diversity," Wicker told Newsweek. "Anything he says will do more harm. He only values Texas when it is convenient to say 'build the wall.'"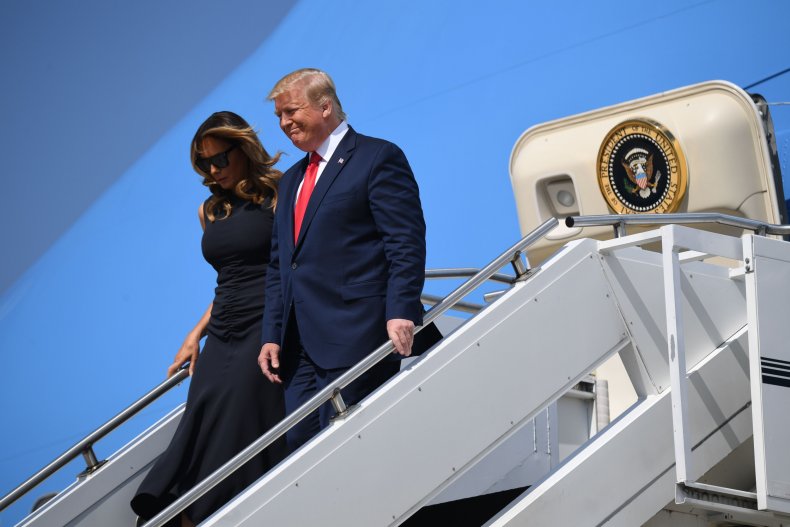 Wicker added that the organization sees through the president's "fake lies and promises" and was taking the phrase, "don't mess with Texas," very seriously.
After the shooting, the Ohio and Texas College Democrats issued a joint statement that criticized Republican legislators for failing to take significant steps to prevent mass shootings. The statement claimed lawmakers would rather "keep letting innocent Americans die," than defy the National Rifle Association.
"It is critical that our lawmakers pass legislation that will expand and strengthen background checks, close dangerous loopholes and keep weapons of war­­–such as assault weapons and large-capacity ammunition magazines–out of our communities," Nowling said.
On Tuesday, Congressman Mike Turner, who represents Ohio, announced he would support legislation that prevents the sale of military-style weapons, limits the capacity of a magazine and enables the seizing of firearms from those who are dangerous.
"I understand not every shooting can be prevented or stopped from these measures, but I do believe these steps are essential," Turner said in a statement.
At the time of the shooting, Turner said his daughter and a family friend were across the street and Nowling applauded the congressman's support of the measures.
Several other legislators, including Texas Congressman Dan Crenshaw, floated the idea that red flag laws could be a solution.
"The solutions aren't obvious, even if we pretend they are. But we must try. Let's start with the TAPS Act," Crenshaw posted on Twitter in reference to a piece of legislation that would establish a task force of behavioral threat assessment experts to prevent future acts of violence.
Trump also advocated for implementing red flag laws during his remarks on Monday, saying that he directed federal agencies to work with state agencies and social media companies to identify mass shooters before the violence occurs.
"I'm looking to do background checks, I think background checks are important," Trump told reporters on Wednesday. "I don't want to put guns into the hands of mentally unstable people or people with rage or hate, sick people. I'm all in favor of it."
While some objected to Trump visiting El Paso and Dayton, others supported the president's decision, saying that it was his part of his duties as the leader of the country.