President Trump's Most Embarrassing Moments: Election 2016 One Year Later
President Donald Trump has had his fair share of gaffes since being elected exactly one year ago. Some have caused serious political anxiety and others have caused the nation to collectively shrug and then move on. Below are 17 of those moments, full of awkward handshakes and confusing Trumpisms. Yes, it's hard to pick just 17, but here goes:
People don't realize, you know, the Civil War, if you think about it, why?
On May 1, President Trump decided that it was time to school the American people on their history. "I mean had Andrew Jackson been a little bit later you wouldn't have had the Civil War. He was a very tough person, but he had a big heart," Trump explained during an interview on SiriusXM's "Main Street Meets the Beltway."
"He was really angry that he saw what was happening with regard to the Civil War, he said, 'There's no reason for this.'"
Andrew Jackson died in 1845, 16 years before the Civil War began in 1861.
Trump continued by questioning a topic covered in every high school history class, "People don't realize, you know, the Civil War, if you think about it, why? People don't ask that question, but why was there the Civil War? Why could that one not have been worked out?"
Why? Slavery, for one. States' rights, for another. But why let revisionism be burdened by facts.
Frederick Douglass 'is being recognized more and more'
Frederick Douglass is "an example of somebody who's done an amazing job and is being recognized more and more, I notice," President Trump said at a breakfast to recognize African-American History Month in February. The statement insinuated that Douglas, a famed abolitionist who was born a slave, was still alive.
Douglas died in 1895.
Later, then-press secretary Sean Spicer attempted to clarify President Trump's statements. "I think he wants to highlight the contributions that he has made and I think through a lot of the actions and statements that he's going to make, I think the contributions of Frederick Douglass will become more and more," Spicer said.
The damage was done, and Spicer only made it worse. Trump had shown a limited understanding of African-American history at an event dedicated African-American history.
'What a Crowd, What a Turnout'
In the wake of Hurricane Harvey, President Trump and first lady Melania Trump visited Austin and Corpus Christi, Texas, to meet with FEMA officials and first-responders. Trump insisted he wasn't there to talk about himself, and instead praised FEMA administrator Brock Long who, he said in typical Trump fashion, had "become very famous on television over the last couple of days."
Later in the day, Trump was unable to resist some ego-patting. At a Corpus Christi firehouse, he climbed on top of a truck and addressed the Texans who had come to see him discuss rebuilding their state. "What a crowd, what a turnout," he told the hurricane survivors.
Melania's not happy
The first Melania snafu came very early in President Trump's tenure, on his first day. During a pre-inauguration meeting at the White House, the soon-to-be-president failed to hold a car door open for Melania and then walked ahead of her towards President Barack Obama and Michelle Obama waiting to greet them.
A full news cycle of body-language analysis followed.
In another case of bad optics, Melania seemingly batted the president's hand away from hers during a May trip to Israel.
Security breaches
In February, President Trump was hosting Japanese Prime Minister Shinzo Abe at his Mar-a-Lago Golf Club when news broke that North Korea had launched a test missile. Trump's team responded by bringing sensitive documents to the president's table in a public dining room and shining their phone lights on them. Club members with no security clearance were privy to the events and shared loosely on social media.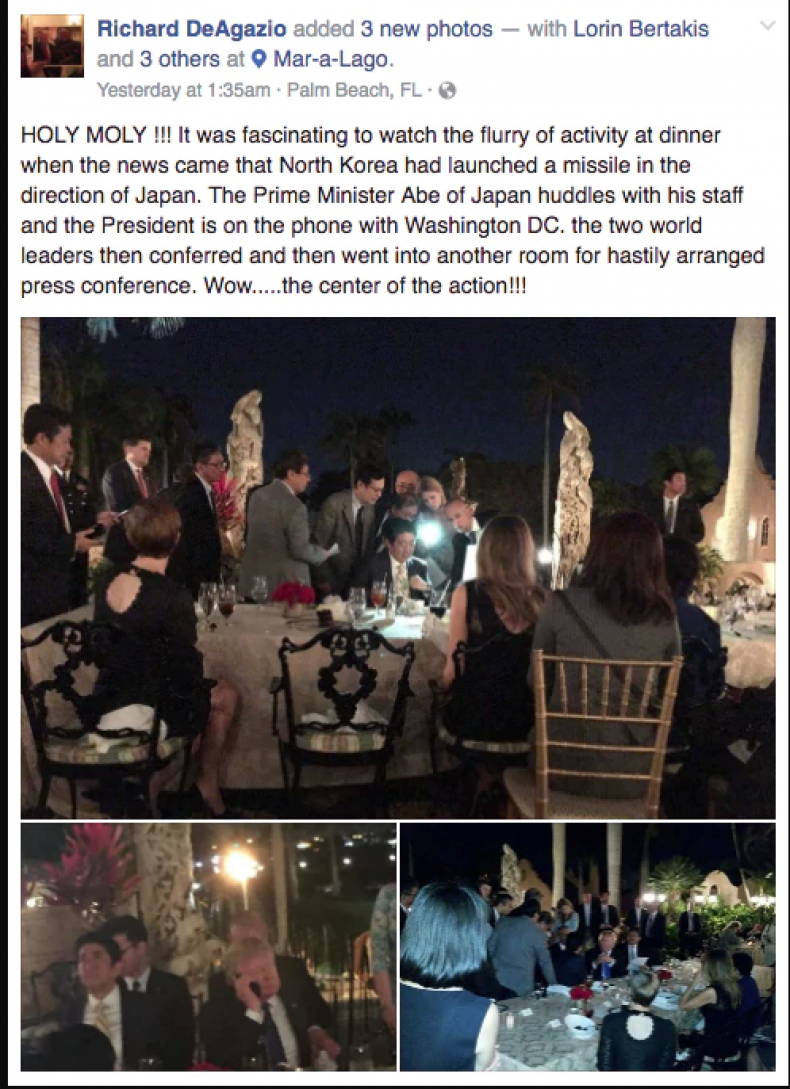 There was also the time a Mar-a-Lago guest took a selfie with the man responsible for holding Trump's nuclear "football."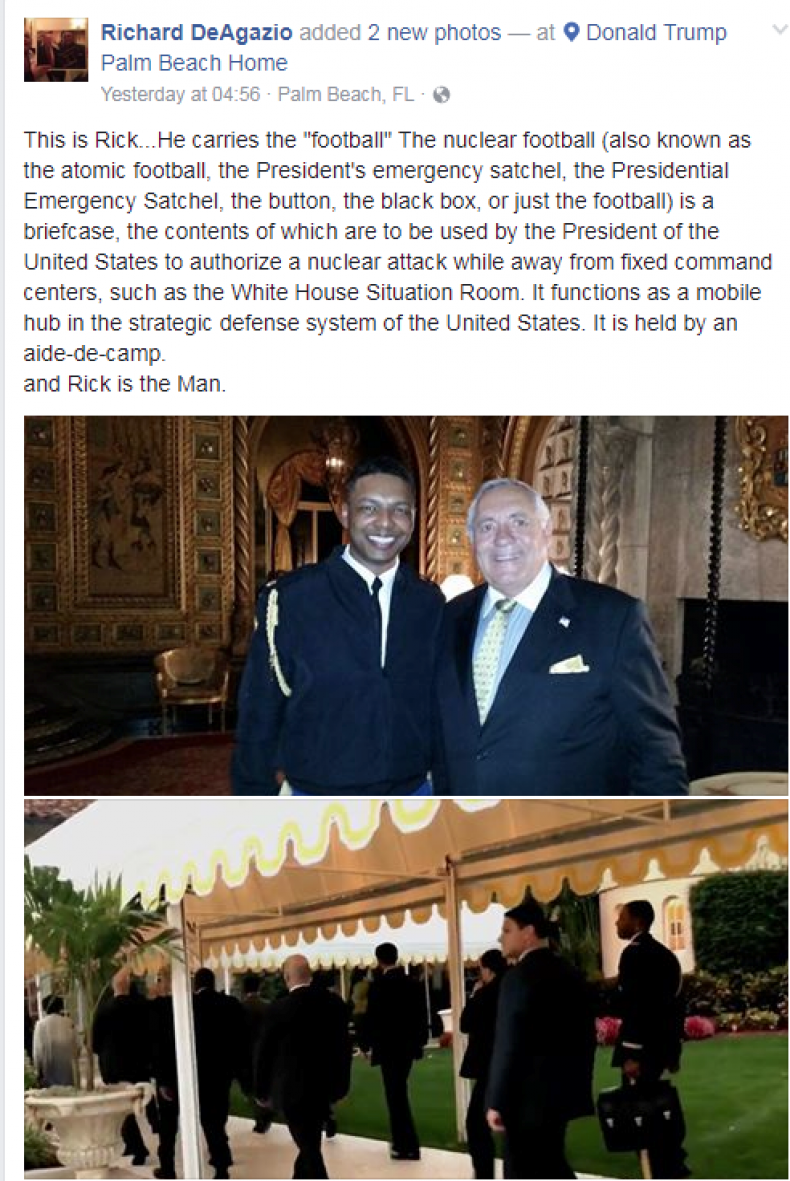 Paper towel quarterback
In October, President Trump visited San Juan two weeks after Hurricane Maria. At a supply distribution site, he attempted to aid victims of the storm by tossing paper towels into the crowd. The group had been living without power or clean water for two weeks and desperately needed household items. Tossing those items as though they were T-shirts at a baseball game didn't look great.
The mayor of Puerto Rico later called the act "terrible and abominable."
Trump defended his actions to Mike Huckabee on Trinity Broadcasting Network. "They had these beautiful, soft towels. Very good towels," he said. "And I came in and there was a crowd of a lot of people. And they were screaming and they were loving everything. I was having fun, they were having fun," he added. "They said, 'Throw 'em to me! Throw 'em to me, Mr. President!'"
The largest inauguration EVER
One of the first issues the Trump Administration took up was how large the inauguration turnout was. President Trump and White House officials were adamant that his inauguration had the largest turnout ever. When reporters protested, an image of the crowd was installed in the White House Press Hall. Trump was so proud of the framed photo that he took ABC's David Muir to see it during his first televised interview in The White House.
The only problem? The date etched into the photo was January 21, 2017. Inauguration was on January 20. The real problem? The inaugural crowd was smaller than his predecessor's and no amount of screaming "fake news" could change that.
Yad Vashem signing
In May, Donald Trump visited Israel's Holocaust Museum, Yad Vashem. At the end of his tour, he followed in the tradition of other dignitaries by signing an official guest book.
He wrote: It is a great honor to be here with all of my friends. So amazing + will Never Forget!
The chipper note broke from his predecessors, who wrote long, solemn messages.
By comparison, here's President Obama's contribution:
I am grateful to Yad Vashem and all of those responsible for this remarkable institution. At a time of great peril and promise, war and strife, we are blessed to have such a powerful reminder of man's potential for great evil, but also our capacity to rise up from tragedy and remake our world. Let our children come here, and know this history, so they can add their voices to proclaim "never again." And may we remember those who perished, not only as victims, but also as individuals who hoped and loved and dreamed like us, and who have become symbols of the human spirit.
The odd orb
In May, President Trump partook in a very odd photo-op. He posed alongside the Saudi king and Egyptian president while palming a glowing orb. The trio was inaugurating the Global Center for Combating Extremist Ideology in Riyadh, but the resulting image was bizarre.
The memes began immediately.
This wasn't Trump's fault as much as his advance team's. Someone should have recognized the potential for bad optics.
All the president's handshakes
First, President Trump awkwardly held hands with British Prime Minister Theresa May as they walked along the colonnade of the White House. Next, President Trump seemingly avoided shaking German Chancellor Angela Merkel's hand during a photo-op, even though reporters and Merkel asked him to repeatedly. Finally, there was the awkwardly long 19-second handshake with Japanese Prime Minister Shinzo Abe only to be beaten by the 26-second power handshake with French President Emmanuel Macron a few months later.
Handshakes can be awkward for every president, but Trump has had more than his fair share of odd ones.
One word: Covfefe
President Trump can be fast and loose when it comes to Twitter. He often makes typos, sometimes he corrects them and sometimes he doesn't. But "Covfefe" is arguably his most notorious Twitter mistake.
"Despite the negative press Covfefe," Trump wrote early one May morning. Americans immediately jumped to action trying to figure out what the word meant.
Trump even jumped in on the fun.
Naturally, Sean Spicer, then the president's mouthpiece, was asked by reporters to explain what the president's fingers were doing.
"The president and a small group of people know exactly what he meant," Spicer responded.
Oh, OK.
Geography 101
President Trump has suffered from a bit of confusion over how countries work. First, Trump heaped praise on an African country that does not exist.
"In Guinea and Nigeria, you fought a horrifying Ebola outbreak," Trump told African leaders in September. "Nambia's health system is increasingly self-sufficient." He mentioned the non-existent country twice more during the meeting, leaving leaders to speculate which country he meant to praise: Namibia, Zambia or Gambia.
In October, President Trump mistakenly said he had spoken to the President of the U.S. Virgin Islands. The U.S. Virgin Islands are an American territory, making Trump their president and Kenneth Mapp their governor.
A beautiful shape
Upon arriving in Paris and meeting French President Emmanuel Macron in July, President Trump couldn't help but comment on French first lady Brigitte Macron's body. "You're in such good shape," he told her while they shook hands. "She's in such good physical shape. Beautiful," he repeated while standing next to his own wife, Melania.
The backlash was so widespread that companies like Reebok got involved.
Insurance unsureness
In July, President Trump spoke with reporters from The New York Times about a number of topics, including repealing and replacing Obamacare. It's difficult to take away an entitlement, said Trump. "So preexisting conditions are a tough deal. Because you are basically saying from the moment the insurance, you're 21 years old, you start working and you're paying $12 a year for insurance, and by the time you're 70, you get a nice plan. Here's something where you walk up and say, 'I want my insurance.' It's a very tough deal, but it is something that we're doing a good job of."
While it's difficult to parse exactly what Trump means, it would appear that he conflated health insurance with life insurance, or social security.
Staring at the sun
When it comes to solar eclipses, there's one rule: don't look directly at them. But President Trump doesn't follow rules. The President, joining his family on the South Portico of The White House, stared right into the sun at the height of the August eclipse.
From the White House Pool Report: "At approximately 2:39, the President initially gesticulated to the crowd below and pointed at the sky. As he did so, one of the White House aides standing beneath the Blue Room Balcony shouted, 'Don't look.'" The Leader of the Free World ignored the time-honored advice.
Eventually, the President put on protective eyewear, but the damage had already been done. Not literally, his eyes were fine.
Let Iraq eat cake! Er...I mean Syria
One of President Trump's most puzzling Fox News and Fox Business interviews, there have been 20 of them, was with Maria Bartiromo in April.
Bartiromo asked the president about his recent airstrikes in Syria, but he had another thing on his mind: Cake.
The president was finishing up dinner with Chinese President Xi Jinping in Mar-a-Lago when the strikes were executed, he recalled. "We had finished dinner. We're now having dessert. And we had the most beautiful piece of chocolate cake that you've ever seen, President Xi was enjoying it."
Trump may have total recall when it comes to sweets, but his memory becomes fuzzy on other topics. "I told [President Xi] that we've just launched 59 missiles heading to Iraq," he told Bartiromo. The Fox anchor quickly corrected him, "Heading toward Syria." "Yes, heading toward Syria," replied Trump.
The president also insisted that all 59 missiles hit their targets, but estimates ranged from 44 to 57.
The awkward office
President Trump has been a big square in the Oval Office.
In June, President Trump objectified a female Irish reporter while he was on the phone with Ireland's new Prime Minister Leo Varadkar.
"We have all of this beautiful Irish press," he told Varadkar, then summoned Caitríona Perry, U.S. bureau chief for RTÉ News. "Where are you from?" he asked her, adding, "She has a nice smile on her face." Perry later described the incident as a "bizarre moment."
In October, Trump welcomed reporters' children into the Oval Office for a Halloween-candy photo-op. But the interaction quickly turned weird. President Trump first insulted their parents, "I cannot believe the media produced such beautiful children," Trump said, according to a pool report. "How the media did this, I don't know."
He then told the young children, who were eating sweets, "Well, you have no weight problems. That's the good news, right?"
Another strange moment occurred in October, when President Trump signed an executive order to dismantle parts of Obamacare. Rand Paul, who partnered with the president on the order, appeared as though he'd rather be anywhere else during the photo-op.