Donald Trump's chances of winning re-election improved overnight, according to a leading bookmaker, after record-breaking GDP figures showed the U.S. economy grew by 33 percent on an annualized basis in the third quarter of this year.
Betfair gave Trump odds of 15-8 on Friday, an implied probability of winning the election of 35 percent. Those odds shortened from Wednesday when a Trump victory was priced at 2-1 (33 percent).
Meanwhile, Joe Biden's election odds lengthened from 1-2 (67 percent) to 8-15 (65 percent) over the same period, the bookmaker said.
Betfair said it was "highly unusual" for it to shift odds in favour of any underdog in a presidential race so close to the election. President Trump continues to trail Biden in nationwide and battleground state polls with just four days to go until the election.
Spokesperson Darren Hughes said: "Donald Trump's chances of winning the election improved following GDP figures being released, according to odds on Betfair Exchange.
"A 2 percent swing is substantial, but wouldn't be unheard of. Biden's odds improved 6 percent over the course of the first debate, while Trump's improved 2 percent in the second debate. Over seven days in August, Trump's odds improved over 10 percent to 50 percent during the party conventions.
"It is highly unusual for the underdog in an election to have their odds improve in the final days of a campaign, however—in all previous elections, the favourite going into the final seven days have seen their odds improve. Trump is bucking this trend."
On Thursday, the Bureau of Economic Analysis revealed that during the three months between July and September, GDP rose by 7.4 percent in the wake of 9 percent and 1.3 percent falls respectively in the second and first quarters.
"The U.S. economy grew by a record historic 33.1 percent in the 3rd quarter of 2020," the Trump campaign Rapid Response Director Andrew Clark tweeted. "President Trump has put the USA back on the road to economic recovery!!!"
FiveThirtyEight's poll tracker gave Biden an 8.8 percentage point lead on Friday morning, with the Democrat on an average of 52 percent and his GOP rival on 43.2 percent.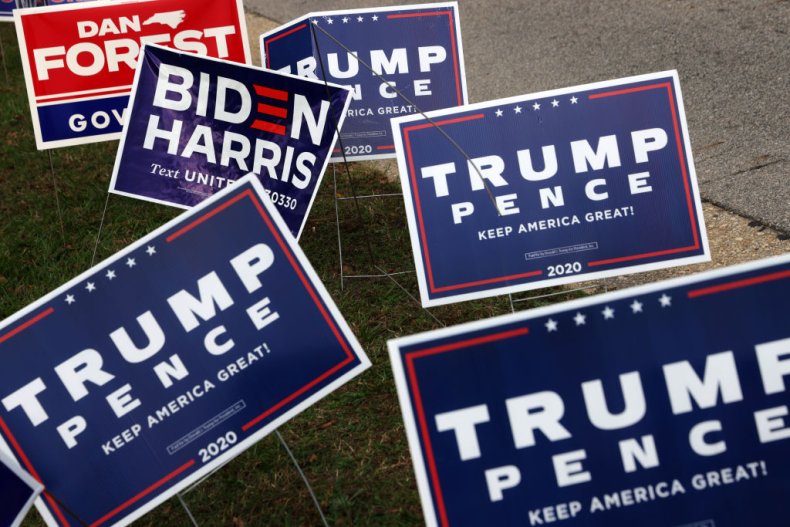 On Friday, an Opinium poll of 1,252 likely voters for the Guardian put Biden on 55 percent and Trump on 41 percent.
The survey, conducted between October 26-29, found three fifths (60 percent) of respondents who voted for a candidate other than Trump or Clinton in 2016 plan to vote for Biden this year. It also found that 56 percent who consider themselves politically neutral—neither Republicans nor Democrats—plan to vote for Biden.
Opinium said there was a nine in 10 chance that the true value of a party's support lay within 4 points of the estimates provided by their poll, and a two in three chance that they lay within 2 points.