Donald Trump Claims Democrats' Response to One Debate Question Just Cost Them the Election
President Donald Trump proclaimed on Thursday evening that the Democrats had just lost the election after all the 2020 Democratic presidential candidates in the second night of primary debates said they would provide healthcare to undocumented immigrants residing in the United States.
"All Democrats just raised their hands for giving millions of illegal aliens unlimited healthcare. How about taking care of American Citizens first!? That's the end of that race!" Trump tweeted.
The president's comments came after all the 10 Democratic candidates on the debate stage Thursday night raised their hands, saying their healthcare plans would be available to undocumented immigrants as well as citizens.
"Raise your hand if your government plan would provide coverage for undocumented immigrants," MSNBC debate moderator and NBC News co-anchor Savannah Guthrie asked of the candidates. All of them quickly put up their hands, affirming that their healthcare plans would also cover migrants, regardless of their immigration status.
The official Twitter account of the Republican National Committee (RNC) also expressed shock at the unanimous support for the proposal.
"Let this sink in," the GOP account tweeted, sharing a screen capture of the moment when all the candidates raised their hands. "Every single Democrat on stage thinks American taxpayers should foot the bill for illegal immigrants to have healthcare."
2020 candidate Mayor Pete Buttigieg of South Bend, Indiana, explained his rationale for supporting the idea when asked by the moderator.
"This is not about a handout. This is an insurance program. We do ourselves no favors by having 11 million undocumented people in our country be unable to access healthcare," Buttigieg asserted.
Former Vice President Joe Biden had a similar perspective, while also arguing that undocumented immigrants benefit the economy.
"You cannot let, as the mayor said, people who are sick, no matter where they come from and whatever their status, go uncovered. It's the humane thing to do," Biden said. The former senator from Delaware, who is widely seen as the current frontrunner in the race, also explained that undocumented immigrants pay into social security already, helping to subsidize the program for American citizens.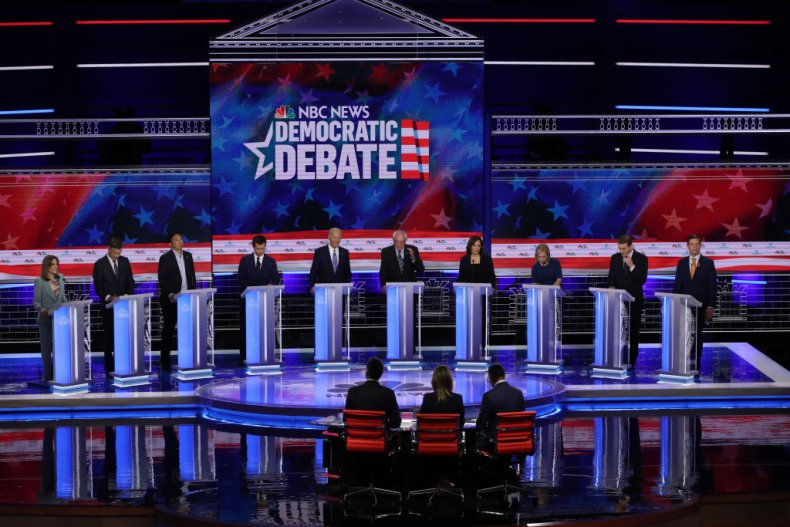 Many of the Democratic candidates also shared harsh criticism of Trump's controversial and hardline immigration policies, which have seen children separated from their parents and detained in centers compared by some to "torture facilities."
Former Colorado Governor John Hickenlooper and author Marianne Williamson classified Trump's separation policy as "kidnapping."
"That's called child abuse," Williamson stated. "This is collective child abuse," she added, saying the U.S. government was committing "crimes" against migrants.