Alyssa Milano, Chrissy Teigen And Other Celebrities React to Donald Trump's Unproven Election Fraud Rant
The historic 2020 presidential elections has seen Joe Biden lead the poll ahead of Donald Trump.
The tight race, which is on its third day of counting has placed the Democrat nominee ahead as the states of Georgia and Pennsylvania flipped blue on Friday morning.
However, Thursday night saw President Trump deliver a deeply controversial speech where he alleged, without any evidence, that Democrats were attempting to steal the presidential election.
Trump's claims, which has been condemned by both Democrats and many Republicans on the national and local levels, were presented without evidence.
He claimed that mail-in ballots, which were still being counted, were "illegal" votes that threatened the integrity of the entire democratic process.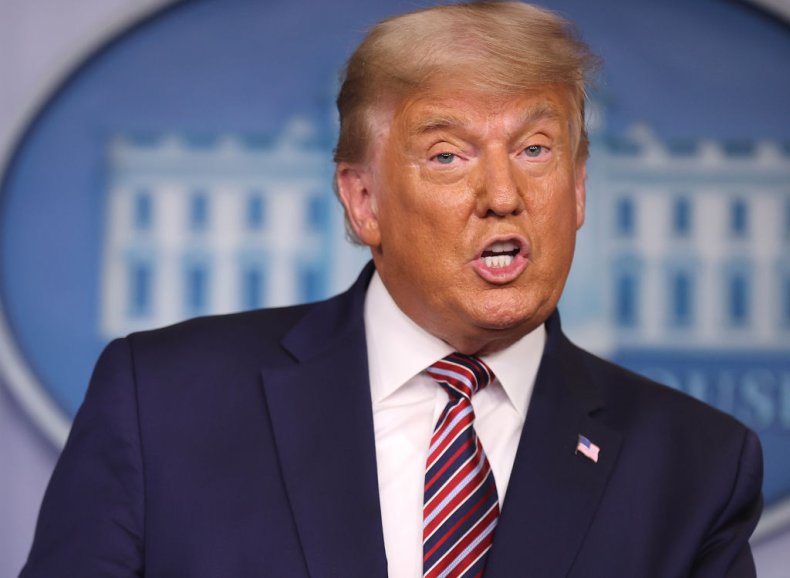 "If you count the legal votes, I easily win," Trump said. "If you count the illegal votes, they can try to steal the election from us. If you count the votes that came in late—we're looking at them very strongly."
Many have condemned the comments made by Trump in his speech, with many politically active celebrities having their say.
"Let's not be too judgmental, who among us hasn't said something stupid and embarrassing at 2am?" TV host Conan O'Brien Mocked.
Avengers actor Mark Ruffalo referred to the "hubris" of Donald Trump, tweeting: "Hubris at its very best."
TV personality and model Chrissy Teigen tweeted: "because we know how stupid it f**** looks lmao," in response to a tweet asking why Biden supporters don't participate in as much fanfare as Biden's.
Frequent Trump critic Bette Midler tweeted to mock Trump's "breakdown" at losing.
"The reality star is freaking out in real time and it's thrilling to watch, after four years of treachery, treason, cruelty, malevolence and lies," she said. "I hope he has a complete breakdown, and we get to watch. It's reality TV, folks!"
Charmed star Alyssa Milano added: "Hey, @realDonaldTrump! Question for you—if the Democrats fixed the election why didn't they win the Senate and keep the seats on the house that they lost?"
Author Roxane Gay tweeted: "It's simply horrible that no one around Trump can stop him from doing what is just truly wild and corrupt stuff. He thinks he can say he won and that's that. But it isn't. My capacity for surprise surprises me."
Actor Patton Oswalt called Trump "this desperate f****** idiot."
In the comebacks to end all comebacks, climate activist Greta Thunberg shot back at Trump using the words he once used to mock her.
She tweeted: "So ridiculous. Donald must work on his Anger Management problem, then go to a good old fashioned movie with a friend! Chill Donald, Chill!"
Comedian Chelsea Handler tweeted: "This is what I imagine a live birth must be like."
Some other notable reactions: