Donald Trump Skips Elijah Cummings Funeral and Capitol Memorial Service
President Donald Trump did not attend the funeral of Elijah Cummings today after the Democrat congressman died in office last week aged 68.
A copy of the president's schedule released to the press this morning shows that Trump had nothing planned until 11:40 a.m. when he was due to leave the White House for Joint Base Andrews in Maryland and take a flight to South Carolina.
President Trump has also not been pictured in a livestream of Cummings' Baltimore funeral that was available on C-Span from 10 a.m. ET.
Newsweek has contacted the White House asking why Trump was not in attendance at the funeral or at the previous day's lying-in-state ceremony for Cummings at the Capitol, but did not receive a response by time of publication.
The news of Elijah Cummings' death as a result of complications around "longstanding health challenges" was announced by his office on Thursday, October 17.
He had been away from work since September after going for a medical procedure, after which his office said he would be out of his office for a week.
Rep. Cummings of Maryland had a fractious relationship with President Trump in his role as chairman of the Oversight and Reform Committee—a post that put him at the center of the impeachment inquiry and other investigations into the commander-in-chief.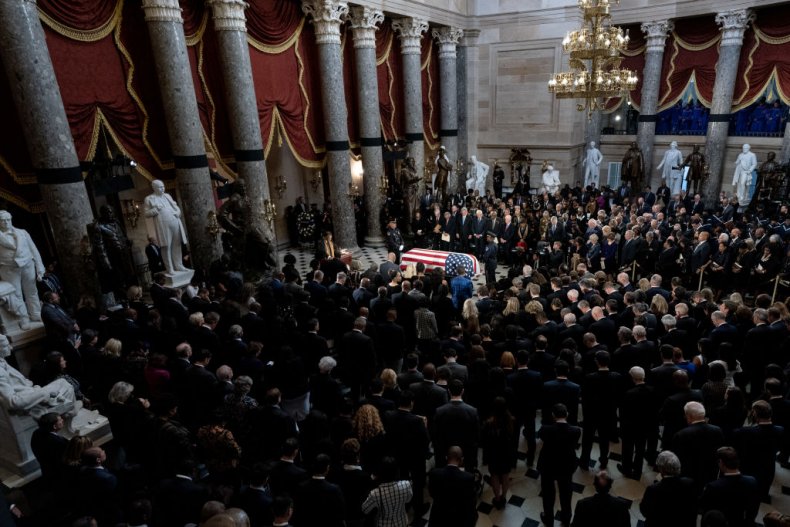 He also took Trump to task over the treatment of migrant children near the U.S.-Mexico border, a challenge that led to Trump facing accusations of racism after he dismissed Cummings' district as "rat infested."
The representative of Maryland's 7th congressional district offered to show Trump around the area in response to the president's remarks.
When news broke of Cummings' death, Trump tweeted an offer of condolences to his family and friends, saying: "My warmest condolences to the family and many friends of Congressman Elijah Cummings. I got to see first hand the strength, passion and wisdom of this highly respected political leader. His work and voice on so many fronts will be very hard, if not impossible, to replace!"
Although the sitting president has decided not to attend Cummings' funeral today, former Presidents Barack Obama and Bill Clinton were in attendance, along with 2016 presidential candidate Hillary Clinton and former first lady Michelle Obama.
Both the Clintons and former President Obama were set to deliver eulogies at the funeral where House Speaker Nancy Pelosi was also due to address mourners.
Newsweek asked representatives of former Presidents George W. Bush and Jimmy Carter if they would be in attendance at Cummings' Baltimore funeral today, but had not received a response by time of publication.
President Trump's snub of the Maryland representative's Baltimore funeral comes after he also failed to attend the Democrat's lying-in-state ceremony at the Capitol on Thursday.
A large crowd of congressional representatives from both parties were in attendance at the memorial event yesterday, with both Democrat House Speaker Nancy Pelosi and Republican Senate Majority Leader Mitch McConnell among those who spoke about Cummings.
While President Trump did not appear at Cummings' coffin as he laid in state, Vice President Mike Pence did turn up to pay his respects during the day.
When veteran senator John McCain passed away last year, President Trump was not present because he had not been invited given his feud with the war veteran while he was alive.
Several months after the McCain funeral, Trump tried to take credit for the ceremony and said he "wasn't a fan" of the late senator, according to Vox.