President Donald Trump launched another attack on the "elite" at his latest campaign rally, saying he went to better schools and owned nicer homes than they do.
Addressing supporters at a "Keep America Great" event in Monroe, Louisiana last night, the former real estate mogul said he had a "nicer everything" than the elite, and told his fans that they were the real elite.
He also praised those at his rally for "working their asses off" and "making a lot of money," despite Louisiana being one of the poorest states in the country.
Speaking to his crowd at the Monroe Civic Center, Trump said: "You know they call them the elite? We're the elite. We're the elite. I know this, speaking for myself, I went to better schools than they did, I have nicer houses than they do. I have nicer apartments. I have nicer everything.
"And they're elite. But we're not elite? You people work your asses off. You're making a lot of money."
Not everyone in the crowd seemed enthused by his comments, perhaps because Louisiana has one of the lowest average household incomes across the 50 states.
The latest Census Bureau data showed that Louisiana had an average household income of just $47,905 in 2018. Although that sum was a 1.8 percent increase on the previous year, it was still way behind the national average household income of $61,937.
By comparison, the net worth of President Trump rose to $3 billion earlier this year, according to Bloomberg. The average Louisiana household would have to work for more than 62,000 years on current earnings, without spending a dollar, to earn that sum.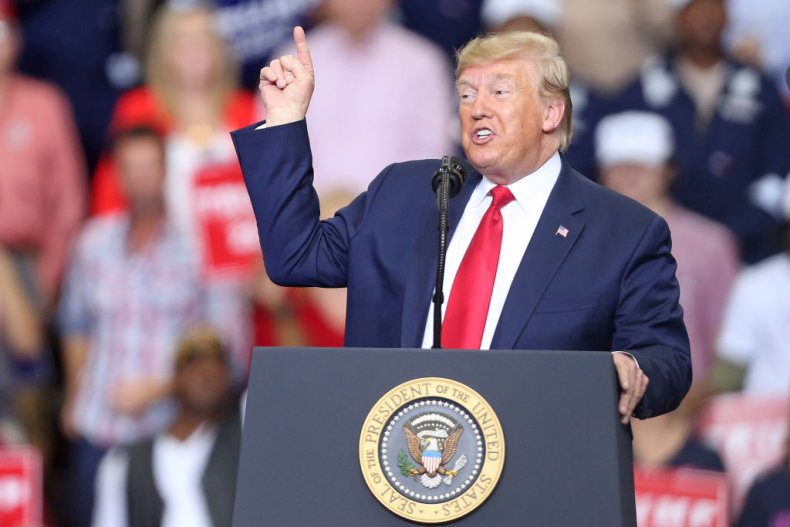 The president has prior form for criticising the elite for being poorer than him. At a rally in Duluth, Minnesota last year, Trump said he owned "a much better apartment than they do," and told supporters he was "smarter" and "richer" than the elite.
At another rally held in March this year, the commander-in-chief gloated that he had a "much more beautiful house" than elites.
Trump's latest brag about his wealth in Louisiana last night came less than a week after his eldest son suggested growing up at a Pennsylvania boarding school helped him connect with middle America.
Donald Trump Jr. said he and his brother Eric were "the only sons of billionaires" who could drive bulldozers in an interview with Fox & Friends, adding that the pair had spent their "formative years in the rust belt."
In his new book released on Tuesday, the president's eldest son said his family's Mar-a-Lago resort in Florida used to be a "winter home" and said a "full grown palm tree" could fit in its living room.