Elizabeth Warren Calls Trump 'Corruption in the Flesh' after President Scraps Plans to Host G7 at His Doral Golf Resort
Democratic 2020 contender Elizabeth Warren has used the furor over Donald Trump's attempt to host the G7 at his Florida resort to reiterate how she has a plan to tackle what she has described as the president's "corruption."
Trump has backed down in the face of pressure from both parties from his proposal to hold the global summit of the world's biggest economies at his Doral resort.
Even his favored channel Fox Business criticized the idea as going against the Constitution's emoluments clause, which prohibits the president and other federal officeholders from receiving gifts or payments from foreign governments.
After voicing how she thought Trump's trying to host the summit was an attempt to cash in on the presidency, Warren tweeted: "Donald Trump is corruption in the flesh—we must call it out, and I have a plan to fight back."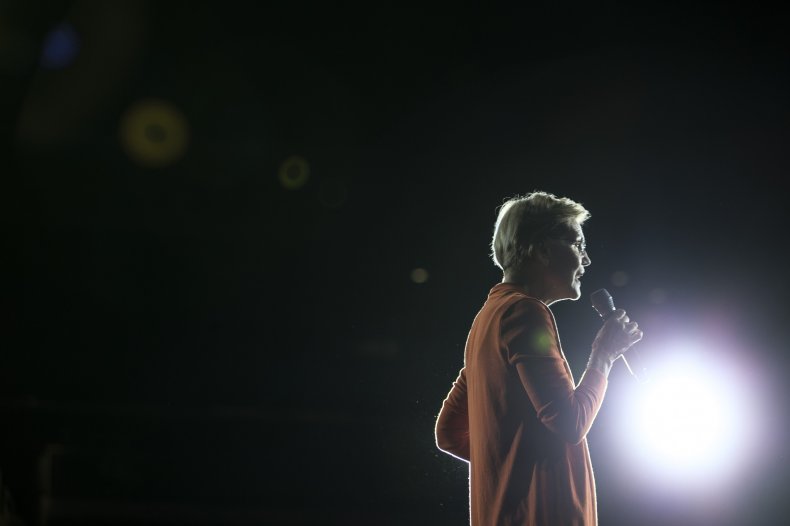 With the tweet, she linked to an article on her website from last month in which she outlines the reasons why she believes the Trump administration is the "most corrupt administration of our lifetimes."
The piece details how countries like Saudi Arabia "funnel money" into Trump's pockets by spending at his hotels, how tax breaks of $1.5 trillion helped large corporations and how "our nation's ambassadors are a 'who's who' of Trump's biggest donors and Mar-a-Lago members."
Warren's piece, which was also published in Medium, describes Trump as a "walking conflict of interest" due to his "refusal to divest from his businesses has opened the door for giant corporations, foreign lobbyists, and our own government officials to curry favor with his administration and pad his own bottom line."
In a later social media post, she referred to how high-level delegations spend money at his properties.
She tweeted: "The G-7 may no longer be at Trump National Doral, but that won't stop foreign nations from dumping money into Donald Trump's pockets by spending at his hotels.
"And it won't stop Trump from rewarding Mar-a-Lago members with ambassadorships," she added in her tweet.
Trump was still defiant in his concession over his G7 proposal, which he insisted would be presented "at cost" and said that he changed his mind due to "irrational hostility" from Democrats.
But The Washington Post reported that there was anger among his own party too, with Democratic Senator Richard Blumenthal telling the paper that it was "cracks in Republican support that caused him to fear a much larger rebellion."
Trump said that Camp David was also being looked at, although it was not on the list of 11 other sites that the White House was considering. Camp David was where former president Barack Obama hosted the 2012 G7.