The Donald Trump handshake wars strike again.
Since taking over the Oval Office, the president has had some bizarre physical interactions with world leaders and their wives during state visits and numerous global forums. French President Emmanuel Macron seems to be the consistent bearer of arms against the Trump grip, battling the American leader's apparent power moves with his own white-knuckled clench.
Related: Trump-Macron Handshake: White-Knuckled, Finger-Crushing Male Peacocking
The pair's gripping handshake was caught by the cameras again on Friday as Trump toured France during its Bastille Day celebrations. It was hard for reporters not to capture the moment: Videos show the encounter lasting at least 25 seconds as the two walk down an avenue refusing to let go of each other before stopping to greet their wives—then shaking hands with each other once more.
It's unclear whether Trump and Macron are using a show of physical strength against each other during their extensively photographed greetings and exchanges, or if the two presidents' handshakes are simply the awkward gift that keeps on giving for viewers across the globe. They typically result in viral videos and internet analysis on the state of the French and American alliance under both presidents.
The awkward handshake is a relatable faux pas regardless of political identity. In Trump's latest exchange with Macron, he appears to search for a way out of the overdrawn interaction without being the first man to let go of his grip, continuing to hold the French president's hand as he greets and kisses his wife, first lady Brigitte Macron.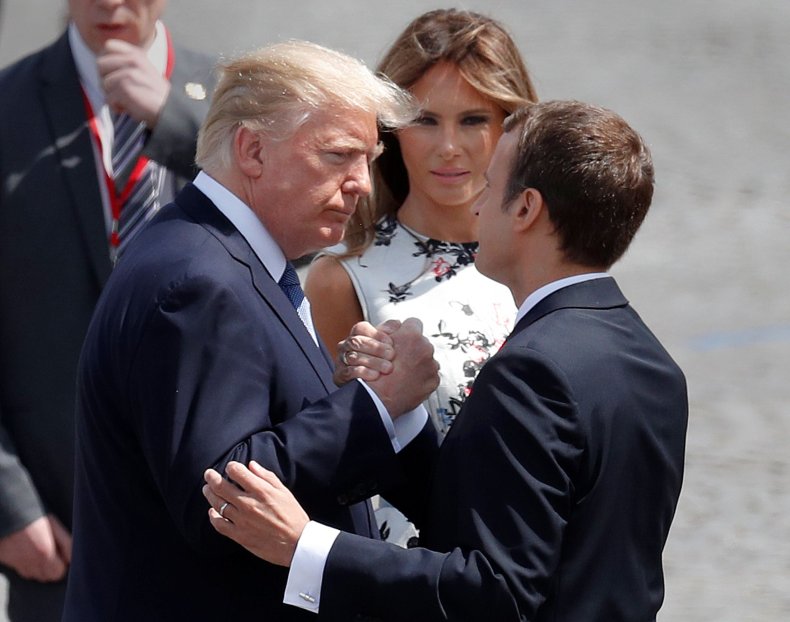 Aerial footage of the moment Trump shakes Macron's hand shows him patting the president's hands, patting his chest, swinging the hand back and forth and eventually clenching it to his own chest.
The two had an uncomfortably strong handshake when they met for the first time after Macron's election victory this year, then again at the G7 summit in Sicily in May, where they couldn't seem to stop shaking each other's hands.
Call it Trump diplomacy or a really strange desire to prove one's power over another person. Regardless, it doesn't appear the Trumpshake is going anywhere.