Donald Trump's Scotland Golf Courses Subpoenaed to Obtain Financial Records Over Potential Emoluments Clause Violation
Prosecutors in Maryland have subpoenaed financial documents of a company that owns President Donald Trump's golf courses in Scotland.
The subpoenas are part of an ongoing case brought by attorneys general from Maryland and Washington, D.C. that seeks to determine whether Trump is violating the emoluments clause of the U.S. Constitution, which prohibits the president from profiting off his position by accepting gifts, or emoluments, from foreign governments without the approval of Congress.
Ethics experts said Trump was in violation of the emoluments clause because foreign officials used Trump-branded properties for official business in order to curry favor with the president. The U.S. attorneys are focusing their attention specifically on one Washington, D.C. hotel, the Trump International Hotel, which is located in what used to be the city's main post office.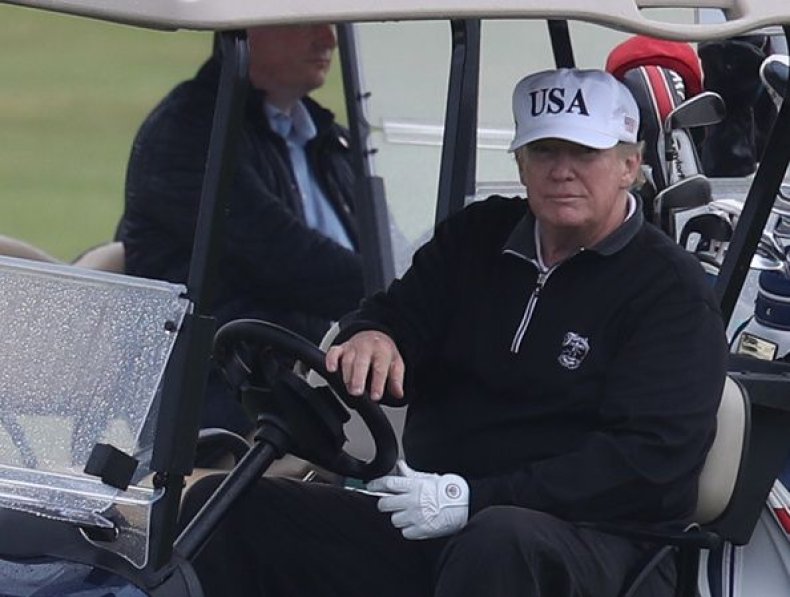 DJT Holdings LLC, a trust that owns the D.C. hotel and Trump's gold resort in Turnberry, Scotland, among other properties, was the latest company to be subpoenaed. The attorneys are investigating whether money flowed through the U.K.-based resorts into the D.C. hotel, according to The Times of London.
A representative for Maryland Attorney General Brian Frosh directed Newsweek to a list of subpoenas for the ongoing emoluments case but declined to comment on ongoing litigation. Frosh has also subpoenaed President Trump's son, Donald Trump Jr., who is a trustee of the Trump Organization, and Allen Weisselberg, the organization's financial officer.
The source of financing for Trump's Scotland resorts has come under increased scrutiny as investigators in the U.S. look into potential connections between Trump associates and Russia.
During his testimony before the House Intelligence Committee in January 2018, Glenn Simpson, co-founder of Fusion GPS—the company that commissioned the famous Steele dossier that linked Trump to Russia—said that Trump's Scotland-based golf courses were used to shuffle around huge amounts of capital from unknown sources. Simpson stressed that the resorts in the U.K. were "sinks" that did not make money on their own.
Trump's businesses are obscured through a complex network of LLCs, making it difficult for investigators to unravel potential conflicts of interest.
Reports recently claimed that during the 2016 presidential election campaign Trump had asked Germany's Deutsche Bank for a loan to refurbish his resort in Turnberry, Scotland. The bank reportedly refused the request in order to distance itself from both Trump and Russia at a time when it had developed a reputation as a conduit for money laundering and regulatory difficulties. The Wall Street Journal reported over the weekend that during the 2016 election Deutsche Bank tried to sell off a $600 million loan it had made to the Russian state-owned bank VTB, which was allegedly willing to finance the proposed Trump Tower Moscow project.
The House Intelligence Committee and House Financial Services Committee are currently looking into Deutsche Bank's finances as part of their investigation into ties between Trump associates and Russia. The German bank's financial relationship with Trump dates back to the 1990s.