Is Donald Trump Ending American Democracy?
Disagreement between Republicans and Democrats on the Trump administration's tax policy is a given. But President Donald Trump's attacks on the pillars of U.S. democracy is something every American should fight, says Brian Klaas, an academic who studies authoritarian regimes.
"I don't mind that people agree or disagree on tax policy, health care, foreign affairs," Klaas, a fellow in comparative politics at the London School of Economics, tells Newsweek. "But there are certain aspects of Donald Trump that go outside of what's acceptable in all Western politics—our basic values."
Klaas recently published The Despot's Apprentice, a book looking at how Trump is directly attacking the core essence of American democracy and mirroring the tactics of despots throughout history.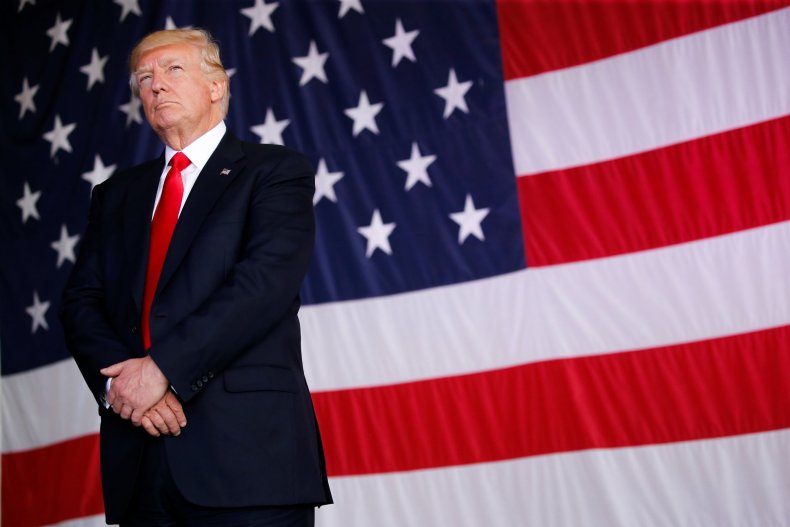 Critics call Klaas partisan, but he says that throughout the book he uses something he calls the "McCain, Romney test"—referring to the past two Republicans nominees Senator John McCain and businessman Mitt Romney—to gauge Trump's behavior.
"Anything that they would do, I don't criticize," Klaas says. "I'm genuinely advocating for the things that two years ago, before Donald Trump's arrival in the political scene, would have been viewed as universally accepted opinions, both in the Republican and Democratic Party.
"I focus on violations of democratic procedure, democratic norms. I focus on things that we should all value: a free press, a rule of law society, the idea that people should be hired not because they are family members but because of their merit."
Read more: Trump firing James Comey could permanently alter American democracy, experts say
The politicization of rule of law is a key aspect of authoritarian rule, Klaas says, and Trump has done this repeatedly. As both candidate and president, Trump pushed for his 2016 election opponent, Democrat Hillary Clinton, to be locked up. After becoming commander in chief, he pardoned former Arizona Sheriff Joe Arpaio, who violated a court order against his discriminatory policies against immigrants. Trump supports Arpaio's policies, which a court ruled were unconstitutional.
The president also attacked the FBI last weekend, saying America's top law enforcement agency's reputation is in "tatters" because a single agent involved in an investigation probing his campaign reportedly sent anti-Trump text messages. The agent was quickly removed from the investigation.
Republicans have followed the president's lead this week by attacking the integrity of the investigation as well as law enforcement institutions.
Department of Justice Deputy Attorney General Rod Rosenstein and former Acting FBI Director Andrew McCabe have also come in for strong criticism of partisanship from Trump for things he didn't like. Trump has also attacked federal judges for blocking his executive orders when they ruled these violated the Constitution.
Earlier this year he called the checks and balances of the U.S. Constitution—the bedrock of American democracy—"archaic" and "really a bad thing for the country." He blamed them for his rocky first 100 days in office.
"This is the kind of stuff we see in banana republics, not in functioning democracies," Klaas says.
Klaas outlines four different scenarios for the future of America.
"The hopeful scenario, the optimistic one, is called 'the Trump vaccine' where he shows the weaknesses in American democracy the same way that a weakened strain of a disease shows the weaknesses in your immune system and allows you to respond to it, like a vaccine," Klaas says.
This could shore up American institutions if citizens become more civically engaged and speak out against Trump's more despotic tendencies and abuses of democratic institutions, Klaas says. But, he adds, that is an unlikely scenario.
"The more likely options are things like democratic decay, where the system slowly erodes over time, day after day, and weakens itself," Klaas says.
Klaas calls the third possible scenario "the forerunner, where a Trump 2.0 figure comes along with more charisma, more discipline, but the same authoritarian impulses and is more effective at eroding American democracy."
The final scenario, which Klaas says is unlikely but still possible, is an American version of authoritarianism. This scenario might come to pass if there was a mass-casualty terrorist attack under Trump and his authoritarian impulses—including a clear desire to scapegoat and blame Muslims—took over.
"All of this hinges on how people respond to Trump and one of the key benchmarks we should be looking at is next year's midterm elections," Klaas says, noting that if there is a clear rebuke of Trump, America's core institutions could be shored up.
"These are not partisan values," Klaas says, but the "fundamental issues of what makes a Democratic society function."