Trump's Endorsement Record Is Improving: Here's the Key to His Success
Former President Donald Trump likes to boast about his endorsement record of political candidates—and with good reason. All 55 candidates that Trump has backed in Republican primaries have all either won or advanced to runoff elections.
That streak will end eventually—you can't defy the law of averages and politics forever. However, his endorsement win-loss record is set to stay high, or even improve.
Newsweek has analyzed Trump's political endorsements for 2018, 2020 and 2022, confining the data to Senate, House and gubernatorial races. Data was taken from Ballotpedia, the nonpartisan online political encyclopedia. Here's what was found: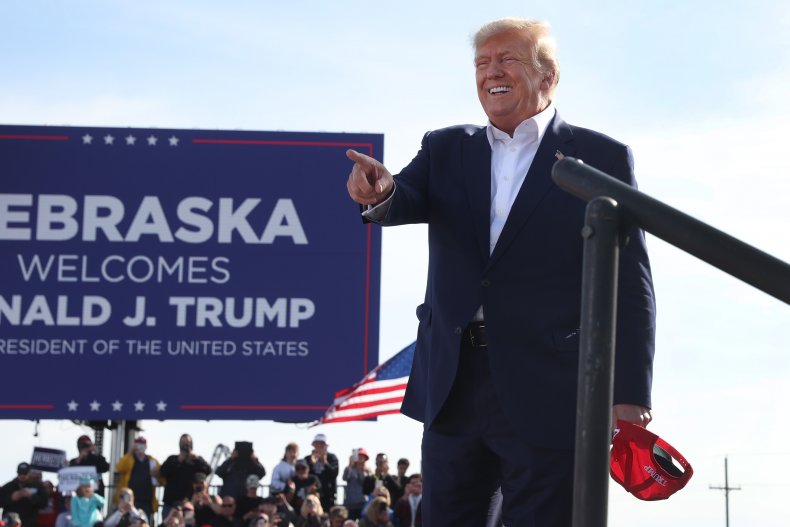 In 2018, Trump's overall endorsement success rate—whether the candidates he endorsed won office—was at best hit-and-miss. He was successful 56 percent of the time. But in 2020, his success rate jumped: Trump endorsees won 78 percent of the time, nearly 4 in 5 candidates.
What changed? Trump started backing more candidates, partly due to the number of races available.
In the House of Representatives, incumbents win most of the time. Since 1960, it has never been below 85 percent, according to data from OpenSecrets, and usually, the reelection rate for the House is in the mid-nineties. For 2018, it was 91 percent.
For Trump-endorsed House incumbents in 2018, only 21 won out of 34, or just 62 percent, compared to the 91 percent average. That's a statistical blip, and unlikely to be repeated.For 2020, Trump's incumbent win rate for House seats was 79 out of 81— close to perfect—and at 97.5 percent above the overall House incumbent win rate in 2020 of 94.7 percent.
His record with challengers is more like you would expect. Across 2018 and 2020, Trump-endorsed challengers won at quite a consistently lower rate, around 1 in 4. This is better than the incumbent rate would suggest. It should be around 10 percent of the time, so anything higher is a sign that a Trump-backed challenger is to be reckoned with, but far from a sure thing.
Endorsements in 2022
As the chart below shows, Trump has doubled down on incumbents. He is now backing 82 incumbents out of 117 endorsements in 2022, compared to 44 out of 88 candidates four years ago. Given his decent rate with challengers, and the natural favor of electorates to reinstate incumbents, 2022 should be good for Trump as the Republican Party kingmaker.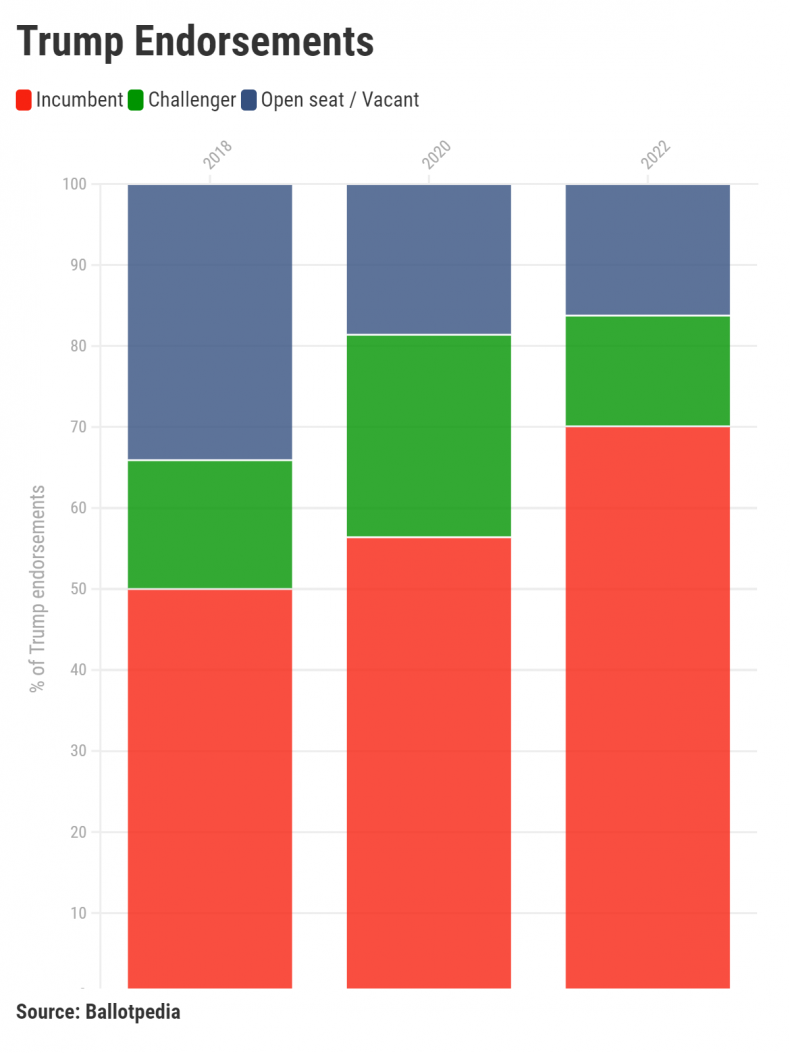 So what about that 55-win streak?
It's worth noting that many of these 55 wins are primary races, and in fact were uncontested. Of the candidates in the Newsweek data that were backed by Trump and advanced through the primary stage, around half were uncontested—19 out of 39.
In some cases, the backing of Trump may have deterred others from joining the race. But an uncontested "win" is certainly less of an achievement than what Trump delivered for J.D. Vance in Ohio, for instance.
Vance won the Ohio Senate Primary earlier this month having been second in the polls but getting a late boost from Trump's endorsement. Vance's polling jumped 15 percent on the day he was endorsed, which put him into contention but not leading.
Trump held a rally for Vance on Saturday, April 23, and one day later, Vance was tied with Josh Mandel at 23 percent, according to a poll average from Real Clear Politics. Vance pulled ahead of Mandel in the polls leading up to the vote.
Trump spokeswoman Liz Harrington tweeted an annotated version of the chart, showing the Trump effect.
Risky Endorsements?
While the list of 2022 endorsements looks safe in terms of incumbents, Trump has still gambled in some high-profile races.
He backed Dr. Mehmet Oz in Pennsylvania for the Senate, a move seen as very risky at the time. Mark Hrutkay, the vice-chairman of the Republican Party in Washington County in western Pennsylvania, told Reuters in April that "I have not had one call from a voter who supported the endorsement. They are pissed off. This doesn't mean they are abandoning Trump, because they're not. They just don't understand the endorsement."
Trump's endorsement is looking better now. Oz is currently leading in the polls, according to Real Clear Politics, albeit with a narrow 2.5 percentage point lead.
The race where Trump's streak may end is in Nebraska. Charles Herbster, who Trump endorsed to be the state's next governor last October, has seen his popularity decrease in the polls since he was accused of sexual assault by several women. The agricultural businessman denies the allegations.
Regardless of the Nebraska race, Trump's endorsement win rate should be set to improve in 2022, based on his incumbents.