Donald Trump Endorses Jeff Sessions' Opponent for Alabama Senate Seat: 'Tommy Will Protect Your Second Amendment'
President Donald Trump endorsed former Auburn University football coach Tommy Tuberville in the Republican runoff election for Alabama's U.S. Senate Tuesday, rebuking Tuberville's rival, former Attorney General Jeff Sessions.
Sessions was sworn in as attorney general in February 2017 after being appointed by Trump. The relationship became rocky only months later, when Sessions recused himself from being involved in the Mueller investigation into Russian interference in the 2016 election. Trump publicly spoke out against Sessions until finally firing him in November 2018 and continuing to speak of him disparagingly after he left.
The president sent a clear message that his opinion has not changed by taking to Twitter to endorse the competition as Sessions attempts to win back the Senate seat he held for decades before joining the administration. Trump praised Tuberville's career as a successful college football coach while making the endorsement.
"He is a REAL LEADER who will never let MAGA/KAG, or our Country, down! Tommy will protect your Second Amendment," Trump tweeted. "He will be a great Senator for the people of Alabama. Coach Tommy Tuberville, a winner, has my Complete and Total Endorsement. I love Alabama!"
The Republican primary was forced into a runoff after neither candidate got 50 percent of the vote on Super Tuesday. Trump took the opportunity to mock the failure of Sessions the next day.
"This is what happens to someone who loyally gets appointed Attorney General of the United States & then doesn't have the wisdom or courage to stare down & end the phony Russia Witch Hunt," tweeted Trump on March 4. "Recuses himself on FIRST DAY in office, and the Mueller Scam begins!"
Tuberville's campaign has leaned on Trump's negative view of Sessions. Campaign ads portrayed the former coach as loyal servant who wants to "help Trump drain the swamp," while Sessions was branded a "traitor" for his supposed disloyalty to Trump.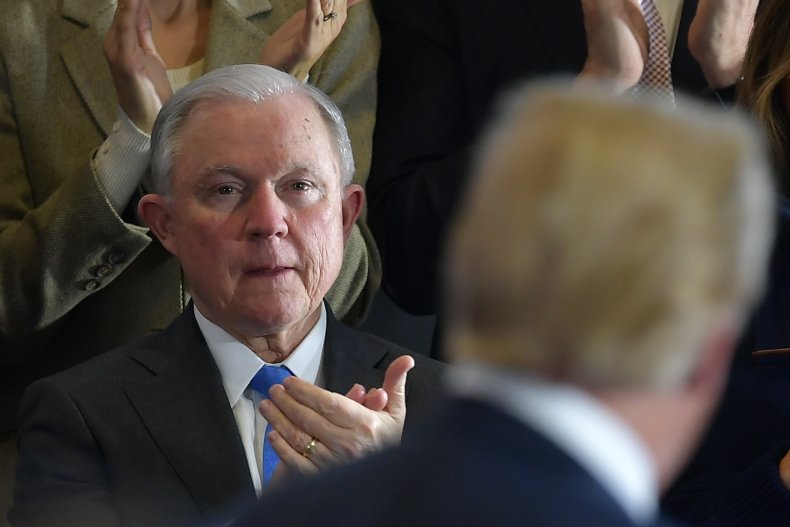 Despite their relationship having soured long ago, and perhaps because Alabama is a heavily pro-Trump state, Sessions also heaped praise on the president.
"When President Trump took on Washington, only one Senator out of a hundred had the courage to stand with him: me. I was the first to support President Trump. I was his strongest advocate. I still am. We must make America great again," said Sessions in a statement when announcing his run.
The seat is currently held by Democratic Sen. Doug Jones, who narrowly won a special election against controversial former Alabama Supreme Court Judge Roy Moore in 2017. The seat is expected to be particularly vulnerable to being flipped back to Republicans in November.
The runoff election is set to take place March 31. Recent polls show Tuberville with a significant lead over Sessions.
Sessions released the following statement on Twitter a few hours after Trump announced his endorsement of Tuberville:
"Of course, President Trump can endorse anyone he chooses for the U.S. Senate election in Alabama. But the Constitution expressly empowers the people of Alabama, and only them, to select their Senator. I intend to take my case directly to the people of Alabama. Even before he declared for the presidency, I fought for the principles that Donald Trump so effectively advocated in the campaign and has advanced as President. I believed in those principles then, I have always fought for them, and I will continue to do so."