Donald Trump Endorses Son's Meeting With Russians for Dirt on Clinton: 'That's Politics!'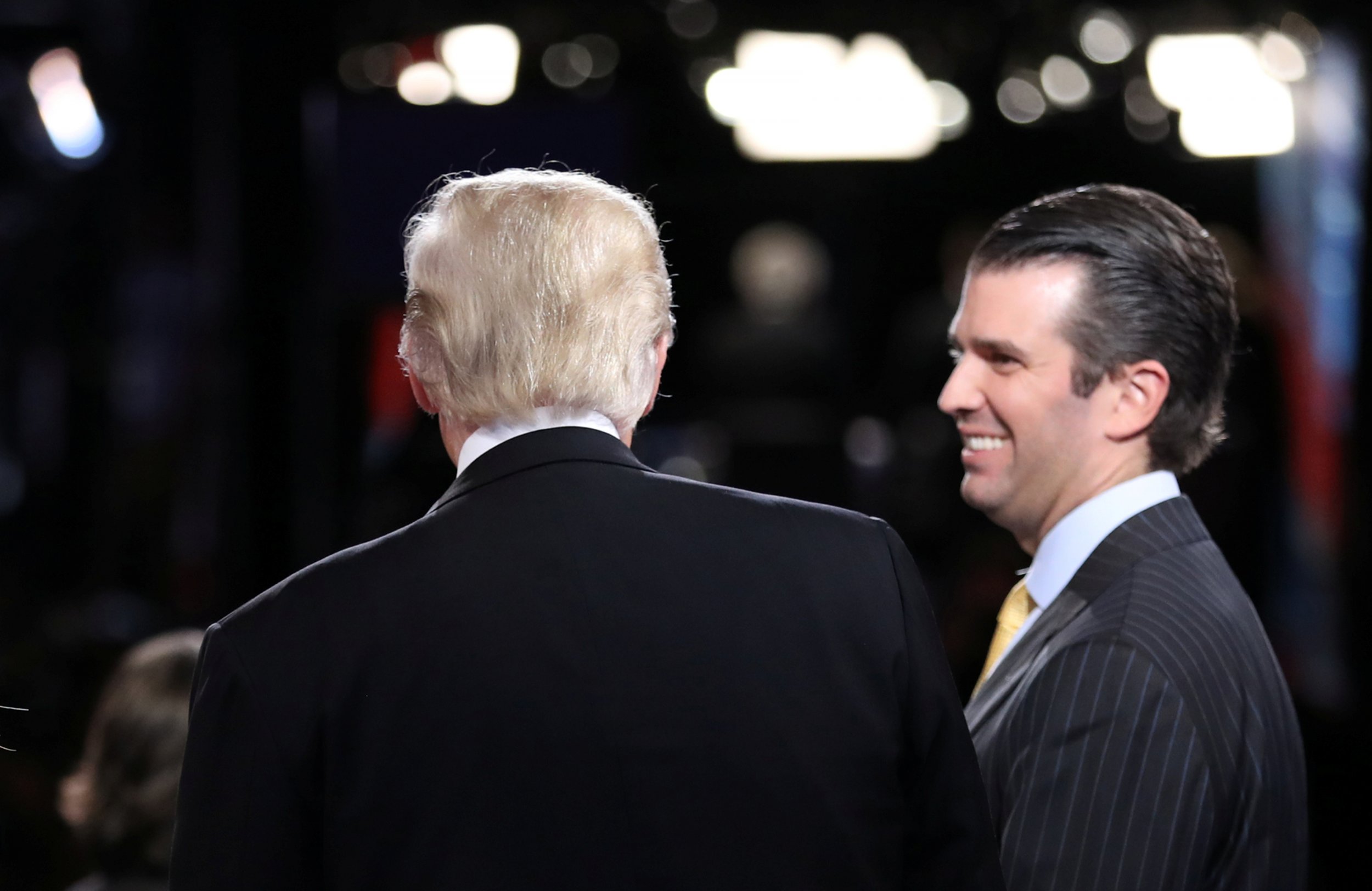 President Donald Trump, seemingly unprovoked—although his early-morning Twitter posts often are responses to cable news shows—came out in defense of his son's meeting with a Kremlin-connected lawyer and a former Russia intelligence officer during the presidential campaign, a rendezvous whose stated goal was landing dirt on Democratic nominee Hillary Clinton.
"Most politicians would have gone to a meeting like the one Don jr attended in order to get info on an opponent. That's politics!" Trump tweeted Monday morning.
Donald Trump Jr. said the meeting didn't yield anything of use, but email exchanges the billionaire's son released (just minutes ahead of a planned story from The New York Times) showed that he'd set up the meeting with the goal of landing information "that would incriminate Hillary." Trump Jr. told the intermediary helping to set up the meeting, "I love it."
The emails also noted that the lawyer Trump planned to meet was connected with the Russian government and that the information was "part of Russia and its government's support for Mr. Trump."
The attendee list for the meeting included Trump Jr., Trump son-in-law (turned White House adviser) Jared Kushner, then-campaign head Paul Manafort, the Kremlin-connected lawyer, a few representatives of folks who set up the meeting and Rinat Akhmetshin, a former Soviet counterintelligence officer.
The president previously defended the idea of his 39-year-old son holding such a meeting, which many say suggests the potential for collusion with Russia, a country that U.S. intelligence agencies said meddled in the 2016 election through hacks and other means in an effort to get Trump elected.
"He's a good boy. He's a good kid. And he had a meeting. Nothing happened," Trump said to reporters in off-the-record comments he insisted be put back on the record.
As The Atlantic pointed out last week, Trump's "everybody does it" defense Monday is an approach being taken by many other Republicans.
"If somebody in the middle of the campaign walks in the door and says, 'I have information that will harm your opponent,' virtually every campaign in the world will say, 'Show me, what do you have,'" former Speaker of the House Newt Gingrich said to the magazine.
Of course, Trump associates long denied contact with Russia and any sort of influence campaign on their behalf by that country—all of which seemingly proved to be untrue by Trump Jr.'s emails.