Donald Trump's Tariffs Create Economic Chaos in Turkey. Will Erdogan Cave—or Will NATO Kick Him Out?
The current economic crisis in Turkey, which continues to roil global equity markets, is but the most recent and most visible evidence of Ankara's deteriorating relations with the United States and with Washington's NATO allies. It is a diplomatic crisis that's been coming for more than two years, but President Donald Trump appears to have just realized it. Only a month ago, Trump fist-bumped Turkish President Recep Tayyip Erdogan and said of him, "He does things the right way." Then, on August 11, Trump doubled the tariffs on Turkish-produced steel and aluminum and said via tweet, "relations between us are not good at this time."
What changed? For months the administration has tried to negotiate the release of Andrew Brunson, a North Carolina evangelical pastor who had been detained in Turkey on farcical charges that he somehow aided the coup attempt against Erdogan in 2016. Brunson's is the most visible case in what has become a pattern of "hostage diplomacy," in which Erdogan has sought leverage in the hope of pressuring the U.S. to extradite Fethullah Gulen, a Turkish imam who resides in the Pocono Mountains. Erdogan believes Gulen and his followers back home were behind the coup attempt, but he has failed to persuade Washington.
That a member of the NATO alliance, which Turkey has been since 1952, would engage in such behavior against a fellow alliance member is extraordinary. But it speaks to Turkey's pivotal position within the alliance—a position dictated by its geography, as the de facto gateway to the Middle East, and the size of its military, the second largest in NATO—that Trump's previous Secretary of State, Rex Tillerson, and his successor, Mike Pompeo, had been trying quietly to work out a deal to bring Brunson home.
But on July 25, Ankara merely moved Brunson from prison to house arrest, and subsequently let it be known that his next hearing on appeal would not occur until October. Trump had had enough. No longer was Erdogan someone who "does the right thing." On Friday, Treasury Secretary Steve Mnuchin said the U.S. was ready to add more, unspecified sanctions on Turkey on top of the tariffs announced last week if Brunson wasn't released immediately.
The tariffs, and the intensifying pain on an already weak Turkish economy, are a dose of bracing reality: Relations between the U.S. and Turkey are as bad as they've ever been, and are likely to get worse.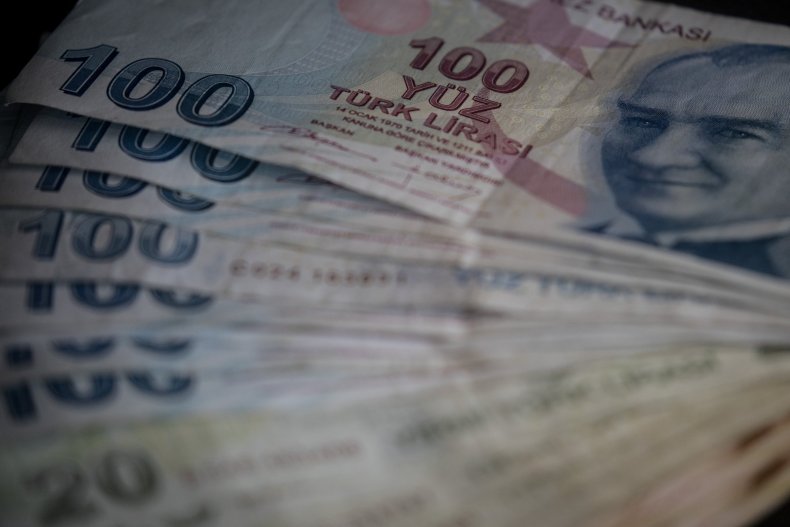 How bad is it? For the first time since Ankara joined NATO in 1952, the unthinkable is now on the table for policymakers in Donald Trump's administration: Should Turkey be kicked out of the West's most important military alliance, something that's never been done in its history? (Indeed, NATO, an organization of addition, not subtraction, doesn't at the moment have a mechanism in its charter for kicking a member out.) Should the alliance pull out of one of its key air bases, Incirlik, which houses tactical nuclear weapons, and from which the U.S. flies missions throughout conflict zones in the Middle East?
It is not just hostage diplomacy that has Washington upset. Turkey plans to buy the sophisticated Russian-made S-400 missile—the most visible symbol of its recent cozying up to Vladimir Putin's Moscow—while at the same time continuing its role as both a key supplier and buyer of U.S. F-35 stealth fighters. The notion that a NATO ally would buy a key weapons system from a strategic rival infuriated Congress. The defense bill that Trump just signed at minimum temporarily blocks the sale of 100 fighters to Anakara, and proposes eliminating Turkey as a supplier, despite the fact that Secretary of Defense James Mattis opposed both. He argued that cutting Ankara out of the deal would delay production by 18 to 24 months and drive up the cost of the jets. Now his Pentagon will have to draft the overall review of relations with Turkey, a politically fraught exercise given how badly they have deteriorated.
The tariffs and the defense bill demonstrate to Erdogan that Washington has run out of patience with him. That sent Turkey's already weakening currency, the lira, into freefall, and put Ankara in extreme economic duress. The country has vast dollar denominated debt—both public and private sector—and a weak currency makes that all the more difficult to pay down. That is on top of 11 percent unemployment and spiraling inflation. Erdogan responded by sending out Berat Albayrak, his son-in-law who is the finance minister and, the president hopes, his eventual successor, to try to calm markets. A novice who by all accounts knows little about how economies and markets work, Albayrak gave a speech that had the opposite effect.
Erdogan, in an op-ed piece in The New York Times, then threatened Washington, vowing "to start looking for new friends and allies," a reference to his warming relations with both Russia and China—NATO's primary adversaries. He then increased tariffs on U.S.-made goods sold in Turkey. That prompted more than a 300-point drop in the Dow Jones Industrial Average.
Nonetheless, Trump won't back down here, and not just because the blunt cudgel of tariffs are among his favorite presidential tools. The administration believes that increasing the economic pressure will force Erdogan to fold on both the U.S. held hostages and on the acquisition of the S-400s. (Already the Pentagon has revived the prospect of selling Ankara Patriot missiles, perhaps at a lower price than had previously been offered in lieu of the Russian system.)
Trump might not be wrong. It was an economic crisis that first brought Erdogan to power. Erdogan just won another term in office earlier this summer, and in the old days in Turkey, a military coup would now arguably be in the offing, given the country's increasingly dire circumstances. That, nearly everyone agrees, is not going to happen now, a sign that even with Erdogan, the country has matured politically over the last decades. But the Turkish leader's authoritarian purges of the bureaucracy, the military and state-owned companies since the coup have deeply divided the country, and an economic reckoning would arguably tilt an already restive—and hugely influential—business community into outright opposition. It would have no interest in cutting off ties to the West, getting kicked out of NATO and jumping into the arms of Putin, China's Xi Jinping and the Mullahs in Tehran. Does Erdogan? That, effectively, is the choice he now has. Washington is betting he stands down from the brink.