Donald Trump's No Good, Very Bad Week With Europe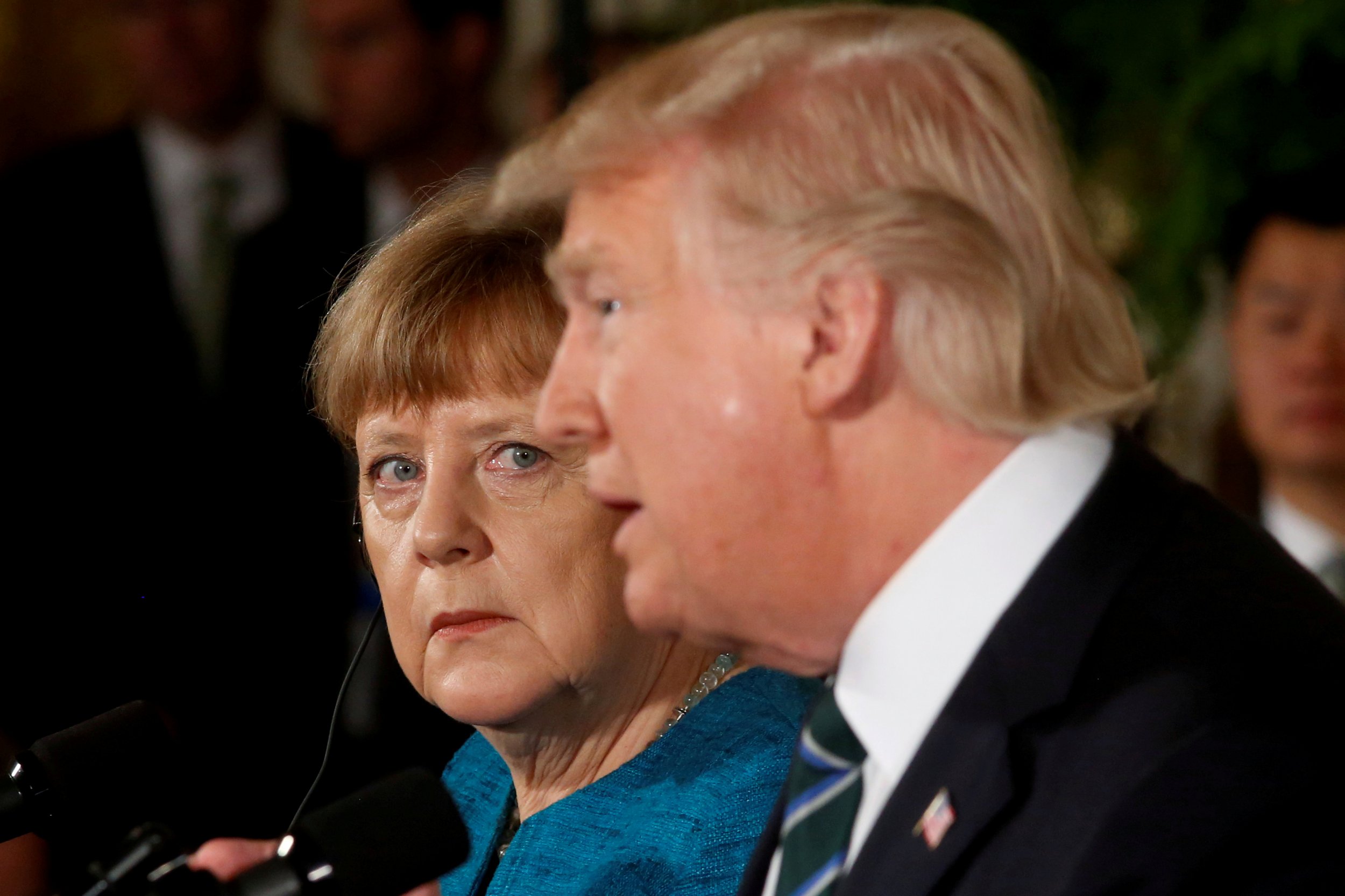 Jean-Claude Juncker, the president of the EU's policy-making wing, is a man entirely unafraid to express his opinion. Speaking Thursday at a conference in Malta, Juncker, the head of the European Commission (EC), declared that if Trump continued to support Brexit, he in turn would "promote the independence of Ohio and Austin, Texas."
Donald Trump, the self-styled "Mr Brexit" is yet to respond.
Though Juncker's comments were—Newsweek hopes—made in jest, they come at a time of growing European frustration with the Trump administration. This week alone, the White House has managed to spark a trade row with Germany, frustrate the G7, threaten an EU-U.S. data privacy agreement and irritate NATO. Small wonder then that Juncker's facial expression barely altered as he made his quip.
Watching Juncker's speech was the German Chancellor Angela Merkel, who is going through her own battle with the U.S. Two weeks after her distinctly frosty first meeting with Trump on March 17, Merkel's finance minister, Sigmar Gabriel urged the EU to file a complaint against the U.S. with the World Trade Organization.
Gabriel's threat on Friday came a day after the U.S. Department of Commerce ruled that European and Asian steel producers had dumped their product into the U.S. market, undercutting American producers. As a result, the department said, the U.S. could impose duties ranging from 3.62 percent to 148 percent on steel from companies in Germany, Austria, Belgium, France and Italy.
Read more: Why Trump is wrong on trade and tariffs
Filing the complaint will fall under the European Commission's remit. The EC has already said that the U.S.' planned duties are "artificially inflated" and that it is considering what to do next. Gabriel, representing one of the most powerful countries in the EU, has made it clear, however, that he will push hard for the EC to challenge Washington's protectionist measures.
Gabriel's gripes with the U.S. go beyond trade. At a NATO foreign ministers' meeting on Friday, he railed against his U.S. counterpart Rex Tillerson's demands that NATO members meet the bloc's agreed target spend of 2 percent of each nation's gross domestic product.
So far, only the U.S.—whose contributions make up 70 percent of NATO's budget—Estonia, Greece, Poland and the U.K. have hit the 2 percent target. Speaking to a NATO meeting that included Tillerson, Gabriel made it clear that Germany would not be ramping up its contributions to match the target. In contrast to Merkel's statement last month that Germany would increase its NATO budget, Gabriel told the bloc: "Two percent would mean military expenses of some 70 billion euros," he said. "I don't know any German politician who would claim that is reachable nor desirable."
Other NATO members may have merely felt relief that Tillerson—despite his spending demands—showed up. Today's meeting was originally set for April 5 and 6 but the U.S. State Department, citing an unnamed scheduling conflict, said the U.S. secretary of state would not attend.
His planned no-show sparked anxiety among the bloc, not least because Trump had called NATO "obsolete" back in January. In a bid to secure Tillerson's attendance, the 27 other members agreed on March 24 to move the meeting a week earlier to this Friday.
NATO isn't the only bloc which has struggled to meet with the U.S. Italy, currently trying to organize the next G7 summit on April 10 and 11, now appears to be struggling with the State Department's lack of experience and organization.
Speaking to Reuters on condition of anonymity, a senior Italian official said Friday that the lack of senior staff in the State Department meant reaching agreements on strategy was progressing unusually slowly. "It's very difficult to talk to someone who can give a straight answer because the ones who are there are 'acting' head of something and they're not even very senior," the official told Reuters. For its part, the State Department has acknowledged that several positions still need to be filled.
Still, it's dispiriting news for the G7, which is concerned that Trump's plans to slash foreign aid—coupled with his protectionist agenda and rejection of international climate change agreements—might make for a difficult summit.
As frustration toward the U.S. mounts across Europe, one EU official has flown to the source of the problem. On March 29, Vera Jourova, EU Commissioner for Justice, Consumers and Gender Equality landed in Washington, D.C. amid concerns that the U.S. would abandon its data privacy agreement with the EU, known as the Privacy Shield.
The pact, which was signed last summer, allows companies that self-declare their compliance with EU privacy laws to transfer personal data of European citizens to the U.S, meaning that when this data is in the U.S., it's still protected under EU regulations.
So far, the Trump administration has not complied fully with the scheme. The EU observer, a website which reports on the bloc, has said that there are four vacancies on the five-member oversight board which sits in the U.S. The Trump administration is still yet to appoint a permanent ombudsman to oversee the scheme, while the the Federal Trade Commission, which enforces the Privacy Shield has only filled two of its five seats. Trump has also made it clear that he intends to roll back data privacy measures in the U.S.
Despite this, Jourova is tweeting positively about her time in D.C., saying that she's getting plenty of reassurance about the U.S.' commitment to the Privacy Shield. Back home in Europe, however, several other lawmakers—Gabriel and Juncker among them—seem less satisfied.