What is Trump Doing in Europe? Putin, Poland and Paris Climate Battles Await the President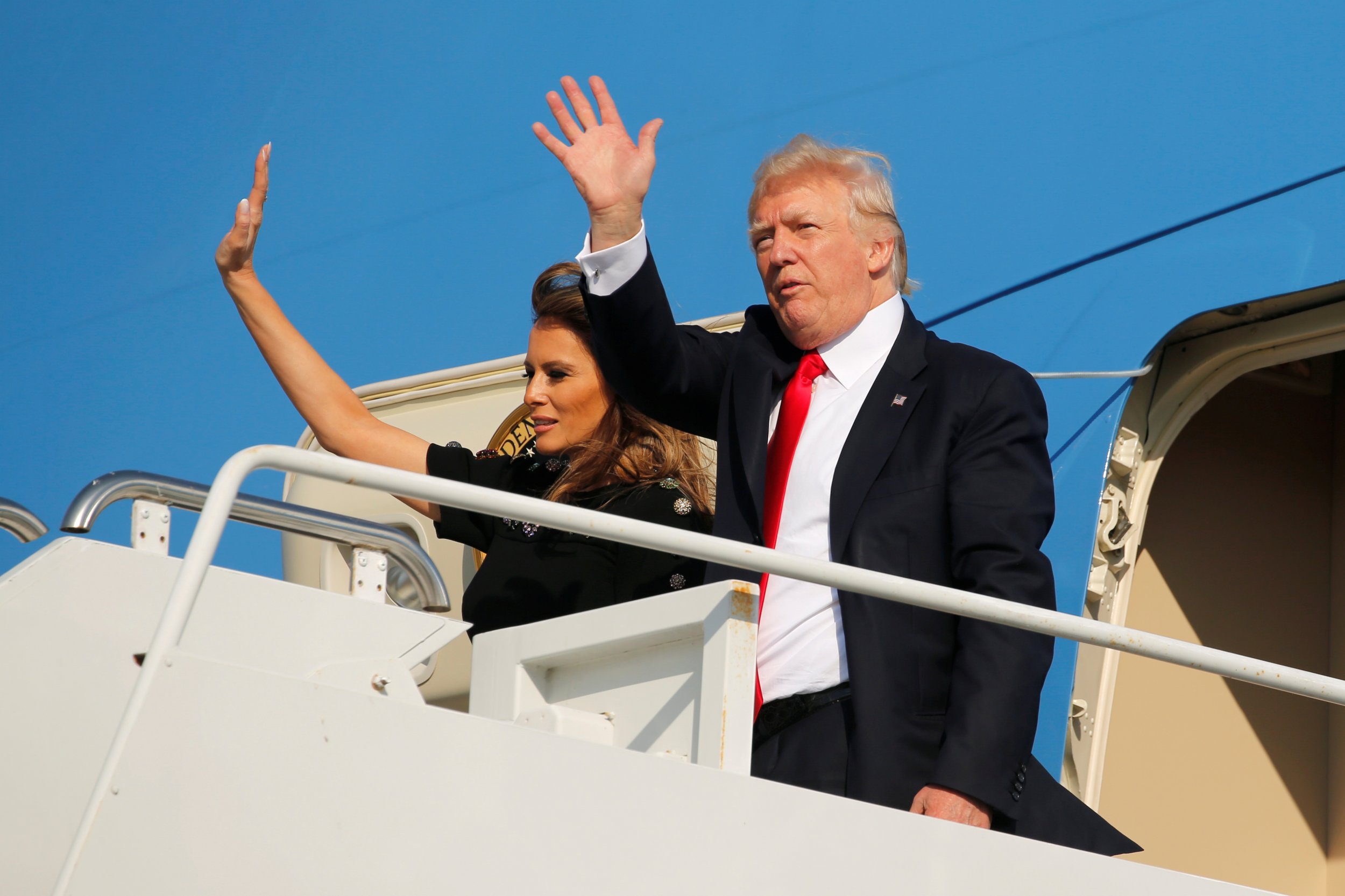 Donald Trump is back in Europe this week, continuing his deep and special relationship with a continent whose nations he has described variously as "a hellhole " (Belgian capital Brussels), "bad, very bad," (Germany) and "no longer France" (France).
Here's the lowdown on his planned itinerary:
Thursday, July 6: Poland
Trump will touch down in the capital, Warsaw, for a brief visit.
British media reports have said that the president is delaying a planned state visit to Britain because of fears about protests. That probably won't be a problem here: borrowing from an old Communist-era playbook, Poland's right-wing government is bussing in supportive crowds from around the country to give Trump a rapturous welcome, according to NBC News.
As part of the trip, Trump will give a speech in Warsaw. Poland's foreign minister, Witold Waszczykowski told press on Monday that the government wants assurances that U.S. and Nato deployments in Poland will continue.
This stop might raise eyebrows in Brussels though: the Polish government is engaged in a long-running dispute with EU authorities over the rule of law under the new government, first elected in late 2015. Europe has concerns over media freedom and the functioning of Poland's courts. Trump's apparent endorsement of the government could make it even bolder in battling the EU.
Friday, July 7 to Saturday, July 8: Hamburg
Trump will head to the German city for a summit of the G20 group of major economies.
While there, Trump will meet Russian President Vladimir Putin for the first time as president; a major event for Washington watchers, given allegations—always hotly denied—that the Trump campaign had links to Russian authorities and that Putin interfered in the election to help swing it for the Republican candidate.
Meanwhile, other nations, especially Germany, are keen to discuss the Paris climate accord, and German Chancellor Angela Merkel has vowed to make it a key agenda item. That could see Trump singled out for criticism: his announcement at the start of June that America would leave the agreement puts him sharply at odds with leaders such as France's Emmanuel Macron who have pledged to enforce it and step up the fight against climate change.
Between Sunday, July 9 and Friday, July 14: Britain?
There were reports in the British media over the weekend that the U.K. government was preparing for a quick stop-over visit by Trump to one of his Scottish golf courses in the days following the summit.
The White House twice denied this to the British Daily Telegraph and Financial Times but Trump can be a changeable guy; maybe he'll decide to stop over anyway.
If he does, he's likely to face some opposition: U.K.-based protestors have vowed to disrupt any visit.
Friday, July 14: France
The White House confirmed last week that Trump will visit Paris for the French national holiday of Bastille Day, meeting with President Emmanuel Macron.
As well as facing a rematch of their now-infamous handshake battle, the visit will mark an important moment in the two men's relationship. They had a tense encounter at the G7 summit, and each will have to decide to what extent they want to sustain the often-close Franco-U.S. relationship, and how much to telegraph their differences.
Trump might face some more banners and chants, too; the French can protest like nobody else and leftist politician Jean-Luc Melenchon has already said he thinks Trump isn't welcome.
But Macron and Trump will have much to chew over if they decide to strike a co-operative note; Trump has said he wants to "build on the strong counter-terrorism co-operation and economic partnership." France is one of Europe's pre-eminent military powers, and is facing a substantial terror threat. It may be in both leader's interests to declare new joint commitment in these areas.