Donald Trump Was a Hero to Europe's Far Right, But They Still Can't Win Office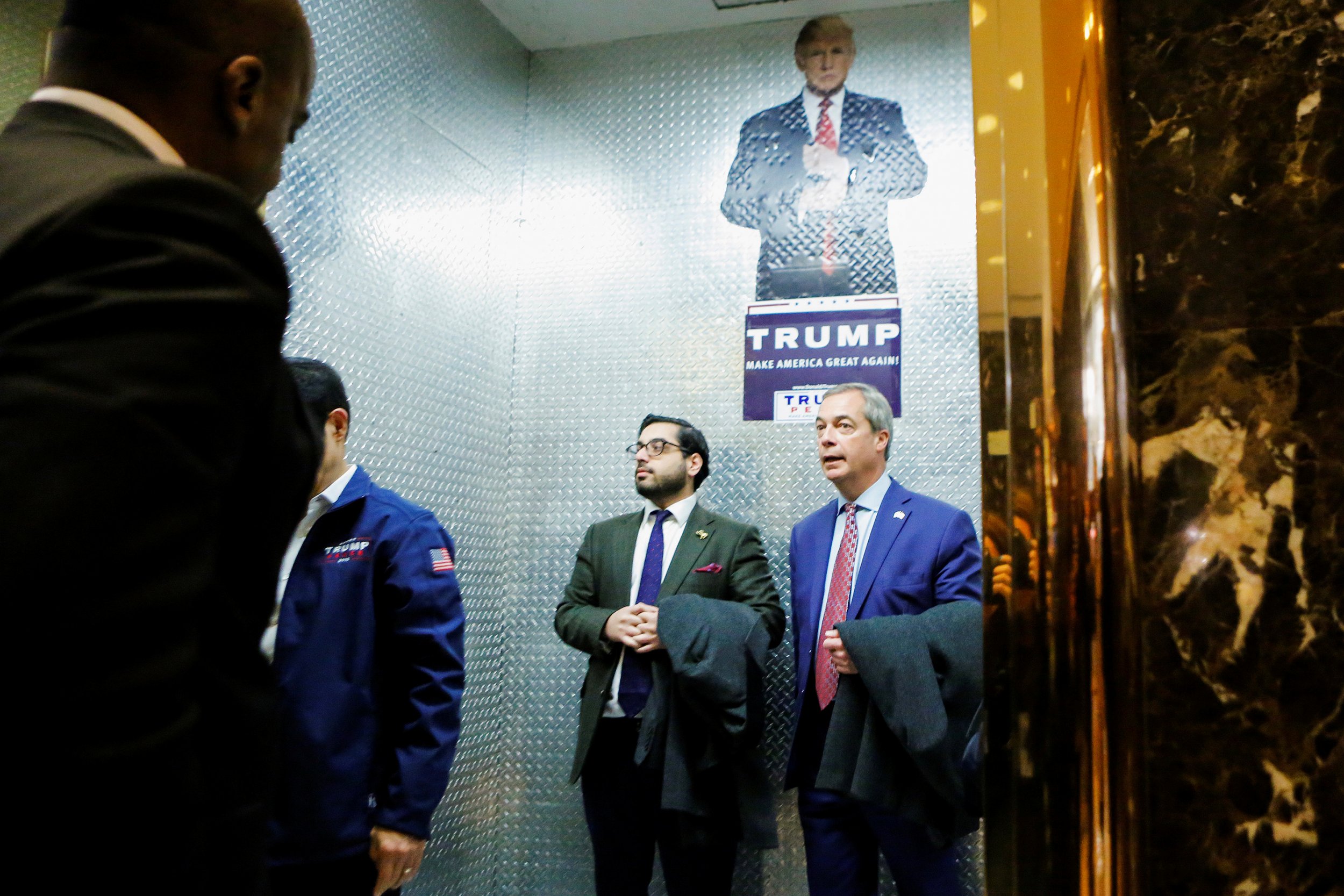 As Donald Trump toasted his victory following the U.S. presidential election one year ago, he and his team weren't the only ones celebrating.
Thousands of miles away in France, Florian Philippot, then vice president of France's hard-right National Front, was smiling, too. "Their world is collapsing. Ours is being built," he tweeted.
Nigel Farage, Britain's populist Brexit campaigner, went one better, adding a stop at Trump Tower to his perpetual post-referendum victory lap. He infamously posed, grinning, with the then-president-elect in front of a golden door.
Philippot and his kind were feeling cocky. The French presidential election was coming the following spring, and some claimed that his party's leader, Marine Le Pen, once a pariah, was in with a chance.
Meanwhile, in Austria, the far-right Freedom Party was gearing up to contest a re-run of the country's knife-edge presidential poll. In the Netherlands another peroxide-blond, anti-immigrant populist, Geert Wilders, had a chance of coming first in a general election the following March. In Germany, Italy and elsewhere in Western Europe, hard-right parties had been posting strong showings in opinion polls.
Now, one year on, Philippot's career is shattered: He quit the party in September, a casualty of furious infighting that followed the party's defeat by the centrist Emmanuel Macron in May's presidential election.
In election after election, hard-right populists, many of whom saw Trump's victory as a sign their nationalist ideology was taking root across the West, have scored just about highly enough to leave moderates a little rattled. But nowhere in Western Europe have they emerged victorious.
So what makes Trump's America different? Rob Ford, an expert on the radical right at England's Manchester University, told Newsweek it comes down to two important factors: the presidential system, which can allow outsiders to leap to the top, and the depth of U.S. political partisanship.
"American partisanship is an incredibly powerful force," said Ford. Trump's core vote is somewhere around 15 to 20 percent of the U.S. electorate, he guesses, but party loyalty in the U.S. means that once you pick up the primary, you can consolidate a huge number of other voters.
In Western Europe, parties running on a similar platform to Trump's—anti-immigration, anti-Islam, mixing a right-wing worldview with irregular big-state gestures on economic policy—in many cases are winning similar core vote shares, usually up to around a quarter of the electorate.
But the more multifaceted and less rigid political systems they operate in makes it hard for them to grow further.
The radical right is not entirely absent from power on the continent.
In Austria, the Freedom Party came third in the general election, but is in talks with the center-right victor Sebastian Kurz about forming a coalition. In Norway the Progress Party, which governs in coalition, preaches a slightly more moderate version of the populist right agenda.
And in Eastern and Central Europe, right-wing populists are much stronger: In Poland and Hungary, parties comparable to the Western populists are in government alone.
But, says Ford, there's no strong evidence that these parties can break out of their niche to win elections across Europe's West. Many of these parties have existed for 15 years or more, without managing to burst through their vote ceiling.
Sometimes new radical right-wing parties grow quickly, he says—the AfD in Germany, for example, only formed in 2013 and came a (distant) third in the country's national election this fall.
But where that happens, Ford argues, such parties are usually just filling a niche that was underserved by mainstream politicians, not winning over swathes of voters to a new world view. As he puts it: "If you introduced a new product in one country's market and then introduced it in other countries, the total sales would go up."
So while Trump continues—sometimes—to say "America first," Europe remains less stridently nationalist, at least for now.