'The Hour is Coming:' Why Evangelicals Must Drop Trump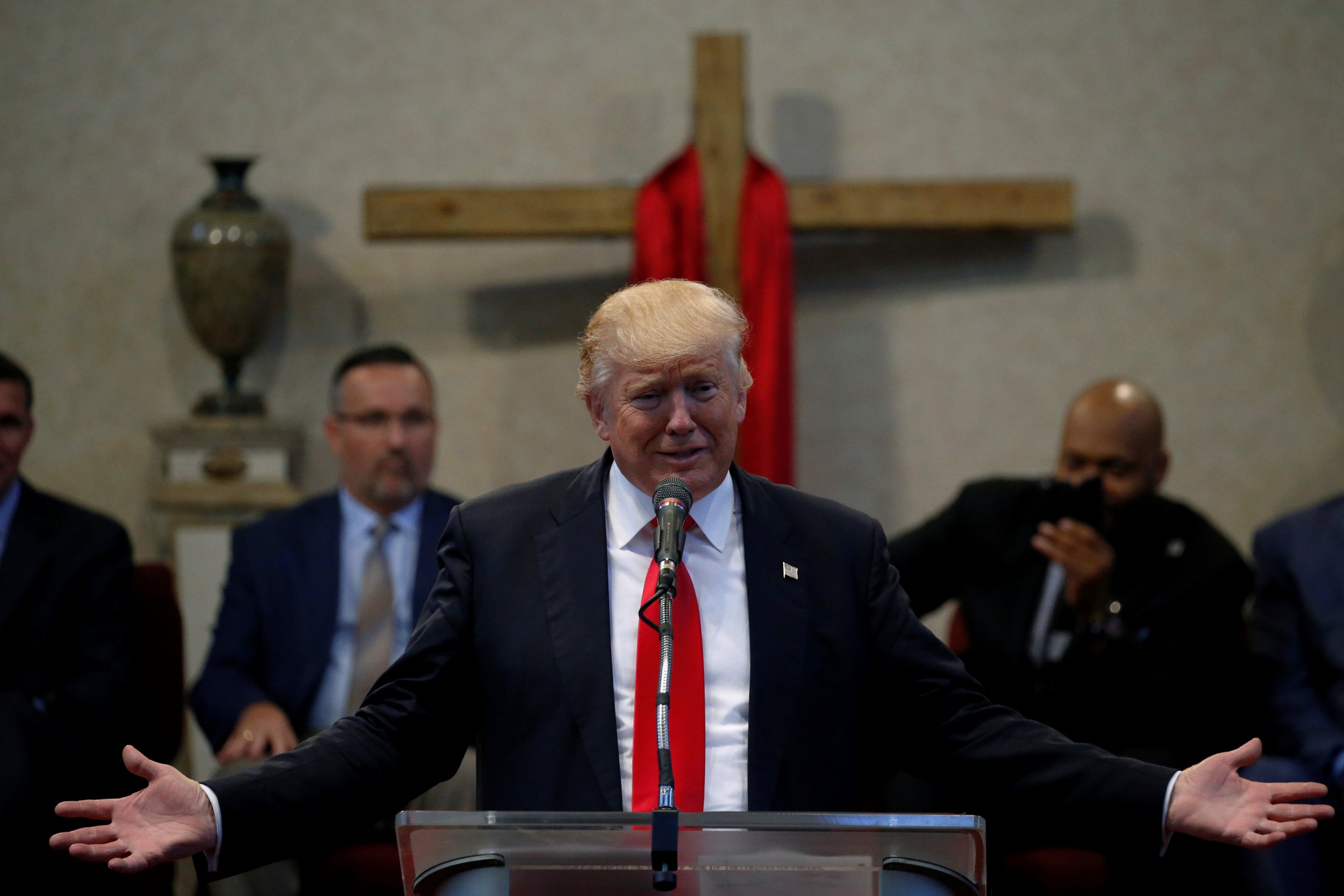 Donald Trump has demonstrated over the last few days that appealing to his integrity, sense of duty, or even morality won't get him to move. He's sticking to his guns, regardless of what others say about him. It's time to look beyond the candidate himself, who evidently lives in a parallel universe, where talking about grabbing other humans' genitals is merely " locker room talk."
Instead of asking how Trump can have reached 70 years of age believing this to be acceptable, it's time to ask how others are still defending him. It's become clear that much of the Republican establishment has gone from controlled disquiet about Trump to outright hostility. He's been denounced by his party's senior figures, from Mitt Romney to Arnold Schwarzenegger.
There is a significant power base that deserves close examination though: evangelical Christian leaders. We must now ask those of them still backing Trump how they can remain committed to the cause.
Some senior evangelical leaders such as southern Baptist Dr Russell Moore, have refused to support Trump. Yet many others have clambered aboard the Trump train. Some have directly endorsed him and continued to support him this week, such as Jerry Fawell Jnr, president of Liberty University and son of Jerry Falwell — one of the titans of the religious right. Others haven't officially endorsed, but do offer support, such as author and radio host Eric Metaxas—who has tweeted condemnation of Trump's remarks, but has since gone quiet on whether he still supports the GOP nominee. Trump also has an evangelical advisory board, featuring luminaries such as veteran "values" campaigner Dr James Dobson.
It's rapidly closing, but there is a window of opportunity for those pastors, preachers and presidents of evangelical institutions who remain in the Trump camp. They can stick to the same course and continue to support Trump or they can speak out against him now, and add to the chorus of mainstream Republican disgust that could still see him replaced as the nominee.
Some have begun to recant their views. Just prior to Sunday evening's debate, Wayne Grudem, a conservative evangelical heavyweight, whose theological books are a staple of many American (and European) evangelicals' shelves, called for Trump to withdraw. Having previously said Trump was, "a morally good choice," Grudem now says, "I cannot commend Trump's moral character, and I strongly urge him to withdraw from the election."
What Grudem has done is show that there's a way out for those Trump advocating evangelical leaders. They have the option to back out. Yet they have to do it quickly and they have to do so as decisively as Grudem has done.
To those who remain supporters of Trump, those who are wavering and those who've stayed silent—to Ralph Reed, James Dobson, Eric Metaxas, Robert Jeffress and the rest—here are three things to consider.
Firstly, pulling your support from Trump is not an endorsement of Hillary Clinton. There are many reasons why evangelical leaders are deeply suspicious of Clinton, ranging from the legitimate to the conspiratorial, but what is clear is that by rescinding support for Trump, you are not backing Hillary. You will be in the company of John McCain, John Kasich and Condoleezza Rice—hardly a list of Hillary supporters or Democratic stooges.
Second, by supporting Trump, you are actively destroying the kind of culture you claim to love. Donald Trump says he has never asked for forgiveness and failed to name a favourite Bible verse (both things which would see an evangelical Sunday school child given extra Bible teaching). Meanwhile his proposed Muslim ban demonstrates that he doesn't understand or care about religious liberty — something that usually obsesses "values voters."
Finally, there's an even bigger problem for evangelicals. Being seen as the last bastion of support for Trump is a terrible indictment on the political role of the Church. Since the realignment in American politics which took place during the civil rights movement in the 1960s and 70s the GOP's supporter base has been largely comprised of economic conservatives and values voters. Economic conservatives in the Republican Party are abandoning Trump. If his last line of defense is evangelical leaders, the repercussions may be dire for the witness of the Church.
As Al Mohler, one of the most senior Southern Baptists has written of Trump, "Sadly, many evangelicals overlooked his racial signaling and his crude nationalism". We could add to that list his mocking of disability, his plan to kill the families of extremists, and his antediluvian attitudes to women, graphically demonstrated in the recently released tapes.
This is what those evangelical leaders riding the Trump train will be endorsing if they don't renounce him soon. Time is running out. As Jesus himself once said, "the hour is coming, and is now here."
Andy Walton is a writer and broadcaster specialising in religion and politics. He works for the Centre for Theology & Community and is an associate researcher at Theos. He tweets here.