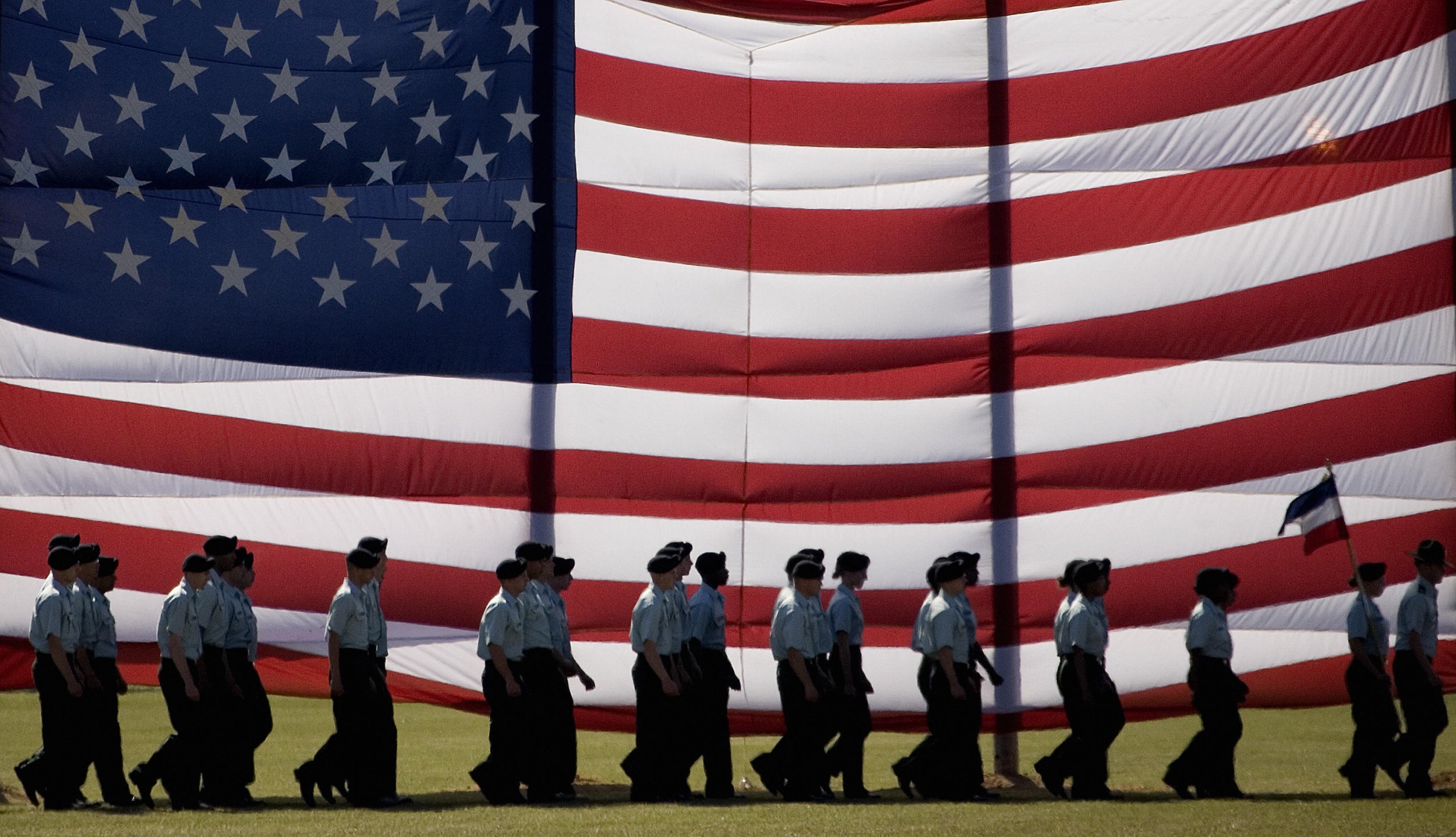 A self described "Christian extremist" who believes American warriors are immune to post-traumatic stress disorder will be the featured speaker at a prayer breakfast at the nation's largest military installation next week.
Televangelist Kenneth Copeland, a member of President Donald Trump's Faith Advisory Council, is scheduled to speak at the behemoth Fort Jackson army base in Columbia, S.C. on February 1.
Copeland belongs to a breakaway sect of Christian "Prosperity Gospel" preachers who preach that Christ helps believers get rich, and that the Christian God and his Messiah disapprove of government programs for the poor.
Copeland was among a group of Christian fundamentalists who gathered at Trump Tower to lay hands on Trump in 2015, praying to know whether the Lord wanted him to run for President. Last year, he issued an online "prophecy" in which he proclaimed, "Our time has come. For we are the Christian extremists."
But his most controversial remarks may have come in 2013, when he claimed the Bible backed up his notion that PTSD doesn't afflict True Believers. Reading from Numbers 32: 20-22, he said, "So this is a promise—if you do this thing, if you arm yourselves before the Lord for the war … you shall return, you're coming back, and be guiltless before the Lord and before the nation.
"Any of you suffering from PTSD right now, you listen to me," Copeland added. "You get rid of that right now. You don't take drugs to get rid of it. It doesn't take psychology. That promise right there will get rid of it."
Post-traumatic stress disorder is a well-documented condition that develops in some soldiers after particularly horrific events such as war. The Department of Veterans Affairs says that 11 to 20 percent of soldiers experience PTSD, and Rape and other crime victims also often suffer from it.
Copeland is a member of the President's Faith Advisory Council, a small group of fundamentalist Christians whose positions on social and other issues put them on the fringe edge of American religious believers. Moderate Christians pastors who have been excluded have described the group as a de facto Christian extremist fan club for Trump. Other members include Texas preacher Robert Jeffress, who has cited Biblical approval for ruling North Korea, and Jerry Falwell, Jr.
Copeland is reportedly worth $26.5 million, and is among several televangelists, including another of Trump's favorite pastors Paula White, whose finances were investigated by the Senate between 2007 and 2011.
After he bought a private jet for himself in 2015, he explained in a broadcast that the purchase wasn't about his personal comfort, but his belief that demons tend to fly commercial carriers. "Now [the late Rev.] Oral [Roberts] used to fly airlines," Copeland said. "But even back then it got to the place where it was agitating his spirit—people coming up to him, he had become famous, and they wanted him to pray for them and all that. You can't manage that today [in] this dope-filled world, and get in a long tube with a bunch of demons. And it's deadly."
Copeland added that he needed the private jet to spread God's word: "We're in soul business here. We've got a dying world around us. We've got a dying nation around us. We can't even get there on the airlines."
The Military Religious Freedom Foundation represents members of the U.S. military who feel their First Amendment right to freedom of religion are infringed upon. The group said it has received 56 complaints from Fort Jackson service members about Copeland's upcoming appearance on base, which is home to 12,000 military families.
Last week, the organization lodged a formal complaint with Major General Pete Jackson, the base commander.
"General, do you have ANY idea, sir, whom your staff has selected to be the Fort Jackson special 'guest speaker at your Feb. 1, '18 NPB?" the group wrote in a letter that also demanded that Jackson "immediately rescind this invitation to Kenneth Copeland to speak."
"Sir, please replace this hideously reprehensible fundamentalist Christian charlatan cum exclusivist bigot with another more respectable and inspiring, inclusive individual," the letter added.
Public Affairs officers at Fort Jackson told Newsweek there are no plans to rescind the invitation, which was extended by the base's Religious Support Office. The Prayer Breakfast will include speakers of different faiths, including an imam, and public affairs office said Copeland is not being paid.
Fort Jackson officials added that attendance at the Prayer Breakfast is voluntary, but the religious freedom group contends that service members feel pressured to attend. "It has been MRFF's experience that such events, though billed as 'non-mandatory' … many unfortunate military subordinates are 'VOLUNTOLD' to attend by their command chains," the letter stated.
Trump, whose political base includes many white Evangelicals, has appointed an unprecedented number of fundamentalist Christians to his Cabinet—nine—and has set into motion many policies on abortion, contraceptive access and LGBTQ issues that have long been sought by the Christian right. The MRFF reported last year that a trickle-down effect of Trump's election and the fundamentalists in Washington has doubled the number of complaints received by the group about proselytization and other unconstitutional religious activity in the armed forces.