Donald Trump Complains Evangelicals Appreciate Jerusalem Embassy Move More Than Jews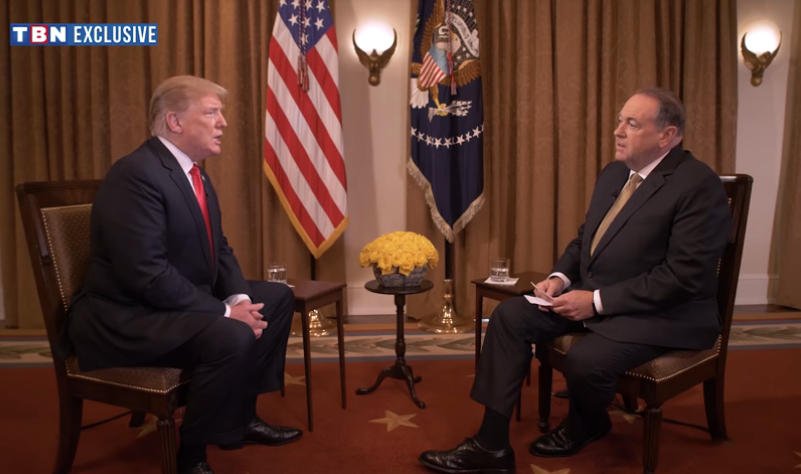 President Donald Trump said his decision to move the U.S. embassy from Tel Aviv to Jerusalem in May is "appreciated" more by American evangelicals than many Jewish people.
Speaking with former Arkansas Gov. Mike Huckabee on his TBN Christian network last week, Trump complained that while the "mainstream media" and Jews have not offered much praise of the Israel embassy move, it has garnered him lots of thanks from evangelical Christians. In May, Donald Trump officially recognized Jerusalem as Israel's capital in a move that angered Palestinians who claim part of the holy city as the capital of a potential future state. Former presidents Barack Obama, George W. Bush and Bill Clinton all signed waivers delaying the controversial embassy move.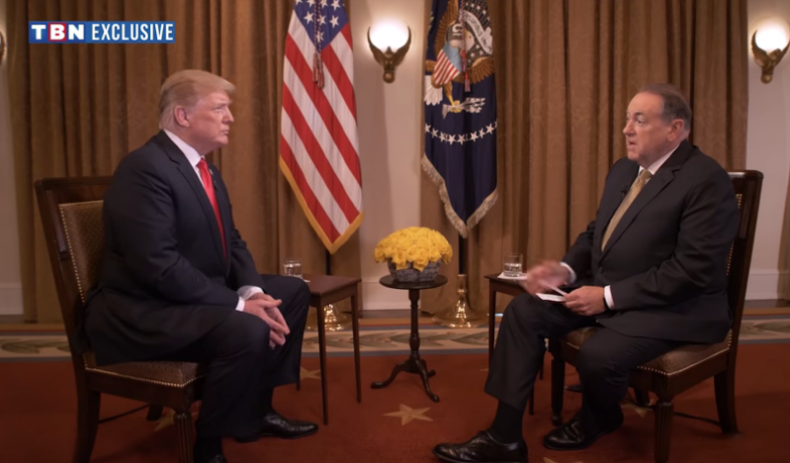 Trump explained to Huckabee that he never understood why past presidents and presidential candidates would promise to move the embassy but then were unable to do it when in office. "But I do understand now, because two weeks before I did it, when the word was out that I was going to do it, I was called by so many countries saying 'please, don't do it,'" said Trump. "It actually got to the point where I said 'I'll call you back in a week.' It was a campaign promise and I thought it was very important."
Trump added that while there was intense international scrutiny over the move, American evangelicals were very pleased with his decision.
"And you know who really likes it the most is the evangelicals. I'll tell you what, I get more calls of 'thank you' from evangelicals, and I see it in the audiences and everything else, than I do from Jewish people. And the Jewish people appreciate it, but the evangelicals appreciate it more than the Jews which is incredible."
A Public Religion Research Institute poll in March found that a full 75 percent of white U.S. evangelicals had a positive opinion of Donald Trump. Only 22 percent hold an unfavorable view of the Republican leader. Among white evangelical men alone, Trump holds the support of 81 percent, while 71 percent of white evangelical women also view Trump positively.
Huckabee responded that it's not a surprise because evangelicals are "people of the book" who are happy that he followed through on moving the U.S. embassy from Tel Aviv to Jerusalem. "You made that promise, you kept that promise," Huckabee told the president. In May, Fox News' Jeanine Pirro said Trump fulfilled a "Biblical prophecy."
"Donald Trump recognized history, he like King Cyrus before him, fulfilled the Biblical prophecy of the God worshipped by Jews, Christians and, yes, Muslims, that Jerusalem is the eternal capital of the Jewish state and that the Jewish people finally deserve a righteous, free and sovereign Israel," Pirro said.
The glossy May ceremony that was attended by Trump's daughter, Ivanka, was in stark contrast to the Gaza protests that erupted and left 58 Palestinians dead and thousands wounded opposing the move. Israel defended their response as a defensive move against Hamas.